Bondurant Rotax Max Challenge Awards Rotax Micro & Mini Invitational Tickets
Diego LaRoque, Sebastian Davis and Taylor Kuehl will now head to New Orleans in November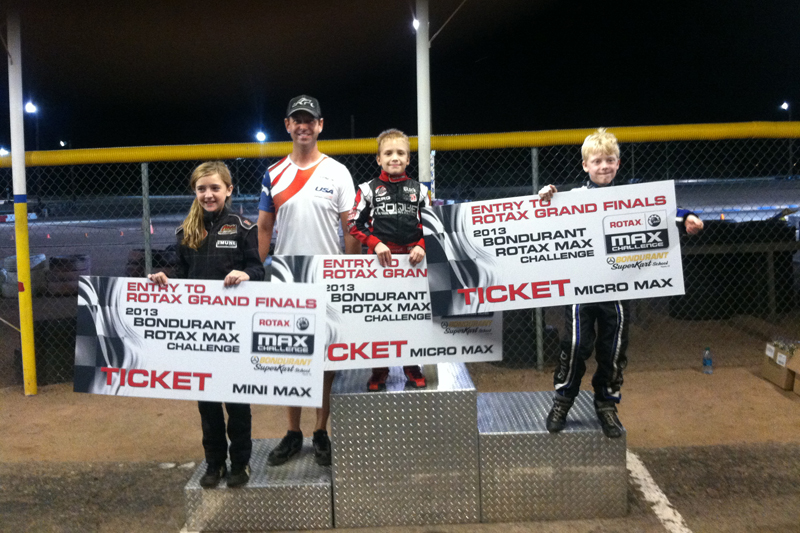 Alan Rudolph poses with Taylor Kuehl, Diego LaRoque, and Sebastian Davis who all claimed tickets to the Rotax Micro & Mini Invitational in New Orleans (Photo: Bondurant Superkart School)
As the 2013 North American karting season enters the homestretch and only a few major karting events remain on the horizon, the Bondurant Rotax Max Challenge would provide an opportunity of a lifetime to three deserving drivers to attend one of those prolific events. With the Rotax Max Challenge Grand Finals on American soil for the first time in the event's history, youngsters in the karting community would have a chance to attend the event as part of the Micro & Mini Invitational. Three drivers from the Bondurant Rotax Max Challenge will make the trek to New Orleans, Louisiana later this season and race alongside peers at the world class Rotax event.
"It was a great way to end a successful season," explained Alan Rudolph, Vice President of the BondurantSuperkartSchool and Rotax Series Organizer. "We are happy to have three drivers attaining tickets to the Grand Finals later this season. It is truly an event of a lifetime and these drivers that get to attend at such a young age are very lucky."
While most series across the United States only have an invitation for the champions in each division, the Bondurant Rotax Max Challenge would send two drivers from the Micro Max ranks due to the strong participation from series supporters. Diego LaRoque would claim the series championship scoring the highest point total over the six race series while Sebastian Davis would claim vice-championship honors. The duo will now set their sights on New Orleans and the opportunity to become Micro & Mini Invitational champions.
The Rotax Mini Max championship would come down to a mere five markers as a battle between two up-and-coming female pilots would go down to the wire. Taylor Kuehl and Zoey Edenholm would have an epic battle throughout the series that came down to the closing laps in the final event of the series. With the championship and invitation to New Orleans on the line, Kuehl would reign supreme and claim the title by five points.
Rudolph continued, "On behalf of myself and the Bondurant Rotax Max Challenge, we would like to congratulate all our series champions. We would also like to thank all the sponsors and competitors of the series for their participation and continued support to grow the Rotax community within the Arizona karting market. Good luck to Diego LaRoque, Sebastian Davis and Taylor Kuehl at the Rotax Micro & Mini Invitational."
With the 2013 Bondurant Rotax Max Challenge Series now complete, series officials are hard at work putting the finishing touches on the 2014 edition of the program. Looking to grow the series and provide the best possible Rotax competition in the western half of the United States, the program will continue to evolve in the years to come. For more information on the Bondurant Rotax Max Challenge at PKRA, please visit www.Bondurant.com/RMC