Team News: Checkered Motorsports – USPKS Pittsburgh Report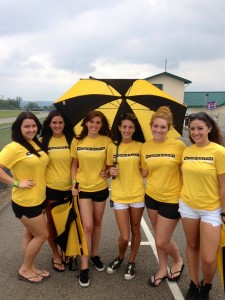 The inaugural season of the United States Pro Kart Series concluded at Pittsburgh International Race Complex (PIRC).  To spice up the event the team gathered up 6 umbrella girls to support all of the PCR pilots.    Checkered Motorsports demonstrated a dominate performance in all classes from Yamaha Cadet to Leopard Pro with the story of the weekend putting a pair of PCR's on the front row in Leopard Pro.
With 4 drivers entered in the Leopard Pro class, the team had arguably the best Leopard driver lineup.  Kyle Smith, Robert Bujdoso, Andrew Bujdoso, and Kyle Knecht all were aboard their PCR Mxk8's.  Qualifying saw two Checkered Motorsports pilots secure the pole and outside pole position with R. Bujdoso posting a 55.765 beating teammate Kyle Smith by just 86 thousandths.  A. Bujdoso would have mechanical issues and could not secure a solid time.  With both drivers starting on the front row, the heat races did not go in favor for R.Bujdoso as he did not finish a single heat race or pre-final due to engine misfiring.  Smith on the other hand settled for a second and third in the heats.  The 18 lap main event saw Kyle Knecht starting in 11th, Kyle Smith second, A.Bujdoso in 19th, and R. Bujdoso 23rd.  Robert Bujdoso could not catch a break and pulled in after lap 1 while A. Bujdoso was penalized with a 20 second penalty.  Kyle Smith had second place secured, but his battery box coming lose caused him to retire in fifth.  Knecht running as high as sixth in the main made a driver error which caused him to finish 13th.   Sunday's action Andrew Bujdoso put his PCR in the fifth spot for qualifying with R. Bujdoso ninth, Smith 11th, and Knecht 24th.  With 22 laps of intense racing R. Bujdoso, Smith, and A. Bujdoso were all involved in wrecks in the opening laps.   Smith and A. Bujdoso had to retire, but R. Bujdoso kept on going and finished 9th with bent components.   Knecht bounced back and found speed in the main and brought home a solid seventh.
Yamaha Junior was led by PCR drivers Savannah Fitzgerald and Nick Luedeke.  Luedeke put his Woltjer powered engine in third with Fitzgerald following in 13th.   The heat races consisted of good solid racing by both drivers which allowed Luedeke to start in fifth and Fitzgerald 13th.  The opening laps of the main event caused Luedeke to fall back as far as sixth but mustered his way through and gave the team another podium with a third.  Fitzgerald posted her fastest lap times of the weekend, but a foul plug caused to retire on lap 15.  Sunday looked to be a promising day for both drivers as Luedeke once again proved to be quick and put the Super Strillo on the outside pole position.  In the main event, Luedeke was running down the leader posting the fastest time of the race but ran out of laps and finished second.  Fitzgerald once again made improvements all weekend and finished 13th.
John Paul Southern Jr. had his ups and downs for the weekend.  Saturday the young driver would exchange for the lead multiple times, but had to settle with a mere third place finish.  The following day Ian Hornish joined the fun and put his PCR chassis in 15th.  Southern Jr. made a costly mistake in the first lap in turn 3 which turned him around all the way to 19th.  In 22 laps he drove his way through the field and finished seventh.
"The weekend turned out great," stated team owner Csaba Bujdoso.  "Putting the PCR's on pole and outside pole was phenomenal in Leopard Pro.  The team is really starting to gel together.  I cannot thank Woltjer Racing Engines enough for his support as well as Zerro-Error Racing"
The Girard, Ohio based team will be contesting in the WKA Manufacturers Cup Series, SKUSA SuperNationals, and the Pitt Race Karting Series.  Tech support, transportation, and arrive and drive opportunities are available.  Please inquire soon as the PCR karts and space are limited!