Junior National Speedsters set for Race of Stars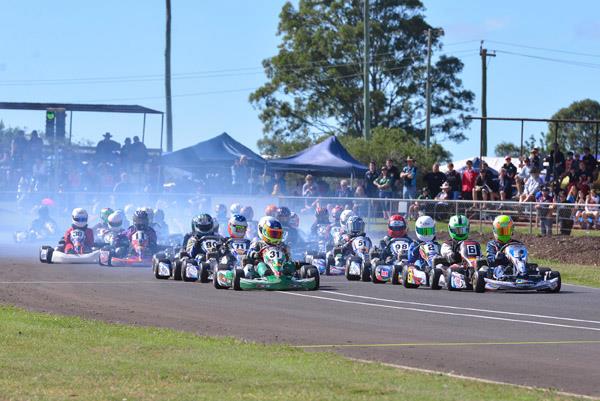 The Junior National category will see more than 30 drivers line up in the grid at the Race of Stars
(Pic: AF Images/Budd)
More than 30 young drivers will be lining up on the grid in the Junior National category at the inaugural Race of Stars karting event to be held on the Gold Coast on Saturday October 19.
The event, which forms part of the V8 Superfest surrounding the ARMOR ALL Gold Coast 600, will see many of Australia and New Zealand's top young drivers compete across six categories at the Xtreme Karting Pimpama circuit.
Drivers from the host state dominate the invite list for the Junior National category with 23 of the 30-strong invite list hailing from the Sunshine State.
Joining the likes of Queensland Stars William Brown, Harrison Oddie, Cameron Shields and Jack Bussey on the grid will be Victorian youngsters Dylan Hollis, Luis Leeds and Aaron Cameron along with New South Wales frontrunner Harry Hayek.
Detailed below is the current list of invited drivers for the Junior National category at next month's event.
2013 RACE OF STARS
Junior National
Aaron Cameron (Melbourne, Vic)
Alex Waters (Sydney, NSW)
Cameron Shields (Toowoomba, QLD)
Corey Ainge (Townsville, QLD)
Dakoda Daniels (Gold Coast, QLD)
Dylan Hollis (Lara, Vic)
Dylan Overland (Sunshine Coast, QLD)
Harrison Oddie (Gympie, QLD)
Harry Hayek (Sydney, NSW)
Jack Bussey (Gladstone, QLD)
James Litzow (Bundaberg, QLD)
Jaxon Reihana (Gold Coast, QLD)
Jordan McGregor (Cannonvale, QLD)
Josh Thomson (Gold Coast, QLD)
Joshua Davey (Ipswich, QLD)
Kaleb Mustow-Veal (Lismore, QLD)
Kane Bycroft (Gladstone, QLD)
Karla Curtis (Banora Point, NSW)
Kiara Lyons (Mackay, QLD)
Lewis Herwin (Emerald, QLD)
Luis Leeds (Melbourne, Vic)
Madison Dunston (Mount Low, QLD)
Marc Tulloch (Gold Coast, QLD)
Mitch Bennett (Gladstone, QLD)
Nicholas Lane (Warwick, QLD)
Paul Thirlwall (Mt Isa, QLD)
Reuben Golsby (Murwillumbah, NSW)
William Brown (Toowoomba, QLD)
Wyatt Davidson (Bundaberg, QLD)
Zac Pattel (Townsville, QLD)
For Further Information:
Lee Hanatschek
Media & Marketing Manager
Australian Karting Association
Phone 0403 531 914