Summit Point Closes Out WKA Road Racing Series This Weekend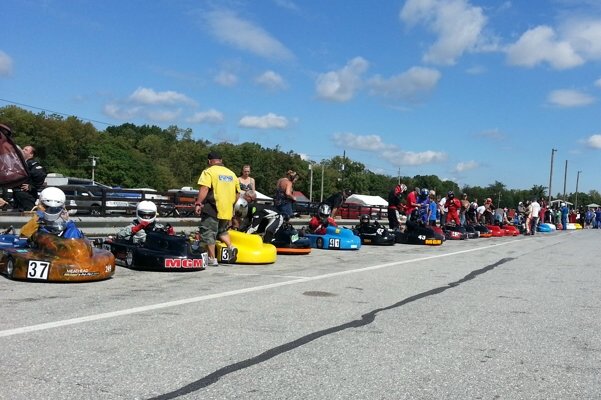 A full field of Briggs Animals at Summit Point for the WKA Nationals in 2012 (Photo: NCRM)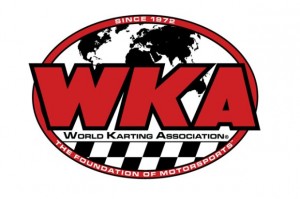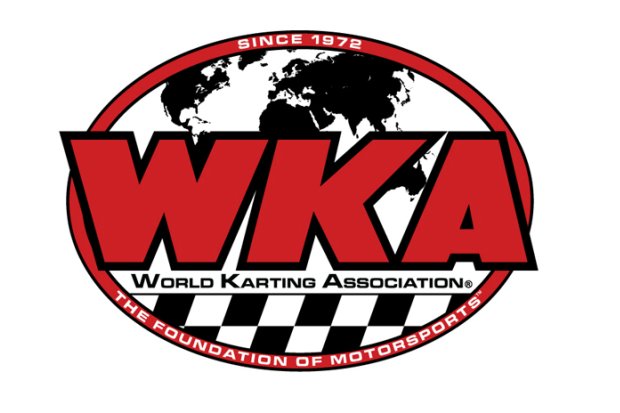 The teams of the WKA Road Racing circuit will head to Summit Point Motorsports Park in the panhandle of West Virginia this weekend to close out a strong 2013 VEGA / TS Racing National Road Racing Series driven by Mazda.
The seventh and final round of the enduro-style karting series has the tour heading back to Summit Point for the second straight season. Once a yearly stop for the tour, the historic Mid-Atlantic road racing facility was off the WKA Road Racing schedule for several years before returning last season. A solid entry count last September prompted host club Woodbridge Kart Club, which has promoted club- and national-level road races at Summit for over four decades, and WKA to head back to Summit Point again in 2013.
Kart teams racing this weekend will take to Summit Point's original circuit, appropriately titled the "Summit Point Circuit." The track is a high-speed 10-turn, 2.0-mile road course that features a daring 2,900-foot main straightaway.
Go to HERE to view a video of a narrated lap around Summit Point.
National championships will be decided this weekend. While several classes have already been wrapped up, a number of divisions have multiple drivers with a shot at a prestigious WKA national crown.
Second-generation racer Zack Clark enters Summit with an inside shot at a WKA Triple Crown championship. Clark leads Yamaha Sportsman Lite, Medium, Heavy and Sportsman Sprint. The only class it appears Clark could lose is Lite. He holds a 94-point lead over Fran Mazzucotelli in the division. As long as he can hold on to the lead in Lite Clark would become the latest Triple Crown champion to come out of the Road Racing Series.
Zachary Linsell and Sam Sheckells enter round seven in a heated battle in Animal Sprint 335. Linsell holds the lead but by only 74 points over Sheckells.
Sheckells is also in a battle in Animal Sprint 360. The Maryland racer holds a 43-point lead over Jonathan Tedder, who has a shot a three class championships this weekend.
Georgia's Steve Jeffers leads Animal Sprint 410, but South Carolina's Rob Garland still has a shot.
Randy Fulks looks to have another national championship about wrapped up in 100cc Controlled Spec 1. Although former Triple Crown winner Adam Myers technically has a shot at 120 points back of Fulks. Myers has clinched the Sunday version of the Spec class.
Steven Rougeou and Don Santini are separated by only 64 markers heading into the weekend. Rougeou normally has the speed over Santini but Santini has made two more races than Rougeou this year.
Stock Honda 2 is extremely close with DRT Racing teammates Brian Fisher and Carson Miller only two points apart. Miller is looking for his first national championship while Fisher is a multi-time WKA champion. Miller does have Stock Honda 1, the Saturday version of the class, clinched.
After years of trying it appears Massachusetts racer Keith Buffo will become a national champion. Buffo has not one national title, but two in his sights. He enters this weekend with a commanding point lead in TaG and TaG Heavy.
Pit gates swing open Thursday at 4 p.m. Pre-registration pickup will open at 7:30 p.m. and at-track registration opens at 8:30 p.m. Pit pass sales will close at 11 p.m. Thursday.
On-track action kicks off Friday morning. A full day of group practice will open at 8:30 a.m. Registration opens at 7:15 a.m. with a drivers meeting at 8 a.m.
Two full days of racing will take place Saturday and Sunday. Seven race groups will go off Saturday with another six groups to close the weekend on Sunday.
Go to HERE to view the event entry blank, which includes the weekend schedule, lodging information, at-track entry fees and much more.