Lawson Sweeps Pro Gas, Bags $2,000 at Pittsburgh Gold Cup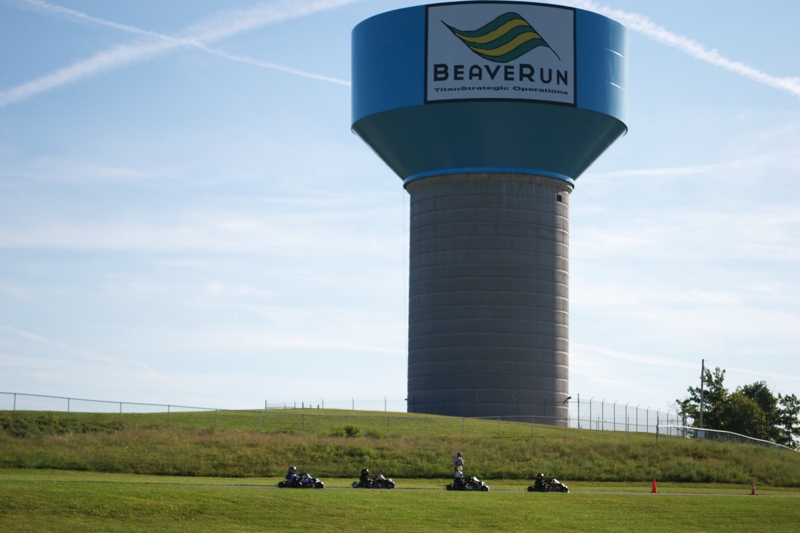 Gold Cup is always a popular event at Pittsburgh, aka BeaveRun (Photo: Keith Roberts)
The WKA RLV Tuned Exhaust Products Gold Cup Series ran its fourth national event of the 2013 season this past weekend with the GT Machine Grand Nationals at Pittsburgh International Race Complex in western Pennsylvania.
The event marked the second straight weekend of WKA national racing at Pittsburgh. The Mazda / Bridgestone Manufacturers Cup Series held its fifth event of 2013 the weekend prior.
The big story heading into the weekend was the big money posted in the Senior Pro Gas Animal division. With an eye on continuing to build the new class, which has seen solid double-digit entry counts at every Gold Cup national in 2013, a $2,000 purse was posted with three $500-To-Win races in Friday night's Animal Heavy Money Race and the Saturday, Sunday points classes and a $500 bonus if one driver could win all three races.
The healthy purse was enough to entice Mentor, Ohio's Gary Lawson, a two-time WKA Triple Crown champion, back to race the Gold Cup Series for the first time this year. Lawson, who won Gold Cup championships as recently as last year, has been helping other teams in the series as a mechanic, but had not suited up to wheel his No. 10 Arrow in WKA competition until this past weekend.
Lawson proceeded to race his Arrow to the top prize in all three Pro Gas main events, besting Dakota Bell in Friday's Money Race, Jim Lipari in Saturday's Senior Pro Gas main and Bell again in Sunday's weekend capper to pick up the entire $2,000 prize.
Friday's Money Race saw 20 Pro Gas Animal and methanol-powered Animal entrants in what was the best turnout of the year for the special division.
Maryland's Tony Wimmer had it working in his methanol-powered Animal. Wimmer scored the overall win, triumphing over Lawson's Pro Gas kart by about 10 kart-lengths. The next-best finishing methanol kart was Travis Manning, who crossed the stripe fifth overall.
Wimmer took home the lion's share of the 75-percent payback on the entry fess, while Lawson won the $500 for winning the Pro Gas portion of the race. Lawson also picked up the second-place share of the 75-percent payback, meaning he actually left Pittsburgh with checks totaling over $2,000.
Bell, Jacob Heavlow and Manning were third through fifth. For Bell it marked his return to the Gold Cup on a Baker Racing Engines MGM chassis for the first time. Bell competed on a Michigan Kart Supply Coyote last year but had not seen the track in 2013 until this past weekend.
Heavlow was also making his first start of the year in Gold Cup. The event marked Heavlow's first foray into senior competition on a national level. The Maryland racer is a multi-time national champion in Sportsman and Junior Gold Cup racing.
Jason Zobkiw, Jim Lipari, Dylan Zobkiw, Josh Stiefel and Zack Clark finished just out of the money in sixth through 10th. All were on Pro Gas-powered karts.
Lawson's job was made slightly easier in Saturday's Senior Pro Gas main event when his closest competitor, Bell, dropped out early. Heavlow crossed the stripe second to Lawson but was disqualified for a bumper dragging. The Heavlow DQ gave second to Coyote Motorsports' Lipari. Dylan Zobkiw took third, Camden winner Michael Fauci fourth and Jason Zobkiw fifth.
With $1,000 on the line for Lawson Sunday others were simply looking to break into the win category and score $500. But Lawson was at his best once again. Bell looked to have a legitimate shot after he ran close with Lawson in the heat race. But Dakota, who like Lawson owns a pair of Triple Crown championships, as well, faded in the main event, letting Lawson pull away for an uncontested victory and the $2,000-plus pay day.
Ohio's David Kalb Jr. had a big weekend at Pitt. Kalb raced his Margay chassis to a sweep of the Baker Racing Engines Sportsman Pro Gas Animal main events and added a victory in Van-K Wheels Sportsman 2 Lite to give him the weekend hat trick.
Kalb bested Alex Vrabel for the win in Saturday's Sportsman Pro Gas feature. Matthew Miller ran third after winning Friday's Sportsman Pro Gas Shootout. Zach Wells was fourth and Dylan Murry rounded out the top five.
Fifteen karts started Sunday's Sportsman Pro Gas feature, making it the largest field of the year for the 7- to 12-year-old division. Once again Kalb had his way with the big field, triumphing by 0.376 seconds over Cody Hall for the win. Miller finished third for the second consecutive day, while New York's Nick Fauci and Wells completed the top five.
Kalb and Wells split the Sportsman 2 divisions. Kalb scored the win in Saturday's Sportsman 2 Lite over Adam Cornell, Wyatt Frantz, Joshua Stark and Wells. On Sunday's Wells bested Kalb by a 0.378-second margin for his first and only win of the weekend. Cornell was third, Frantz fourth and Stark fifth.
Nick Fauci raced his Coyote to a sweep of the Sportsman 1 alcohol classes. Fauci won over Jason Alder in Performance North Sportsman 1 Lite and Sportsman 1 Heavy. In Lite, Miller was third, Camden Gruber fourth and Trevor Vargo fifth. In Sunday's Heavy main, Fauci and Alder crossed the finish line ahead of Vargo, Gruber and Miller.
Nick Torres won over Cale Hall both days in Sportsman 1 Clone. Dylan Murry swept the Sportsman 2 Clone main events over Cody Hall and Wells. Tanner Lee won both Junior Clone main events.
Ohio's Sarah Luoma accomplished her best Gold Cup weekend of the year. Luoma wheeled her GT-powered Coyote to the hat trick, sweeping the three Junior divisions she entered.
On Saturday Luoma bested Skyler Locklear to win Junior Lite and Junior Heavy. In Lite, Tyler Stiefel followed Luoma and Locklear across the stripe. Dustin Demattia was fourth and Tyler Frantz fifth. Junior Heavy saw Luoma win over Locklear, Tanner Lee, Stiefel and Demattia.
Sunday's Junior Medium main event was the last chance for the boys to beat Luoma. But once again Luoma was ultra-impressive in her drive, hitting her marks throughout the 12-lapper and posting a 2.3-second win over Tyler Frantz. Locklear took third, Lee fourth and Demattia fifth.
Demattia was able to score one win on the weekend, coming in Sunday's Restricted Junior show. Demattia wheeled his Bandit to the victory over Tyler Stiefel, Spencer Sherman and Tyler Woods.
Tanner Lee swept the Razor Chassis / Margay Racing Products Junior Pro Gas features. The Georgia racer bested Michigan's Woods both days. Cameron Vargo was third and Demattia fourth.
A couple of Maryland racers scored double wins in senior competition. Travis Manning raced his MGM to victories in Coyote Motorsports Animal Lite and Animal Medium, while Tony Wimmer, fresh of his win in Friday's Money Race, won Animal Heavy and Margay Animal Amateur Medium.
Manning won Animal Lite over Scott Kleman, Cayla Chapman and Chandler Sherman. Animal Medium saw Manning best Coyote racer Ryan Bavineau, who had commitments that kept him from racing at Pittsburgh until Sunday. Tyler Sandmeyer had an off-weekend and came home third in Medium. Paul Headley was fourth and Josh Stiefel fifth.
Wimmer bested Sandmeyer to win Animal Heavy on Saturday. Headley was third, Josh Stiefel fourth and Case Hall fifth.
Wimmer added his second points-class win and third win overall counting Friday's Money Race in Sunday's Amateur Medium show. Wimmer won over Manning, Chandler Sherman, Headley and Bavineau in the eight-kart race.
New York's Tim Stiefel won Target Distributing Animal Masters and Georgia's Matthew Horst triumphed in both Senior Clone mains.
The Friday night 10-lap Shootouts saw Matthew Miller win the new radio-controlled ECX truck with his triumph in the Sportsman Pro Gas Shootout. Nick Fauci was second, Kalb third, Alex Vrabel fourth and Murry fifth.
Demattia won over Lee and Cameron Vargo in the 10-lap Junior Pro Gas Shootout.
Go to HERE to view top-10 results from the GT Machine Grand Nationals at Pittsburgh.