Unlimited All-Stars National Title to be Settled in Warrensburg
Muscle Kart Racers from coast to coast to meet at Lasoski Speedway for national crown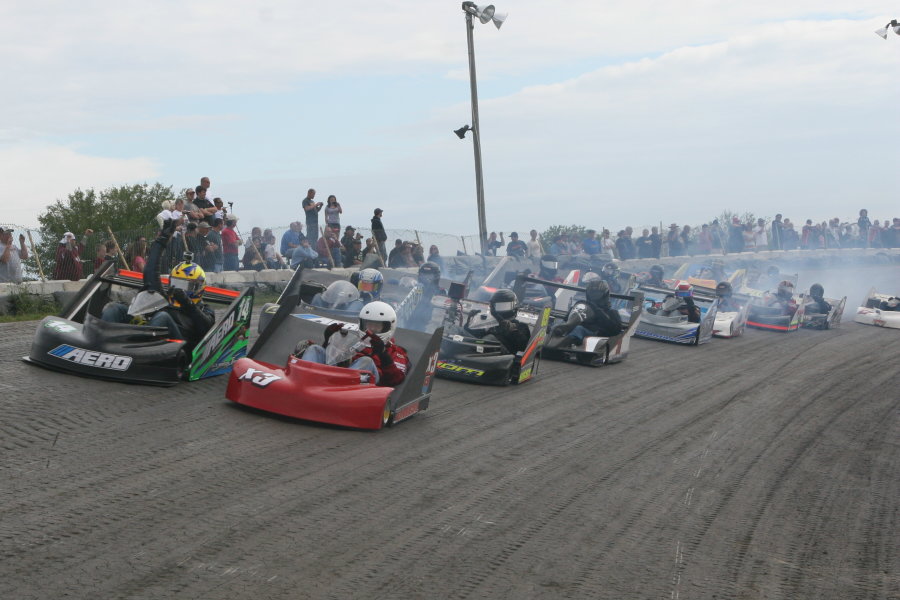 2013 Unlimited All-Stars Muscle Kart title to be decided in Warrensburg, Missouri
Unlimited All-Stars (UAS) Muscle Kart racers will converge at Lasoski Speedway in Warrensburg, Missouri on September 13 and 14.  Sunday the 15th is the designated rain date.  Racers have been competing in 23 regions from all over the country, some since the early winter, to earn half of their national championship points.  The other half of the national championship ranking points will be earned at this fourth annual Grand National event.
Last year, sixteen different drivers had the opportunity of driving home with the National Champion honors if they were fortunate enough to win the A-main event at the Grand National.  This year is shaping up to be no different.  Last year 55 drivers made the attempt to qualify for the 20 A-main starting positions.  That was a record number of entries for an Unlimited All-Stars event.  Drivers have made the commitment to race from states as far away as Florida, Washington, Oregon, California, and most other states.  There is even an entry from an Australian driver.
The event will kick-off with Friday afternoon set-up and evening practice on the 1/5 mile clay oval.  This is a good time to come to get to know these drivers who enjoy showing off their unique mechanical works of art.  UAS muscle karts are powered by most conceivable engine types and use a unique minimum weight calculation formula based on engine type and size that keeps the competition close.
The scheduled race day is Saturday.  Practice is scheduled to start early in the morning.  Time trials will begin at noon.  After that will be the Fast Dash for the top six qualifiers which will determine the top 6 starting spots in the A-main.  Then will be the heat races which will determine the starting spots for the majority of the A, B, C and D main starting positions.  The D-main will be the first main event.  The top two finishers of that will transfer to the tail of the C-Main.  The top 2 of the C-main go toe the tail of the B-main and the A-main likewise is filled by top finishers in the B-main.
The A-main is 20 laps all-out for the national title.  It is the most exciting race of the season for UAS racers.  Last year's Grand National winner and the 2013 defending national champion is Robbie Sarchet who drove a machine powered by a 500cc Jawa motorcycle engine.  Sarchet is from Wapokeneta, Ohio and will be on hand to defend his title.
To learn more about the Unlimited All-Stars go to http://www.unlimitedallstars.org
You can also follow the Unlimited All-Stars on Facebook
To view a video about the 2013 Unlimited All-Stars Muscle Karts go to HERE.