Team News: Robert Noaker Completes the Ladder – Wins WKA National
Scigliano earns podium in Parilla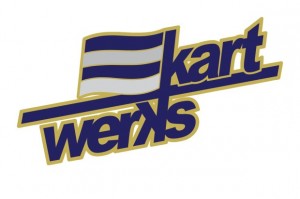 It has been an impressive three week stretch of firsts for Robert Noaker at Pittsburgh International Race Complex. After scoring his first regular season club win two weeks ago he returned the following week to pick up his first Great Lakes Sprint Series victory. He took the final step on the ladder this weekend winning Saturday's Yamaha Rookie event – his first ever National win!
It has been an impressive breakthrough after joining the Kartwerks squad just six weeks ago with National Pole, Prefinal & Final wins, Regional Final wins and Local Heat & Final wins on board his Praga Piccolo chassis.
Noaker was well on his way to picking up the Prefinal win before a tangle in the last corner of the final lap relegated him from first to fourteenth. That did not deter him in the final though as he achieved yet another Podium with an exciting run through the field to finish fifth.
Oliver Scigliano also achieved a career best finish after making the switch to Kartwerks recently, picking up a well earned fourth place in Sunday's Parilla Final on his new Praga Dragon. It was Oliver's first Podium in National competition as well as Kartwerks best success to date in the Senior divisions.
Alex Lester ran with the leaders each day in the Cadet class, proving that he belonged in that elite pack. Although he narrowly missed the Podium, his sixth place finish was still a career best and earned him a ride in the upcoming USPKS Yamaha Sportsman event at PIRC courtesy of Noaker's Auto Body and Kartwerks!
Kartwerks fielded the team's biggest effort date with nine drivers across five classes. The effort would not have been possible without the outstanding efforts of driver coach Jay Howard and tuner Bob Williams whose professionalism and experience brought a whole new dimension to the rapidly growing Kartwerks team
One driver in particular having a great event due to the influx of professional talent was Luca Mars who brought home a seventh place finish on Sunday in Yamaha Rookie – impressive National results for a driver just four months past his seventh birthday!
Kartwerks fielded a total of five Yamaha Rookies including Griffin Kunz who had two eighth place finishes, Ryan Detlor with a career high twelfth and Owen Mahle with a fifteenth place finish.
In the Senior divisions Kartwerks tuner Andy Schlosser returned to the drivers seat in the TAG class and had some solid efforts finishing just outside the top ten despite losing the entire Friday practice to chasing tire issues.  The results were certainly not indicative of the effort unfortunately as the team made huge strides with the new Praga Tacho chassis but in a field this competitive a day lost is difficult to overcome.
Michael Burton was scheduled to run the TAG class as well but a last minute change of plans had him in the Yamaha Senior field with no Friday practice despite never turning a lap with that engine package on his new Praga Dragon chassis. Burton quickly adapted and earned a top ten finish on Saturday.  By the Sunday Prefinal Burton was up to third quick in the field. Unfortunately a tangle at the start of the Final ended his day prematurely in what was shaping up to be a solid Podium effort.
Dan Schlosser: "I'm starting to longer be surprised by the incredible efforts we are seeing from our drivers. Week in and week out someone rises to the next level and exceeds expectations. I'm thrilled that we are able to provide the proper support for these drivers that is allowing them to flourish.  This week was particularly special though to see Robert drive so confidently and earn his first National win and of course watch our good buddy Oliver not only have his best National finish ever but to see him outperform every other highly touted local TAG driver in the field. That was really special for everyone on the team!"
Kartwerks will be taking a much needed weekend off but then the team returns to action September 1 for Pitt Race Karting local action followed by the USPKS race at PIRC September 6-8. The team will then be closing out the year with PRK local events, WKA Manufacturers Cup at Mooresville Motorplex and the Ironman and Robo-pong Endurance races at Circleville and New Castle Motorsports Park respectively.
For those interested in tent/travel, coaching, tuning and arrive & drive opportunities for upcoming events please inquire soon as karts and space are limited!
For more information please visit www.kartwerksusa.com or contact Dan Schlosser at dan@kartwerksusa.com or 412.849.5218.