Race Report: WKA Manufacturers Cup Series – Pittsburgh International Race Complex
'Super Sub' Verhagen Subs for Lemke, Wins Three Finals in Pittsburgh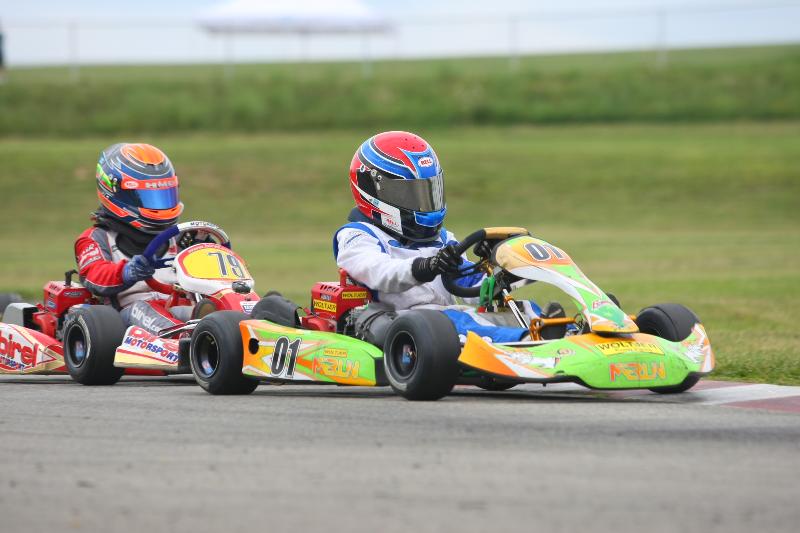 Neil Verhagen leads David Malukas on his way to the Cadet Sportsman 2 win aboard the Lemke Racing No. 01 (Photo: NCRM)
The WKA Mazda / Bridgestone Manufacturers Cup Series converged at Pittsburgh International Race Complex in western Pennsylvania this past weekend for round five of the six-race national 2-cycle sprint tour.
Over 120 drivers making up approximately 330 entrants met at Pittsburgh for the Zero Error Racing / Checkered Motorsports Nationals, where 15 drivers raced to final wins, including five double winners and one triple winner.
The only driver to race to the hat trick was Neil Verhagen, who is listed in the results as Brandon Lemke because he was acting as the relief driver for Lemke, who broke his collarbone on July 28 in an accident at the Great Lakes Sprint Series divisional at Badger, Wisconsin.
The Lemke team tagged Verhagen to wheel their No. 01 Merlin for the weekend while Brandon recovers from his injury. Lemke entered the weekend either at or near the top of each of the four Sportsman class standings. With national championships and a possible Triple Crown championship on the line, the Lemke team had no choice but to run the Pittsburgh event with a relief driver.
You'd be hard-pressed to find a better option than Verhagen, who won multiple WKA Man Cup finals last year on a Haase chassis. He switched to Arrow for 2013 and has been a semi-regular in WKA Man Cup while also running Rotax events and USPKS.
Verhagen wasted no time adapting to the Merlin chassis. After running fast in Friday practice, the Connecticut racer recorded finishes of second, third and seventh in Saturday's three Sportsman mains.
It all came together for the Lemke group on Sunday, when Verhagen made a pair of last-lap passes on David Malukas in Komet Sportsman 2 and Cadet Sportsman 2 and bested Sam Mayer in Yamaha Sportsman 2 to sweep the day in Sportsman and become the only driver to win three races at the Pittsburgh Man Cup round.
Verhagen's success kept Lemke atop the standings in three of the four Sportsman divisions and keeps the Wisconsin racer's hopes alive for a coveted Triple Crown championship.
As noted, five drivers raced to a pair of Zero Error Racing / Checkered Motorsports Nationals feature wins.
Indiana's Zach Holden wheeled his No. 2 Top Kart to victories in Saturday's Komet Sportsman 1 and Yamaha Sportsman 1 mains. Holden bested Malukas and John Paul Southern Jr. in Komet Sportsman 1 and beat out Malukas and Verhagen for the Yamaha Sportsman 1 score. The wins marked Holden's third and fourth of the 2013 Man Cup season.
Canadian Grant Quinlan continued his hot streak as of late. Quinlan picked up wins in both Yamaha Junior categories, which marked his third and fourth wins of the year. Top Kart racers Emerson Reed and Kaden Harter followed Quinlan's No. 28 Birel across the stripe in Yamaha Junior 1. Yamaha Junior point leader Brandon Jarsocrak and Reed finished second and third to Quinlan in Sunday's Yamaha Junior weekend capper.
Florida Tony Kart racer Jonathan Kotyk did all but clinch the $2,000 national championship prize in Komet Pro. Kotyk bested Patrick Olsen and James Brock in both days' Komet Pro main event contests. After a four-win weekend at South Bend in June, Kotyk continues to make a case for having the most successful season of any driver in Man Cup in 2013.
While Olsen was denied in Komet Pro, the Wisconsin Top Kart pilot picked up wins in both Yamaha Senior main events. Olsen won over point leader Dakota Pesek and Chase Jones on Saturday, making it an all-Top Kart top three. On Sunday, Jones followed Olsen across the stripe with Birel racer James Brock breaking up the Top Kart parade by taking the third slot.
Twin brothers Garrett and Jake Johnston continued their terrific rookie campaign in the senior TaG divisions. The brothers finished first and second in Saturday's TaG Senior 1 and Parilla Senior 1 contests with Garrett taking the victory in both contests. Mark Dismore Jr. was third in Parilla Senior 1 while Jesus Rios Jr. took third in TaG Senior 1.
Sunday's TaG competition saw Derek Dignan race his sleek FA Kart to victory in TaG Senior 2. Dignan won over Rios and Jake Johnston for his first Man Cup win since Kershaw, S.C., in April.
Rios gave the new American-made iKart chassis another Man Cup win in Parilla Senior 2. The Miami Beach racer scored the win over Garrett Johnston and Dismore.
Connecticut's Tazio Torregiani and New York's Austin McCusker both gave Haase chassis Junior feature wins at Pittsburgh. McCusker all but clinched the Komet Junior national championship with his victory in Saturday's Komet Junior 1 main event. He won over Killian Keaveny and Quinlan.
On Sunday, Torregiani wheeled his Haase to his first Man Cup win of the season in Komet Junior 2. Torregiani scored the popular victory over Keaveny and Jacob McWhirter. The Haase chassis continue to prove their a force in the Junior categories with McCuscker, Jarsocrak and now Torregiani all scoring feature wins in 2013 Manufacturers Cup competition.
Second-generation racer Robert Noaker III won his first-ever Man Cup race in Yamaha Rookie 1. Noaker, who was racing in his home state of Pennsylvania, bested Rookie point leader Mark J. Fineis and Florida's Jeremy Fairbairn for the victory. Noaker's win also gave Praga chassis its first Man Cup victory.
Top Kart racer Connor Ferris took the win in Sunday's Rookie contest. Ferris bested Nic Sheppard and Fairbairn for the victory. Ferris' win marked his second of the season in Rookie.
John Paul Southern Jr. has put together a nice 2013 season and he scored his first final win of the year in Saturday's Cadet go. The Ohio racer wheeled his PCR to the win over Verhagen and Holden.
TaG Masters competition saw Scott Ferris and Chuck Gafrarar split the weekend's main events. Ferris raced his Top Kart to the win in Saturday's TaG Masters 1, beating out Bobby Cummings, who was relief driving for Steve Schiewer, and Kim Carapellatti.
Gafrarar returned Sunday to score the victory in TaG Masters 2 on his Leopard-powered Parolin chassis. Gafrarar, a former WKA Road Racing national champion making his first Man Cup appearance in a number of years, won over Cummings and Ferris.
On the Manufacturer (Chassis) Championship front, Top Kart dominated the weekend and all but clinched its second straight Man Cup Manufacturer title. Top Kart racers drove to eight feature wins, an unprecedented five more than any other chassis make.
The only chassis to see victory lane more than twice was Merlin, which all came at the hands of Verhagen and the Lemke team.
Birel, Tony Kart and Haase each claimed two wins. Praga, PCR, Parolin and FA Kart earned their first Man Cup wins of the season. Rios' victory gave iKart its third win of the year.
Fourteen chassis makes have now won at least one Man Cup final in 2013. Top Kart will enter the final round at the GoPro Motorplex with a 10-win advantage over Tony Kart.
Pre-registration is now open for the Man Cup season finale this Sept. 27-29 at the GoPro Motorplex in Mooresville, North Carolina. Go to http://www.worldkarting.com/downloads/eb-2013/mooresville.pdf  to download the entry form.