Beyond the Mic: On the Road
EKN's newest staffer Tony LaPorta chronicles his Texas two-step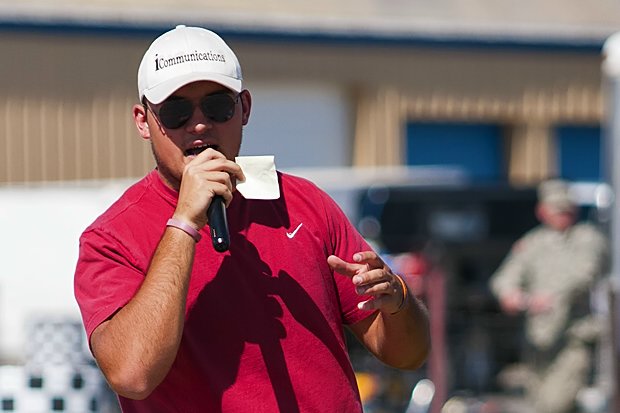 (Photo: Louis DePaemelaere - omhphotos.com)
Although we haven't yet made the formal announcement of his new position with EKN, we're thrilled to have a new intern on our staff.  Tony LaPorta has worked diligently in Colorado, developing his announcing talents and supporting the state's kart racing on many levels. As a Communication Major at Colorado Mesa University in Grand Junction, Tony has already become an important asset for us and its been great working with him this summer, developing his abilities in many areas of our business.  I decided to throw Tony into the deep end last month, asking him to pen his first column for the website, focusing on the time he spent in Texas this summer.  Here is it, the first of what I expect will be many columns for EKN's newest staffer.
– Rob Howden, EKN Editor-in-Chief
This is my first column with eKartingNews.com, and I am stoked and so grateful to be part of the team. My thanks go to Rob Howden and David Cole for working with me and helping groom my journalistic future with EKN and HMG. This column is my attempt to give the readers a glimpse into my time spent calling a pair of races in Texas earlier this year, and I hope to see you all at a few events in 2014!
Nicknames have a funny way of sticking with you. Through most of my life, I have gone by 'Big Tony' thanks to a couple of high school football teammates. Recently though, I have earned a new nickname -'Texas Tony'. And the best part…I'm not even from Texas.
Last November, while sitting in one of my English classes at ColoradoMesaUniversity, a friend sent me a text message saying that he knew a guy who was putting on a kart race and needed an announcer. That friend who contacted me was John Shofner of the Become One film, and the guy who was putting on a kart race was Rob Miller. The race – the 2013 Lone Star Grand Prix.
My time in Texas back in March was easily the most fun that I have ever had at a kart race as a competitor, spectator, announcer or otherwise. Most of my weekend was spent with members of the LSGP event team, which included Mr. Miller, race director Rick Fulks, track official Matt Ackley and head flagger Maddi Egger. Before the racing weekend even started, my nights in Texas were a blast. Arriving Thursday night, Rob and his wife Jen took us to Gruene Hall, the oldest dance hall in Texas, where we enjoyed some true southern Texas country music and even a little dancing. The next night was spent with a theater packed full of karters as we took in the world premiere of John Shofner's karting documentary Become One. What a neat experience it was getting to watch a film starring my friends about a sport that has changed my life.
After the movie was over Rick, Maddi, Matt and I returned to downtown Lockhart to continue building the track. At 3:30 am Saturday morning, we had thrown down the last hay bale and the track was ready for action. With several years as a corner worker/track hand myself, I have worked with a number of race directors. Watching Rick build a race track from the ground up – one that would prove to be fun and challenging to drivers in all classes – was very educational. But it was Rick's dedication to building an even safer race track that really impressed me. It was my honor to work with a karting veteran such as Mr. Rick Fulks.
The remainder of the weekend was spent getting to call some of the best street racing I've seen, supported by fence lines full of LoneStarState spectators, who were all excited to see some high caliber kart racing. Everything from a full Stock Honda grid, to nearly 40 Chonda racers, flew through the streets of Lockhart, Texas for two straight days. The nights in Texas in between racing were spent with great people, enjoying great food and having the best time.  It really is what karting is all about. Every racer and team member I spoke with echoed my pleasure over being at such a fun and unique event.
Four months later, I was back in the Lone Star State, this time inside the historical Texas Motor Speedway calling the action at the inaugural 'Two Days Two Ways' events. TMS is the track where Dale Earnhardt Jr. won his first NASCAR Sprint Cup race, the track where Davey Hamilton's career and life was nearly ended in a horrific IndyCar crash, and the track where Michael McDowell's qualifying wreck shook the racing world in 2008. For a racing enthusiast as myself, I could not believe my fortune. I stood within the infield of TMS and called another event so unique to the sport of karting, including everything from Kid Karts to modified shifters, running them on two different layouts, in two different directions over two days. 2D2W lived up to its name as Saturday we raced in blistering heat, while Sunday karts slipped and slid around the infield of TMS in the wake of Texas-sized raindrops.
After the racing was over at TMS, I spent the next day and a half with Rob, his family and 2D2W head flagger Matt Ackley at Rob's farm in east Texas, catching the biggest catfish and bass I have ever stuck a hook into, while enjoying some more of the Texas hospitality that the Miller family extends to everyone he meets.
Karting is a sport I am so grateful to be part of. And to see it done in new and different ways is always exciting. Miller has put on two banner events in 2013 with a third on the way – the Texas 500 coming in October – and has provided a terrific experience for all the drivers who take part in his races.
One other facet of the LSGP and 2D2W weekends that made those events so unique in my mind, was the youth factor. Getting to work and hangout at the LSGP with people on the staff that are actually my age was awesome (I turned 20 in June). Corner captain Matt Ackley and head flagger Maddi Egger were awesome to work with, making the 2013 LSGP run smoothly and professionally. Ackley's role with the LSGP will be increasing every year, which is good news for the event. Maddi showed her true colors and her up-bringing from a family of racers. Anyone who has raced at a SKUSA Pro Tour race in the last three years knows Maddi as the best grid steward in the sport, her hard work at the LSGP proved to me and all others in attendance that she will be a major part of karting's biggest races and the sport itself for years to come.
Among the many things drivers and teams will have to look forward to at LSGP 2014, and something I am excitedly looking forward to, will be welcoming two of the most well-known names in karting commentary and open-wheel journalism in Lockhart next year. The official voice of Rotax Max Challenge worldwide, Mr. Ken Walker and North America's most well-known karting announcer Rob Howden, are joining me on the mic next year for the call of the LSGP. Again, I can't thank Rob Miller and KRN for this opportunity enough.
I loved my time in Texas, and I can guarantee anyone who comes down to any of the above-mentioned events in 2014, will feel the same way. Of all the drivers I talked to in the pits, interviewed, and spoke to after the race weekends, not one had a single negative thing to say about the tracks, layouts, event staff, safety crew or organization of the event.
I hope to see all of you at a race track soon! Especially if it's in Texas!
Respectfully,
Tony LaPorta
Editorial Assistant
eKartingNews.com