WKA Manufacturers Cup Headed to Pittsburgh This Weekend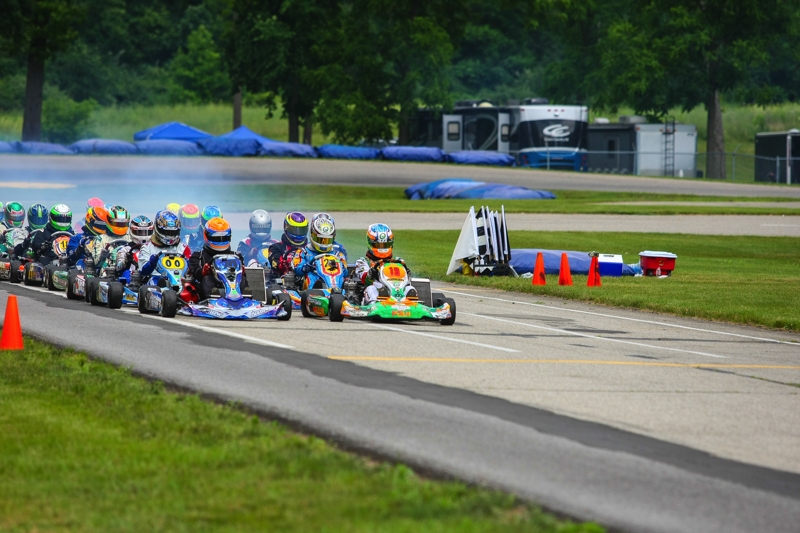 South Bend winners Kyle Kalish (19) and Jacob Knueven lead the Parilla Senior field to the start at the Man Cup Grand Nationals (Photo: NCRM)
The first of two consecutive weekends of national WKA kart racing at Pittsburgh International Race Complex kicks off this weekend with the fifth round of the Mazda / Bridgestone Manufacturers Cup Series, the Zero Error Racing / Checkered Motorsports Nationals, before the RLV Tuned Exhaust Products Gold Cup Series runs it's GT Machine Grand Nationals next weekend, August 23-25.
This weekend 2-cycle sprint national racing will take center stage as drivers and teams from around the country and Canada travel to western Pennsylvania for the four-day event.
Karters will take to the challenging 20-plus-turn Wilson Circuit at Pitt Race, a popular venue that will host its third consecutive Man Cup national and fifth since 2005.
Only one race remains after the Zero Error Racing / Checkered Motorsports Nationals, a September 27-29 date at the new GoPro Motorplex in Mooresville, North Carolina.
This means national championship battles will be in the forefront of many racers' minds this weekend at Pittsburgh. Some racers need a good weekend in order to have a shot at a championship at the season closer, while others are working to hang on to a point lead they've held for all or most of the year. Some racers not in control of their own destiny are looking for their competitors to experience a bit of bad luck in order to get back into the championship race.
Gates will open Thursday for parking, pre-tech and registration with a full day of practice slated for Friday. Qualifying, pre-finals and main events for 11 classes each day will take place Saturday and Sunday.
Go to HERE for the event entry form.
Here's a look at each category and how the standings look coming into this weekend's Manufacturers Cup national at Pitt Race.
TaG Senior
Florida Tony Kart racer Jonathan Kotyk is in line for a couple of national championships in the Man Cup, and he enters Pittsburgh on the hottest run of his career in the series. Kotyk was a four-race winner at JET Karting in June, becoming only the second racer this year to win four finals in a single Man Cup weekend (Brandon Lemke was the other).
Kotyk holds a commanding lead of nearly 200 points in the TaG Senior standings. He'll need to experience a lot of bad luck over the last two rounds if any of his competitors have a shot. Top Kart racers Mason Chelootz and Garrett Johnston are second and third. Derek Dignan sits fourth and Jake Johnston currently rounds out the top five.
Parilla Senior
Praga racer Cal Stewart entered round four with the lead but Arrow pilot Jacob Knueven had a terrific weekend in South Bend, finishing second to Kyle Kalish Saturday and winning Sunday, to take the point lead by 125 markers over Stewart. Like Kotyk, Knueven is looking for his first-ever Man Cup championship and with the way he's been running lately, it appears he'll be tough to beat. Knueven has finished in the top three in three of the last four finals between New Castle and South Bend.
Garrett Johnston is also third in this class while Chelootz sits fourth. Dignan rounds out the top five. Jamie McMurray, Chelootz, Knueven, Kalish, Ashley Rogero, Jesus Rios, Mike Giessen and Dignan have all scored Parilla feature wins this year.
TaG Masters
New Jersey Top Kart racer Scott Ferris is riding a six-race winning streak in TaG Masters and holds a huge point lead over Steve Schiewer. Ferris has all but clinched the championship, which would mark his second in a row in the over-35 class.
Only four TaG Masteres racers were in attendance at JET Karting, but this weekend should see a few more. One competitor entered is North Carolina's Chuck Gafrarar, who should provide some competition to Ferris and Schiewer.
Komet Pro
Kotyk appears to have a big lead in this class, as well, but with the drops calculated Top Kart racer Patrick Olsen actually is leading the points by a slim seven-point margin over Kotyk. Olsen has two "zeros" for drops, which have him right in the thick of the battle. These two drivers will be the ones to watch this weekend in regards to the Komet Pro national championship battle. Keep in mind this class pays $2,000 and a KPV engine kit to the champion.
Yamaha Senior
Dakota Pesek is in the market for another Yamaha Man Cup national championship after sweeping the Yamaha Supercan divisions last year. Pesek, who recently switched from Arrow to Top Kart, enters the weekend well ahead of Olsen in Yamaha Senior. The switch from the Yamaha can to pipe setup hasn't slowed down Pesek a bit as he won and finished second right out of the box at Daytona, won at Kershaw and picked up the Grand National triumph in June at JET Karting at Michiana.
Brett Schneider is third, Chase Jones fourth and Derek Hughes currently rounds out the top five in Yamaha Senior standings.
Yamaha Junior
It's Haase versus Birel in the Junior divisions in Man Cup. Interestingly, a Haase driver leads two or three Birel drivers in both Yamaha Junior and Komet Junior.
In Yamaha Junior, Pennsylvania's Brandon Jarsocrak has three wins on the season and a nice 185-point lead over Canadian Grant Quinlan, who scorched the field in the last outing at South Bend. Jarsocrak currently has a better drop that Quinlan, which means his lead is actually closer to 200 points coming into this weekend's event.
The race certainly isn't over, as Quinlan has improved all season and appears to be getting hot. But Jarsocrak will be tough to catch as he's been extremely consistent all year. In fact, he's only finished outside the top five once, on Sunday at New Castle.
Matt Solarczyk is third, Austin McCusker fourth and Emerson Reed fifth.
Komet Junior
This class appears it will come down to the last race at Mooresville. Haase racer Austin McCusker kicked off the season sweeping Daytona and jumping out to a big lead. He's led the points all year, but Birel pilot Mike McAndrews, who skipped Daytona, has since won five out of six Komet Junior finals including three in a row. McAndrews has also a bad race (day one at New Castle), meaning he's basically used his three drops and can't afford another bad final.
McAndrews will be going for wins but he also will need to do some point racing. If that means not pushing the issue on the final lap to score another win and settling for second or third, it may help him more in the long run.
Quinlan is also in the mix, as he's currently second but needs McCusker to have some bad runs in order to catch him. Right now, it looks like it will come down to McCusker and McAndrews, but don't count out Quinlan, Matt Solarczyk or Gresham Wagner, who make up your top five coming into this weekend.
Yamaha Sportsman
The Sportsman divisions have provided some of the most entertaining racing of the year in Manufacturers Cup, and things got even more interesting a few weeks ago at the Route 66 Sprint Series event at Badger when Brandon Lemke, who's been the top dog in Sportsman Man Cup this year, broke his collarbone which required surgery a few days later.
Lemke leads Yamaha Sportsman and will need to use a relief driver this weekend for all the Sportsman classes, which is within WKA rules as long as the substitute is for an injury with a doctor's letter.
Lemke has a good shoe to replace him in Neil Verhagen, a multi-time Man Cup feature winner who's been riding an Arrow chassis in 2013. Verhagen will be on Lemke's No. 01 Merlin this weekend and look to do his part to help Lemke to a national championship and perhaps a Triple Crown title. One would expect with Verhagen's experience and skill that Lemke's ride will be right up front challenging for wins throughout the weekend.
David Malukas enters the weekend second to Lemke in the Yamaha Sportsman points, 305 markers back. Zach Holden is third, John Paul Southern Jr. fourth and Anthony Gangi Jr. fifth.
Lemke is on a four-race winning streak coming into this weekend, and while he won't be able to extend it, we'll see if his ride can with Verhagen at the wheel.
Cadet Sportsman
Lemke and Malukas enter the weekend separated by only five points. Malukas has a slightly better drop than Lemke thus far, making the Cadet division Malukas' best shot at a national championship.
Holden is not far out of the lead, either. The Indiana Top Kart racer is only 85 points out of the lead with two race wins on the year. Gangi is fourth and Southern rounds out the top five.
Komet Sportsman 1
The only "best five out of six" class shows Lemke out front by a 65-point margin over Malukas and Gangi, who are tied for second. With the drop calculated Malukas is actually 11 points up on Lemke. Austin Schaff, who won this class in the rain at South Bend, is fourth and Holden fifth.
Komet Sportsman 2
The only "best four out of five" class is the only Sportsman division that Lemke isn't currently leading. Gangi has won two of three (class did not race at Daytona) and holds a commanding point lead by 115 markers over Schaff. Malukas is third, Lemke fourth and Southern fifth.
The drop brings Schaff a little closer to Gangi, but if all goes well in the season's final two races, Gangi should be good to win his first WKA national championship.
Yamaha Rookie Sportsman
The Yamaha Rookie youngsters have put on good shows with some great racing all season. They've also had terrific entry counts with over 22 entries at each event this year.
The points look like they'll come down to the wire with Mark J. Fineis holding a 29-point lead over Tyler Ferris coming into Pittsburgh. Florida's Jeremy Fairbairn is 75 points out of the lead in third, while Gage Rodgers is 109 points back in fourth. Nic Sheppard rounds out the top five.
Fairbairn, Ferris, Fineis, Rodgers, Conner Ferris and Maks Kowalski have all won Rookie main events this year, and this weekend should show some more great racing among the Rookie contestants as they battle for a prestigious national championship.