2013 Rock Island Grand Prix Setting Up for Another Memorable Labor Day Weekend
19th annual event prepares for karting action to hit the Quad City streets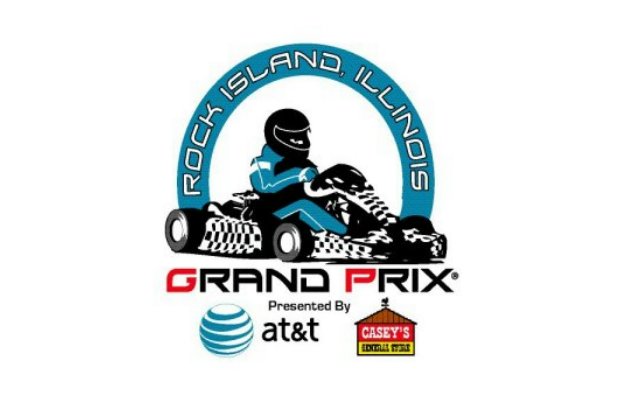 If you have never experienced the sensation of kart racing on the city streets, the Rock Island Grand Prix needs to be on your personal bucket list. The Labor Day Quad City street race is the equivalent of a PGA 'Major' for the sport of karting, as competitors double the labeled speed limits of the Illinois city. Entering its 19th edition on August 30-September 1, the annual event is rich in tradition and history, both on and off the track, which keeps bringing hundreds of racers and fans alike back year after year.
Among the best drivers to ever take on the Rock Island Grand Prix is the race win record holder Gary Lawson of Mentor, Ohio, who has dominated the competition to 22 total victories between the 2-Cycle and 4-Cycle categories. "I hold my accomplishments at The Rock in very high regard. It was always the race I looked forward to the most each season," Lawson offered EKN. "Roger (Ruthhart) and his staff put forth great effort to constantly try to improve the event. I wish more street races like it were still around!"
One of big winners in recent years has been two-time King of the Streets victor Jordon Musser. A winner in Rotax competition back in 2002, it took the Texan a few more tries to take home the prestigious KoS crown in 2009 and then again last year. "I take a totally different view on the Rock Island Grand Prix versus other events. Although I definitely I come to win, most of my thoughts turn to having fun at this event. Between the night-time activities and the overall culture of the event, it is hard not to have a good time regardless of the on-track action. The somewhat limited track time can actually be a positive, less cash on tires, and more time to enjoy the atmosphere. Winning there is always a big deal as we have seen even dominant drives end their runs early when a lapse in concentration has caused leaders to crash on their own. You have to beat your competitors, AND the track itself."
Last year, Canadian Cory Cacciavillani became the eighth different international driver to win at Rock Island Grand Prix. "The history of the Rock Island Grand Prix is no secret and it's always been a goal of mine to take home a win at the Rock and become part of that history.  We've had the speed to win a number of times and finally last year it all came together for us and we were able to take that elusive first win.  Part of the Rock's history is the multiple event winners and in 2013 the plan is to get on that multiple win list.  As for the track itself, it's definitely a challenge and it pushes a driver literally to their limits; there are zero margins for error and you really need to thread the needle every lap to be at the top of the charts."
The Labor Day weekend will also feature the first ever EKN Duel between site owner/publisher Rob Howden and News Desk Manager David Cole. For nearly 10 years, the two have exchanged bumps, sideswipes, and fast laps at indoor tracks across the country. Each have taken on the Rock in separate weekends in the past, but will now face off in the growing Briggs & Stratton LO206 class.  They will also chronicle their outings as part of a new feature article series – EKN OnTrack – where they'll highlight their equipment and the event.  Howden will be racing an Exprit chassis, prepared by DB Motorsports and Brian McHattie. Cole is set to sample the Victory Kart, manufactured by McLaughlin Motorsports as an entry-level package. Here is a look at the race last year from seventh place finisher Mark Beamish.
Just days away from the streets closing down for the 19th annual event, we tracked down Rock Island Grand Prix president Roger Ruthhart for a few questions regarding the updates made to this year's event, the atmosphere and just what is there to do while visiting the Quad Cities.
eKartingNews.com – Roger, thank you for taking time out of your busy day to speak with us. We all know that the Rock Island Grand Prix Volunteer Committee works all year to get the event prepped and ready to go, so this last stretch drive much be hectic. The race is now just under a few days away, and you've been making some big announcements and some exciting evolutions to the event to re-invent the race. To be straightforward, how are things looking for this year's race?
Roger Ruthhart – Organizationally, we are ready to once again produce one of the top karting events in the world. For the most part, our same all-star on-track crew is back and we're excited about plans for this year. These days, you never know what the turnout will be until closer to the race, but we have announced some attractive deals thanks to friends like Briggs & Stratton, MG Tires and the Bob Bondurant Racing School, and we still have some more to come.
This year, as you know, we made a big effort to set up our racing program so that most drivers will be able to compete in at least two races, giving them more time for practice and more chances to win. The one complaint we had heard over the years was not enough track time and, of course, that's a difficult issue to address with a street race where the course isn't set up until the night before. But we think this new program will address that concern. So instead of trying to offer a class for everyone, we have doubled up on some classes that have been well supported over the years.
We also changed the rules for the Pro Open class, which we hope will encourage more people to participate, and have made a vintage race part of the regular program after two years of running it as an exhibition event.
This year, we have also been able to attract several new sponsors this year, including MG Tires sponsoring King of the Streets, the International Trophy Cup Series, the Lone Star Grand Prix, Longley Systems and Advance Medical Transport. And, of course, AT&T and Casey's General Stores return as our Presenting Sponsors. We could never attempt this event without the support of our long list of loyal sponsors.
EKN – Track time always seems to be one of the key factors in racers selecting the events that they schedule for their season. Many love the option to run as many classes as possible, while others just want to concentrate on one particular class. That's certainly something you have to juggle when promoting an event. The format for this year's event will be similar to that of year's past, correct?
RR – While the format may be similar, racers now have the opportunity to double the practice time and chances to win. This year, we have looked at the program and tried to set the class structure so that everyone has a chance to race at least twice. We looked at the classes that have been supporting our event the strongest and rewarded them by doubled them up, while eliminating some who hadn't been producing a lot of entries.
There are two Briggs 206 classes, two Clone classes and two Yamaha Super Can classes. There are two TAG Senior classes – one Saturday and one Sunday. We have also added an Open Shifter class. This provides a second class for Stock Honda and 125 Masters to run if they choose, and also provides a place for old ICC's to play. There are hundreds of them still around and we have often been asked to bring the class back after it was dropped due to lack of support. About the only racers who won't be able to put their kart in two races are those in TAG Junior and Pro Open.
So, for example, if you race in the Briggs & Stratton 206 class, you used to be limited to two Saturday morning practice sessions and one more for timed qualifying in the afternoon. Then, another practice on Sunday morning and you go racing. Now, if you enter both classes, you have four practice sessions on Saturday morning and two qualifying sessions in the afternoon. Then, two more practice sessions on Sunday morning and two races on Sunday afternoon. That's not only double the practice time to help learn the track, but if you crash out on lap one of the first race on Sunday afternoon, you still have another chance to keep your weekend from being a bust. And, in the case of the 206 classes, Briggs & Stratton has made if even easier to enter the second class by paying $100 of the entry fee. So, entering the second class only costs you an extra $25.
For those who want to just concentrate on one class, obviously they still have that opportunity.
EKN – The Rock Island Grand Prix is just not another race, and that's something we tell everyone who asks us about it. It's an event, as the city of Rock Island welcomes us from all over country as we enjoy the District, along with the many other attractions in the Quad Cities area. What are some of the non-racing elements that the racing families and competitors can enjoy over the four-day holiday weekend?
RR – What first-time racers don't realize until they get here is that the race is held in an area of Rock Island known as the 'Arts & Entertainment District'. This is literally the place 'Quad-Citians' go to play all year round with restaurants, dinner theater, casino, live music, comedy clubs, coffee shops, etc. almost all within easy walking distance. For many, this is the one race each year that they go to that isn't in the middle of a corn field or desert somewhere so they plan family gatherings or at least bring their family or sponsors along because there are other things to do if you tire of racing. We are right on the shore of the Mississippi River and the entire Quad-Cities area is a regional tourism destination — there is much to do if you have the time to explore.
This is just one of a number of huge weekend festivals where they close down streets and have fun in Rock Island. They include the Quad City Criterium cycling races on Memorial Day, Gumbo Ya Ya – a Mardi Gras festival in June, Red White & Boom in July, Ya Maka My Weekend Caribbean festival in August, plus the Grand Prix and many other smaller events and concerts.
We might be best known for being the only kart track with a gentleman's club on Turn One, but Rock Island is really so much more. And, of course, there are The Travoltas — a great Canadian disco-era cover band that is here every year on race weekend. Here is a list of what's up this year (mostly just in Rock Island) on race weekend that we will be sharing with our racing friends soon. Jumer's Casino & Hotel will have The Old 57's playing from 8 p.m.-midnight Friday and Saturday, August 30-31. Circa '21 Dinner Playhouse is showing "Southern Crossroads," a joyous, hilarious and frequently touching production set in the midst of the Great Depression. This production is the start of a National Tour that will be traveling across the United States. Shows are Friday, Saturday and Sunday evening with a buffet at 6 p.m., preshow at 7:15 and curtain at 7:45 p.m. The East Plaza Stage hosts outdoor concerts at 8 p.m. Friday, Saturday and Sunday. Friday night  features William Elliott Whitmore with opening acts American Dust and Chris Coleslaw. Saturday's and Sunday's shows feature a Grand Prix and Quad-Cities favorite, The Travoltas, starting at 10 p.m. Opening act on Saturday is the Funktastic Five with Terry and the Loan Sharks opening on Sunday.
The Speakeasy features Shots 'N' Giggles on Saturday night featuring The Blacklist, an adult improv troupe offering the most unique night of comedy entertainment in the Quad-Cities. Stand-up preshow at 9 p.m., show at 10 p.m. All tickets $10 and must be 21 or over. ComedySportz shows will be held Friday and Saturday at 7 p.m. at the Establishment Theater. Comedy Sportz is offering half price ($6) tickets to anyone who is participating in the Grand Prix — racers and their families or crew. Rozz Tox Café will host The Parish Festival on Thursday, August 30. Friday night is 365 Horror Film Night featuring "Thou Shall Not Kill … Except" and "Wild Zero." 7 p.m. Open to ages 17 and older with free admission. Red Rage Afterparty, a Rage Against the Machine and The Red Hot Chili Peppers tribute band, will play from 9:30 p.m.-1:30 a.m on Sunday at the Bent River Brewing Station. Camaro Car Show hosted by the Quad-City Camaro Club on 18th Street near WHBF-TV from 10 a.m. to 4 p.m. Sunday. Rock Island, which was once the location of Saukenuk, capital of the Sauk Indian nation, will host the annual Native American Coalition Pow Wow at Black Hawk State Historic Site. Dances start at noon Saturday and Sunday, Aug. 31-Sept. 1. The Backwater Gamblers water-ski team, one of the top ski troupes in the nation, will perform at 6:30 p.m. Sunday and Monday at its Show Park. The Quad Cities River Bandits, Class A affiliate of the Houston Astros, will host the Beloit Snappers at 7 p.m. Saturday, 5 p.m. Sunday and 1 p.m.
EKN – Roger, that's the best overview we're ever had of the weekend's opportunities.  Thanks for that.  I'm sure a few families will look to capitalize on some of what's available.  We know that we're excited to get down there.  See you soon.
eKartingNews.com will have complete coverage of the event, including our 'Trackside Live' program. Live audio coverage will be available through the website during qualifying Saturday afternoon and Sunday's main events. In addition, our industry-leading daily reports, result updates and the new Paddock Insider will keep all those unable to attend up to date with the drama and excitement that is the Rock Island Grand Prix.
Registration deadline before the prices increase by $25 is postmarked or submitted by August 16. Entry price will remain at the $150 price until August 30 after 5pm CDT when an additional $100 per entry penalty will be assessed (King of the Streets and Vintage offer different pricing). For more, be sure to visit www.rockislandgrandprix.com