Team News: Wins & Podiums for Kartwerks Crew at GLSS Round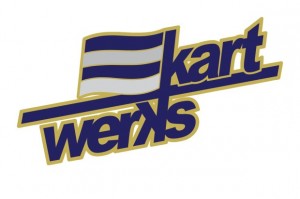 The Kartwerks crew had a successful outing at G&J Kartways for the third round of the Great Lakes Sprint Series. Roman Tretiak picked up a win and a second in TAG while Luca Mars scored two third place Podium finishes in Yamaha Rookie. In total, Kartwerks had five drivers in three different classes under the tent at this event.
While the TAG class was relatively small, Tretiak had a great battle all weekend long with Trinity Motorsports racer Steve Boyer as the two traded Poles, wins, fast times and positions throughout the event. Roman ended up putting his Praga Dragon on top Sunday in the final however to close out the weekend.
Evan Fritts returned for another road trip with Kartwerks in the Yamaha Junior Can class. Evan's improvement throughout the weekend was easily evident and he capped it off with a fourth place finish on Sunday in the largest class of the weekend. The second year racer continues to make huge strides forward each time he races against the stronger competition on the traveling circuits.
Yamaha Rookie once again was the biggest class under the tent with Luca Mars, Ryan Detlor and Owen Mahle all making their first ever trips to G&J.
Luca piloted his Praga Piccolo to two consecutive Podium finishes behind front running National contenders Gage Rogers and Mark Fineis. It was great experience for the seven year old to chase strong competition like this in advance of the big races coming up soon at his home track, Pittsburgh International Race Complex.
This weekend marked a big change for Ryan as he turned his first laps in his new Praga Piccolo on Saturday morning. Working with the Kartwerks crew he quickly got comfortable in the new kart and ran his most competitive times to date at any track in comparison to the lead pack, picking up two top fives along the way. Ryan returns to his former home track (PIRC) soon where he'll be able to test and work with his new teammates for the first time for a full event.
Owen was not able to make Friday practice and turned his first laps at the tight and tricky G&J track in Saturday morning practice. In typical Owen fashion he took a tentative approach the first few sessions to learn the track but by the Sunday feature had cut ten seconds off his time as all three Kartwerks pilots dipped in to the 44 second range!
Dan Schlosser, Kartwerks – "The weekend was a success as all five drivers left the weekend with drastic drops in lap times and all made improvements in their racecraft. I really believe in the value that a strong regional series such as the Great Lakes Sprint Series provides for drivers wanting to make the transition from local racing to stronger competition."