Edgar's Hyundai Super One Rotax Series Round 5 Report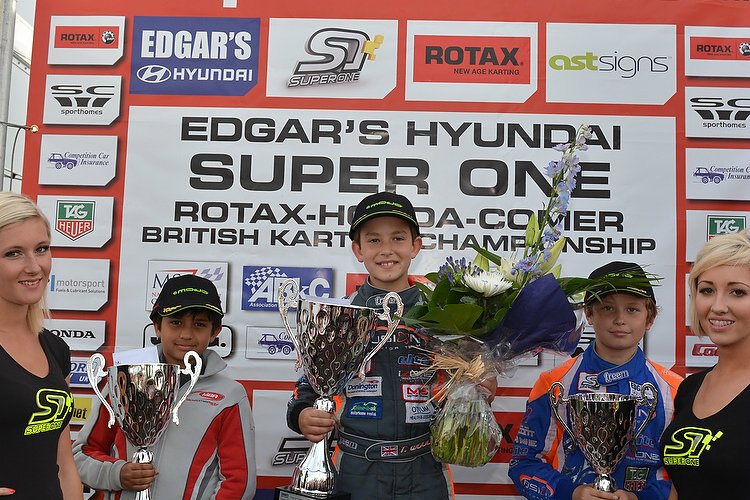 (Photo: Chris Walker - kartpix.net)
The British summer ended abruptly with heavy rain on the Sunday morning at the Scottish circuit, although the track dried up for the later second finals in the afternoon. Thus a good wet weather set up was essential to stay at the front of the pack.  With a round to spare, Honda Cadet has a provisional champion with Kiern Jewiss, and MiniMax with Connor Hall. Many congratulations to both.
Honda Cadet
Kiern Jewiss made a great start from fifth on the grid to lead with first Matthew Hopcraft, then Tom Canning following. Poleman Chris Lulham was clinging on in the top six but Matthew Hayden from the outside of the front row was falling back, to finish thirteenth. Mark Kimber was another with a great set up, from starting eighteenth he had quickly stormed into the leading group, displacing Myles Apps and quickly taking advantage of Canning's pass on Jewiss to follow through for second. Jewiss leapt into the lead of the second final over Canning whilst Perry Cooke briefly ran third, from his seventh place start, but fell to ninth as Kimber recovered from his outside starting position. Ben Karpeczak stormed up from ninth to fourth and when Kimber took Canning, Karpeczak was soon to follow for third. Jewiss succumbed to the hard charging Kimber who pulled out almost 3s for the win. Jewiss second place was good enough for an unassailable position in the points table.
Final 1
1 Tom Canning (Project One); 2 Mark Kimber (BRK); 3 Kiern Jewiss (Project One); 4 Myles Apps (BRK); 5 Matthew Hopcraft (Zip); 6 Chris Lulham (BRK).
Final 2
1 Kimber; 2 Jewiss; 3 Ben Karpeczak (Project One); 4 Canning; 5 Hopcraft; 6 Matthew Hayden (BRK).
Comer Cadet
Alex Quinn, who had been on the front row for the first final was unfortunate to have his kart throw its chain on the formation lap, so Sean Butcher leapfrogged Olli Caldwell to follow poleman Tom Wood then pick up the lead at half distance. That put Wood back to third behind Oliver York. Matthew Graham was another out on the first lap, and Caldwell slipped back to eleventh in the wet conditions. Alex McDade found a good setup to move up from grid 11 to fourth, displacing Jonny Edgar. Once ahead, MBR's Butcher pulled a 3s gap on York. With a track just beginning to dry for the second final, Quinn gambled on slicks, the only one to do so, and reached fourth from the back. Wood enjoyed a lights to flag victory but Butcher pushed him hard once clearing York and McDade.  These latter two both succumbed to the attentions of William Pettit and finally Quinn.
Final 1
1 Sean Butcher (Zip); 2 Oliver York (Zip); 3 Tom Wood (Zip) 4 Alex McDade (Zip); 5 Jonny Edgar (Zip); 6 William Pettitt (Zip).
Final 2
1Wood; 2 Butcher; 3 Pettitt; 4 Alex Quinn (Zip); 5 York; 6 McDade
Mini Max
Connor Hall was quickest in the first timed session but dropped to twelfth with the other session being faster, Tom Gamble, Sandy Mitchell and Dean MacDonald (now on a Kosmic) all at the top of the table. So Gamble won through to pole for the first final alongside MacDonald, whilst championship leader Hall was only on grid ten. Gamble took the hole shot, with Jordan Brown-Nuttley quickly displacing Harrison Thomas and proving too fast for Gamble.  Hall stormed through to second, not quite managing the pass for the win but picking it up anyway when Brown-Nuttley was penalised five places, as was MacDonald from sixth.  Earlier Alex Stott had been black-flagged in and excluded. Gamble hung on for third, which became second. With the track now drying fast, Hall could control the race from the front and with a round to spare speed to the provisional championship position.  He will probably guest as a Junior Max at the final round. Gamble recovered quickly from falling to fifth at the start, to chase Hall, whilst Cameron Roberts headed MacDonald, Thomas and Cameron McClauchlin only to be excluded for a technical non-compliance.
Final 1
1 Connor Hall (Tonykart); 2 Tom Gamble (Tonykart); 3 Harrison Thomas (Tonykart); 4 Max Bird (Tonykart); 5 Josh Skelton (Tonykart); 6 Jordan Brown-Nutley (Tonykart).
Final 2
1 Hall; 2 Gamble; 3 Dean MacDonald (Kosmic); 4 Thomas; 5 Cameron McLauchlin (Gillard); 6 Bird.
Junior Max
Jai Nijjar enjoyed topping the Saturday dry timed qualifying over Josh Price and Guan Yu Zhou but after qualifying through to grid five for the first final, he came off at the start.  He would reach fifteenth.  Nathan Aston converted pole to the lead, chased hard by Lando Norris but opening a good cushion until he slid wide at a corner.  That left the door open for a win by Norris, Aston still clear of Price, Tom Harvey and Jake Walker. Ben Hingeley had gridded fourth but slipped back in the wet conditions to thirteenth, and Zhou could only manage eighth, after Philip Rawson was excluded for driving standards from that spot.  With the track almost dry for the second final, Price leapfrogged Norris and eased away for a 4s victory. Norris had fallen to seventh and would have finished ninth until he was given a five place penalty. Brett Ward headed what became a massive battle for second in a long train of karts, Zhou going much better in the dry and clinching third.  Some were too exuberant, Jai Nijjar excluded from fourth for contravention of flag signals after storming through the pack, and Aston for driving standards after a clash with Walker.
Final 1
1 Lando Norris (Tonykart); 2 Nathan Aston (Tonykart); 3 Josh Price (Tonykart); 4 Tom Harvey (Tonykart); 5 Jake Walker (Kosmic); 6  Brett Ward (Kosmic).
Final 2
1 Price; 2 Ward; 3 Guan Yu Zhou (Tonykart); 4 Jack Bartholomew (Tonykart); 5 Luke Knott (Tonykart); 6 Dave Wooder (Alonso).
Senior Max
Harry Webb and Philip Morin topped the first timed practice session, but Morin's Sunday did not go to plan.  In the second Shane Daly pipped James Singleton and Sean Babington, and it was Webb and Daly's names at the top of the combined list. Jack Saffery did not get a time. Webb won the first and third heat and Babington the second for the first final front row whilst Daly and Sam Snell suffered exclusions, Snell for technical. Webb converted pole to first, chased by Kyle Fowlie, James Singleton and Kieran Gifford, the latter about to be taken by Oliver Hodgson.  But Babington had come off and had to recover to fourteenth from the back, Charlie Eastwood also dropping places and only managing tenth on the wet track. Fowlie nipped past his Strawberry team-mate Webb at his local track with three laps to spare, and Webb was hounded by Singleton to the line. Josh Collings had to obey a mechanical flag signal, but would score ninth in the second final, which was an acrimonious affair. Oliver Myers, from fifth on the grid, slotted in behind Singleton and Fowlie and leapfrogged both to what he thought was his first senior win, albeit by a fraction over Hodgson.  But he had been seen passing on a yellow flag and was excluded from the race. Hodgson had been following him through on the now dry track, and thus inherited the win over what would have been Singleton.  The latter driver had also contravened flag signals and was also excluded leaving Fowlie second.  And then the next on the road Gifford was underweight, so that put a recovering Babington up from sixth to third, Saffery next. Harrison Wignall was another with an exclusion for driving standards whilst Webb had fallen out of fifth to near the back, and Eastwood stopped with a technical issue. Hodgson is now top of points standings but not when dropped scores are taken into account so there will be all to play for at the final round at Shenington at the end of September.
Final 1
1 Kyle Fowlie (Tonykart); 2 Harry Webb (Tonykart); 3 James Singleton (Tonykart); 4
Oliver Hodgson (Tonykart); 5 Oliver Myers (Tonykart); 6 Kieran Gifford (Kosmic).
Final 2
1 Hodgson; 2 Fowlie; 3 Sean Babington (Alonso); 4 Jack Saffery (Tonykart); 5 Connor Jupp (Alonso); 6 Thomas Arme (Kosmic).
Further information on http://superoneseries.com