WKA News: Road Race Grand Nationals Preview
Strong entry counts expected after solid Mid-Ohio numbers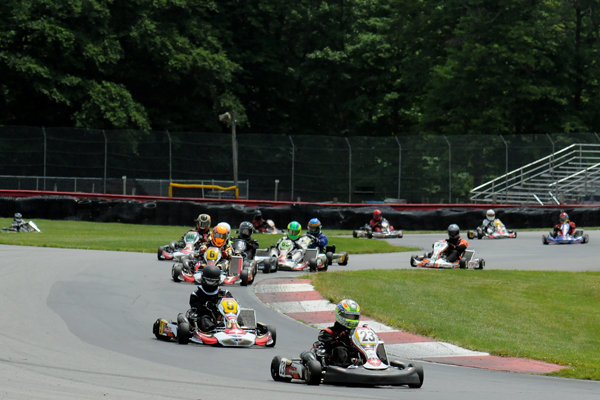 The racers of the WKA Vega Tire / TS Racing Road Racing Series will be back at it this weekend, when they head to VIRginia International Raceway for the Road Race Grand Nationals (Photo: WKA)
The second Grand National of the 2013 World Karting Association national tour is set to go this weekend when the racers and teams of the VEGA / TS Racing Road Racing Series driven by Mazda embark on scenic southwest Virginia and its famed VIRginia International Raceway.
This weekend's Road Race Grand National marks the sixth round of the 2013 National Road Racing Series and the first national of the year hosted by the Woodbridge Kart Club. This year's VIR event will run the 3.27-mile Full Course for the second consecutive year, however, this year's event will be the first time the Grand National will take place on the Full Course. Past Grand Nationals at VIR have run on the North Course.
A large crowd is expected for the event. Entry counts surpassed 400 at Mid-Ohio in June and another entry count in excess of 400 is expected this weekend.
A number of divisions will boast double-digit starting fields at VIR. The largest classes are expected to be Stock Honda 1 and 2 and the Yamaha Sportsman enduro category. Saturday's Stock Honda 1 already has 20 pre-entries with more expected at the track, while Sunday's Yamaha Sportsman Medium race will start over 20 of the best laydown-enduro racers in the country.
The Briggs Animal divisions are always competitive at VIR. Sunday's Animal 360 class already has over 15 entrants with Animal 335 and 385 will likely start around a dozen 4-cycle-powered sprint-enduros on Saturday afternoon.
In addition to Grand National Eagle trophies on the line to national-class winners, a couple special incentives will be up for grabs. The winner of Saturday's Stock Honda 1 class will earn a set of VEGA XH tires, while Sunday's Stock Leopard Sprint 2 victory will take home a set of VEGA's, as well. The VEGA tires have been posted by series sponsor TS Racing. The winner of Sunday's CKI Yamaha Sportsman Medium division will win a certificate for a set of Hoosier tires, posted by the Indiana-based Hoosier Racing Tire.
VIR gates open today with a full day of practice schedule for Friday. Racing action will kick off late Friday afternoon with a couple of local-option races on tap, including the $300-To-Win Yamaha Sportsman Special money race.
Thirteen national race groups are scheduled to take the green flag between Saturday and Sunday.
For directions to VIR, lodging, schedules and other information, CLICK HERE or go to visit VIRNOW.com.
To discuss this weekend's Road Race Grand National of the 2013 VEGA / TS Racing Road Racing Series driven by Mazda at VIRginia International Raceway, give us your thoughts below in the EKN Global Discussion – EKN