Two Days/Two Ways – An Event that Truly Lived Up to Its Name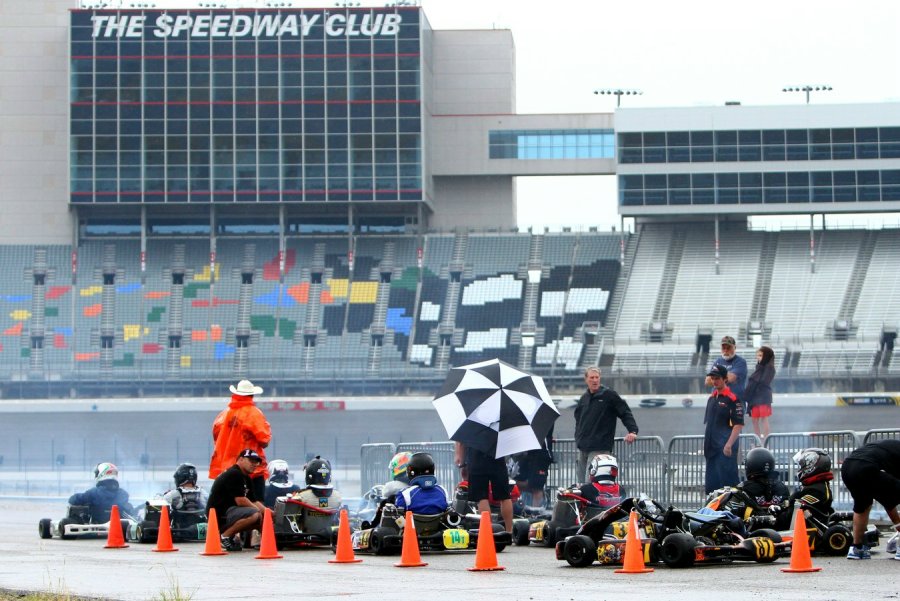 Karts took to the Texas Motor Speedway for 2D2W
On Friday, July 12, kart racers from Texas, Oklahoma, Louisiana and Mexico  descended upon Texas Motor Speedway in Ft Worth, Texas to take on two tracks in two days for one podium.
DAY ONE
Shifters, TAGs, Chondas and Yamahas raced the very fast 1.1 mile infield track in 101 degree weather on Saturday.  The largest class was Stock Honda Light with 18 entries which included California Pro Kart Challenge Leader in S2, Connor Wagner and WKA Road Race Stock Honda Points Leader, Carson Miller. Speeds of nearly 100 mph were reached on the long straight away.
The TAG Sr. Class also saw large numbers of entries including international kart and sports car racer, Diego Duez of Mexico.  Duez,  racing for Alamo Karts from San Antonio, had his hands full with a very competitive field but ultimately prevailed for the weekend win.  Wyatt Maness drove away from Duez on Saturday for the win but his Sunday result relegated him to 3rd overall.
Texan, Coy Dayton, an air conditioning contractor by occupation braved the heat probably better than most  making impressive drives in Stock Honda Heavy and Modified Moto.  He suffered with engine issues but managed a podium finish.
North Texas Karters regular in KT 100 and Stock Honda Light, Mitch McKie,  ran away with the Yamaha race on Saturday but succumbed to carburetor issues in qualifying on Sunday that hurt him in the overall results.  Joe Taylor struggled with mechanical issues on Saturday but was to seek his revenge on Sunday.
As is always the case at LSGP events the TAG Cadets put on an impressive racing show.  Ultimately, Hunter Stine, another North Texas Karters regular, was to take  the ultimate win but it wasn't a certainty when the day ended on Saturday.  Tyler Orum of Central Texas  pulled off the impressive win on the big track Saturday but couldn't follow it up on Sunday losing the top podium spot to Stine by a mere 2 points.
The pride of McCloud Oklahoma, Jesse Woodyard, won both days in the TAG Jr. class to make the podium determination easy with regard to the top spot.  The quiet youngster who regularly stands on the top place on the podium in Stock Honda Junior and TAG Jr. won with his well known driving consistency.   Miguel Ruiz made Woodyard earn it applying pressure all weekend.  The Saturday race saw multiple lead changes between them as they diced back and forth for the complete race.
In Stock Honda Light  the elder statesman of 80cc shifter kart racing in Texas, Tommy Muth,  stepped up to the 125 and made the others take notice setting the fast times in practice and finishing an impressive third on the big track.  Muth raced in the front pack with Mike Smith and Connor Wagner and ultimately rebuffed a  hard charging Carson Miller coming from the back.  A non-reading transponder in qualifying caused Miller to start dead last in the Saturday Main.
The affordable and generally incredibly competitive Chonda class experienced a bit of a surprise as Hill Country Kart Club regular, Ron Griffith ran away with it on Saturday.  His doing so was a precursor for Sunday's race where he again made it easy on timing and scoring by winning again.  William Lockner, another North Texas Karters regular, drove to a nice second place finish with John Morris finishing 3rd.
Devon Frazier took home the win on Saturday and the ultimate event win in Chonda Jr.  Samantha Hopper drove a very consistent weekend finishing 2nd on Saturday with Rebecca Erlanson finishing 3rd.
Kevin Crowe ran away with it in 80 Shifter on Saturday and left the racing to Charles Hopper and Collin Long.  Normally a sprint track racer, Crowe spent a great deal of time smiling during the weekend based upon his new found experience with shifter speeds on a big track.
Donnie Cluck bested his good friend Steven Clark in TAG Masters both days but the Saturday racing was a close contest as the two fought back and forth on the big fast track.  The heat appeared to have little impact on the veteran motorcycle racers turned Masters kart racers.
The Modified Moto race was dominated on Saturday by Central Texan, Coy Dayton, until a gear box failure  handed the win to Connor Wagner.
Many prayed for  or at least wished for cooler temperatures on Sunday after  baking in the searing  Texas heat on Saturday.  Prayers or wishes were answered  (sort of).
DAY TWO
With Sunday came 75 degree temperatures and a light rain that fell all day. The karts took to the .7 mile road course in the opposite direction on slicks to practice.  Ultimately, some switched to rain tires.
The other racers were joined by 7 impressive Kid Kart racers on Sunday.  They took to the wet track quickly and made it appear that rain racing at Texas Motor Speedway was a regular occurance with them.  Caiden Mitchell left the rest of them to race for second as he proved that there would be   no doubt that he would own the top spot of the podium.  Tristen Hanaway brought it home second and Trent Barrett took the third step on the podium.
1993 Dallas Grand Prix podium finisher, Mike Finley, racing for Pole Position Raceway left retirement to finish first in Stock Honda Heavy on both Saturday and Sunday.  As impressive as he was in the dry he was more impressive in the rain.  Matt Stevenson of Oklahoma ran a very impressive second in the rain but could not catch the veteran Finley.  LSGP chief "ideas guy" Donnie Cluck claimed the 3rd spot on the podium by improving his Saturday result of fourth to third on Sunday. Ultimately, 12 Stock Honda Heavy racers competed for the podium.
In Stock Honda Light, Mike Smith, racing for Texas Karts out of San Antonio, Texas added another notch to a belt as a veteran road racer winning the class..  Smith has been the dominant force in Stock Honda Light road racing in the area and also performs well in national sprint racing events.  Connor Wagner of Flower Mound, Texas pressured Smith all weekend but ultimately could not take the top podium spot from him.  Wagner won the Sunday rain race in impressive fashion but lost the top spot over all based upon the Sunday Qualifying tie breaker.   Carson Miller of Dallas, Texas claimed the third spot on the podium after  the challenging Saturday race.
North Texas Karters regular, Jarret Voorhies, ran a very impressive race in the rain on Sunday in TAG Jr.  but it wasn't enough to take either of the top spots from Woodyard or Ruiz.  He claimed third.
The Modified Moto race on Sunday saw Dayton resume his dominance.  He received a bit of a scare as his motor began to fade at the end of the main.  Connor Wagner was quickly gaining ground but could not overcome Dayton's early lead.  Carson Miller brought it home third after deciding to race slicks on the rear in the rain in order to save his rear rain tires for the Stock Light class.  When the Saturday and Sunday  points were tallied Wagner claimed the event win with Dayton second and Mike Finley third.
TWO DAYS/TWO WAYS OVERALL WINNERS
KID KART
1. Caiden Mitchell
2. Tristen Hanaway
3. Trent Barrett
STOCK HONDA HEAVY
1. Mike Finley
2. Matt Stevenson
3. Donnie Cluck
STOCK HONDA LIGHT
1. Mike Smith
2. Connor Wagner
3. Carson Miller
YAMAHA KT-100
1. Joe Taylor
2. Brandon Pierce
3. Mitch McKie
TAG MASTERS
1. Donnie Cluck
2. Steven Clark
TAG CADET
1. Hunter Stine
2. Tyler Orum
3. Riley Dickinson
TAG JR.
1. Jesse Woodyard
2. Miguel Ruiz
3. Jarret Voorhies
TAG SR.
1. Diego Duez
2. Michael Bartholomew
3. Wyatt Maness
CHONDA
1. Ronnie Griffith
2. Hayley Morris
3. John Morris
CHONDA JR.
1. Devon Frazier
2. Hunter Morris
3. Samantha Hopper
125 MODIFIED MOTO
1. Connor Wagner
2. Coy Dayton
3. Mike Finley
80 SHIFTER
1. Kevin Crowe
2. Charles Hopper
3. Collin Long