The Bottom Line – EKN V2.1
EKN Publisher welcomes readers to new site platform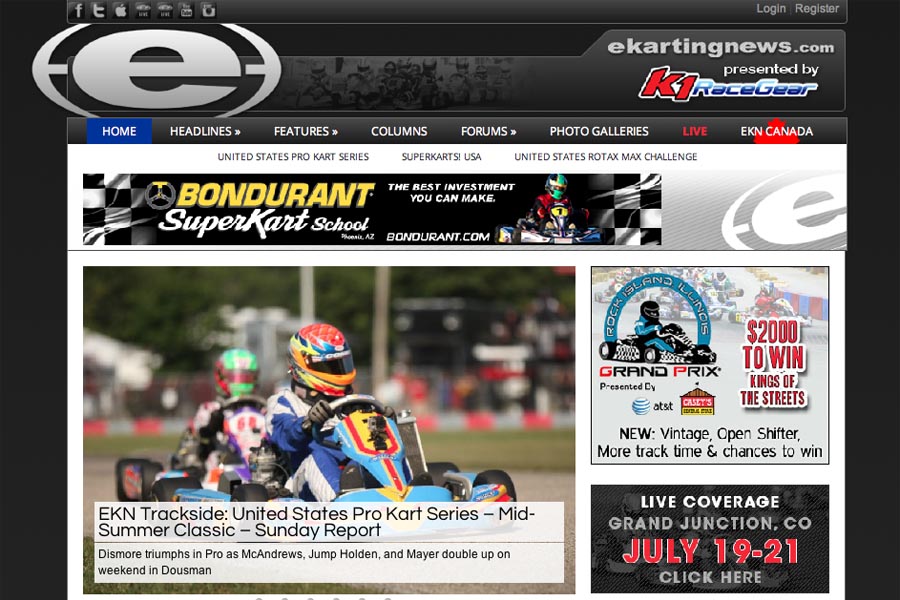 On a given day, a given circumstance, you think you have a limit.  And you then go for this limit and you touch this limit, and you think, 'Okay, this is the limit'. And so you touch this limit, something happens and you suddenly can go a little bit further. With your mind power, your determination, your instinct, and the experience as well, you can fly very high."
-Ayrton Senna
It's this quote that comes to mind when introducing you to the new eKartingNews.com website.  It's been a long time coming, and we've worked hard to refine it.  We started this adventure last fall and we've been working for over six months putting together this new design, fitting it all into the limited time that we have between attending the events that keep us on the road for much of the year.  Like Senna's quote, we've thought on many occasions that we had hit the limit of what we could do on this new site, and that we'd be ready to launch.  At first, it was just 'one more thing', then another, and another, all designed to enhance the user experience.  Then, at some point in May, we truly understood what was important, not only to us, but to you, our loyal reader.  We needed to focus on getting the site streamlined and live…it was time to get it out there.
So, like a sculptor, we started taking things off, here and there…not to discard, but to save for later.  It was after that process that we truly knew that, just yesterday, EKN was something that we loved each and every day, but it never truly came of age. The old EKN was a safe place, like that favorite room in the house where you can go when it's nasty outside.  It was familiar, and it was a friend.  We thank all of you who come to visit every morning to get your fix on the sport.  But now, we've come up with something we love even more and we hope you do too. We know it will consistently grow, and grow on you, because we've already designed EKN to be a part of the future of the purest form of motorsports on earth.
Welcome to the new eKartingNews.com – we've stepped things up.  To be honest, it's only the start of some significant changes we have planned to better serve you our reader and a participant in the purest form of motorsport on earth.
Before we move forward, I'd also like to look back, as it is with much pride and thanks to the initial design team when I say that the original format of EKN served us well.  When Glenn Holland and his crew designed and launched EKN back in 2002, he put together a platform that was stable and straightforward, one that we've evolved and built upon steadily over the past many years.  I'd like to believe that we have been successful caretakers of Glenn's concept for online karting coverage, taking it to new heights.  EKN has provided the karting community and industry with an easy-to-navigate, go-to resource for daily news, information, commentary, unparalleled coverage, and the sheer quality of traffic generated by our readers is proof of this belief.
The concept of the new design for EKN was to bring the site to the next level and to take full advantage of modern-day website construction tools.  Our primary goal was to increase functionality, so that we can bring our readers more information. You can consider the new EKN as Version 2.1, as the initial design is intended to provide the best transition possible for our valued readership.
First, you'll notice that a lot of content is already here – months of it, as a matter of fact.  It's indexable in a number of ways – you can navigate the site through the main menu above or if you prefer to list stories by each major race series – you can find them by using the sub-menu just below.
Secondly, you'll notice that we are keeping a classic version of EKN alive for awhile, now dubbed EKN Classic and accessed through 'eknclassic.com'.  You can go there via the link on the very bottom of the new site.  It will remain active until 2014 and then we'll decide how we'll approach it moving forward.
You'll also see that you can now comment directly on stories and editorial.  We want to move much of our online conversation there when it comes to discussing editorial topics.  We'll need you to register for the ability to do that, as you will to gain access to the new forum pages.  The direct commenting to editorial will keep the conversation on topic and help reduce spam.  Eventually, we'll grow the site into a community dedicated to the growth of the sport.  We've earmarked this new area to debut at the end of the current season and just prior to the start of the year.  EKN Global is what we'll call it.  And it will truly immerse you into the entire world of kart racing.
The forums have been our biggest hurdle, and working to transfer their content to the new site provide us with headache after agonizing headache.  We finally decided that we'd start fresh here on EKN v2.1, getting new topics and threads rolling every day.  The forums have been our calling card and the one area that has kept the site in the top spot for a better part of a decade.  Of course, the boards WILL CHANGE a bit, and you will have to re-register to access the new forums and to be able to direct-comment on editorial. We are going to keep the old forums intact as a resource of valuable information, but all the threads on the past forum will be slowly locked down over the next week or so to move things to the new forums.  Once EKN Global launches, we'll be able to have conversations within the site in a special community dedicated to the growth of the sport.   Until then, it will be comments at the end of features and other editorial sections – and talk on the boards dedicated to tech questions and more.
Personally, I'm thrilled with the new site.  There is so much potential past what you currently see on the site, and we're going to roll out many new features over the next 18 months.  I'm excited that we'll have easily-accessible options to present our audio programs, like race coverage and podcasts, and with the new addition of video presentation, we'll be stepping up with video interviews and features in the coming months.  We were held to many boundaries by the old EKN, and now we're presented with so many possibilities.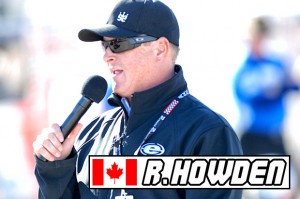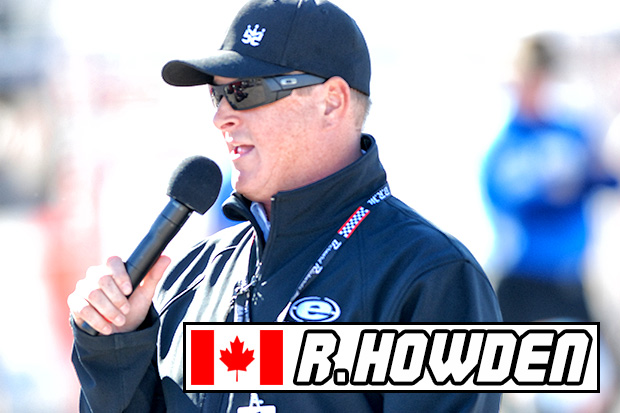 As always, we welcome your feedback on the new site.  If you have ideas of what you'd like to see, whether it be editorially or even structurally, please comment below in the EKN Global Discussion area (you can register here to begin posting). I'd really love to hear what you think.
Yours in racing,
Rob Howden
Editor-in-Chief / Publisher
eKartingNews.com