IAME International Final – The Event of the Year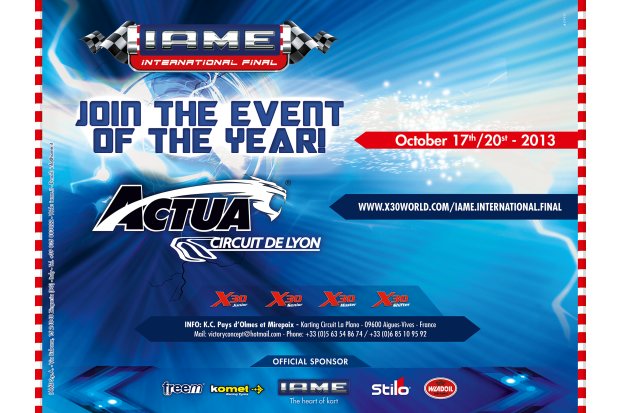 It is with great enthusiasm that IAME announces that starting from September 2nd 2013, the entries* for the second edition of the IAME International Final will be officially opened.
Thanks to the consolidated cooperation with the Karting Club du Pays d'Olmes Mirepoix, yet organizer of the 2012 successful edition, the International Karting gets ready for an event of guaranteed impact.
Renewed location for the race, held between October 17th and 20th: the prestigious International Circuit "Actua Circuit du Lyon", located in Saint Laurent de Mure, few kilometres far from the city of Lion and surrounded by the suggestive scenario of the French Alps.
The engines of the X30 line, more and more appreciated and worldwide diffused, will be the pumping heart of the event.
In the four days scheduled for the event, Drivers coming from the 5 Continents will challenge with the only aim to conquer the prestigious title of IAME International Final Champion.
Free brand for the chassis and engines X30 by IAME at the start of the 4 categories: X30 Junior, X30 Senior, X30 Master and X30 Shifter by IAME for the X30 Shifter category, the one dedicated to gearbox enthusiasts.
The IAME International Final also claims the support of important, all Italian, sponsors: KOMET Racing Tyres, Freem, Stilo and Wladoil; beside being present with their own structures during the whole week end, they will contribute in the final prize pool and in the equipment included in the driver's entry.
Several important teams of the international Karting scene have already confirmed their participation at the meeting.
The challenge to discover who will be able to repeat the success of the Champions of the first edition: Jules Gounon (X30 Senior), Frédéric Blin (X30 Senior), Thierry Delre (X30 Shifter), Sergio Santos Sette Camara Jr. (X30 Junior) is open!
The IAME International Final, a Karting event for Karting, the pure one, made of passion, fun and adrenaline, awaits you, don't miss it!
All information, regulations, forms on: http://www.x30world.com/iame.international.final
*Limited entries for each category.