Industry News: Comet Racing Engines Win Nine Times at USPKS New Castle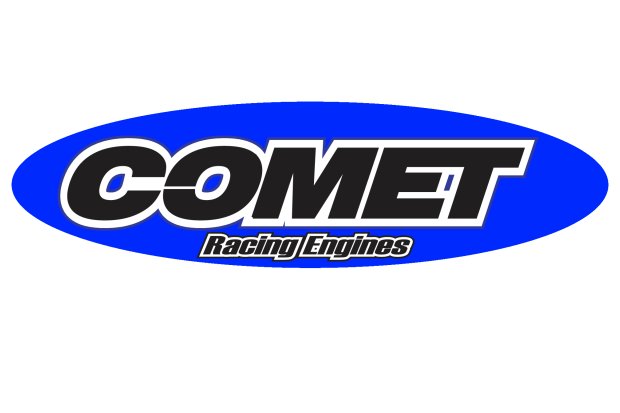 Round 2 of the highly anticipated United States Pro Kart Series took place at New Castle Motorsports Park June 7th to the 9th. NCMP is always known for fast, wheel to wheel racing with many races decided in the last corner of the 1.1 mile track and this weekend would be no exception!
Yamaha Rookie on Saturday was a 3 man race with Aidan Lindley claiming his first National victory with his Comet Racing Engines KT100 on a Birel. Mark Fineis crossed the stripe in third and was a factor all day long. James Lynch was 4th on his Tony Kart with Chandler Moran in 11th.
Yamaha Rookie on Sunday was a different animal with a early race dust up allowing James Lynch a sizable lead for most of the race. Lynch would cruise to his first USPKS victory with his Comet KT100. Mark Fineis was 4th, Aidan Lindley 6th and Chandler Moran 8th.
Qualifying Saturday for Yamaha Cadet was an all Comet Racing Engines front row with Drew Lindley and Simon Sikes on their Birel's picking up the top two spots. Drew Lindley showed his speed in the heats, winning both races. The final would see a 4 kart train racing for the victory, when it was all over Simon Sikes picked up his first USPKS victory! Drew Lindley finished a close second with Luke Fineis on his Birel in 8th and Garrett Moran 10th.
On Sunday Drew Lindley was still a factor taking a heat win and running towards the front all day. After being the odds on favorite for the win on Saturday Drew came up one spot short but Sunday he finally won the race that mattered the most, the final! Drew picked up his first USPKS victory with Lance Fenderson on the Top Kart in 4th. Saturday's winner Simon Sikes was 7th, Michael Cruz, who qualified second earlier in the day was 9th.
Junior Yamaha was a two kart battle with the Top Karts of Emerson Reed and Zach Holden with their Comet Racing Engines leading the way with a comfortable 2 second lead. What was shaping up to be a great race with one lap to go was all for not when the flagman accidentally threw the checkered flag one lap early. Even though it was a Comet Racing Engines one-two it still would of been a fun finish to watch. Emerson Reed took the victory with Zach Holden in second. Kaden Harter who had a victory in the heat race earlier in the day was 8th on his Top Kart with Joey Eppink on the Tony Kart in 9th.
It was a four kart race for the victory in Junior Yamaha on Sunday with Emerson Reed picking up another win and sweeping the weekend! Kaden Harter who has shown good pace in Juniors all season was 3rd and Zach Holden in 4th. Joey Eppink was 9th.
Dustin Stross was the guy to beat on Saturday in Leopard Semi-Pro winning both heat races on his Tony Kart with Comet Leopard. In the final Stross built up a 2 second lead by the time the checkered flag flew winning his second USPKS race of the season in Semi-Pro. Gresham Wagner on the Arrow was 4th and Chandler Horton was 7th on his Tony Kart.
Stross picked up where he left off on Saturday taking the pole position in qualifying and taking a heat race win. In the final Dustin would lead multiple times in a fierce battle for the win and would cross the line in second. Wagner was 4th again on Sunday with Chandler Horton in 8th.
The headliner class of the USPKS series is Leopard 125 Pro and with 36 entries it was going to be a tough battle for track position. Ashley Rogero was fast at the opening round of the USPKS series in Mooresville but good fortune was not on her side that weekend. Claiming a heat race win and another strong heat race run Ashley would start on the front row for the final in her Tony Kart with a Comet Leopard. Ashley took the lead from the first lap and would go on to lead every lap for her first USPKS victory of the year! Jacob Donald, after starting 9th on his Arrow Kart was 3rd at the line, Mike Giessen on the iKart was 6th, Billy Lewis on the Ultimate Kart was 7th and Colton Ramsey was 11th on his Tony Kart.
Jacob Donald had strong finishes in both heat races Sunday to start on the pole for the final. Ashley had a heat race win to her credit but a bad spark plug boot in the first heat had her starting 11th in the final. As soon as the green flag waved Ashley was on the move and a couple laps before halfway Ashley was in the lead and putting distance between her and the rest of the field! Ashley would hold on for the win and sweep the weekend in Leopard Pro! Jacob Donald was 2nd with his Comet Leopard, Derek Dignan was 5th after starting the final in 15th on his FA Kart, Mark Dismore Jr. who spends more time behind the wheel of the Comet Racing Engines transporter than the wheel of a kart these days was 6th on another FA Kart and Mike Giessen was 8th.
It was a great weekend and to win 9 races out of 14 exceeded our expectations! We have to thank our great, hard working customers for another outstanding weekend. Brandon Jenkins summed up the weekend, "I'm really proud of all our racers this weekend. We all work hard and it's great to see it pay off. It was fun to see some of our customers get that first win at a national event this weekend. That's what it is all about." The Comet Racing Engines team has little down time before the next event in South Bend, Indiana for the 4th round of the WKA Manufacturers Cup June 28th-30th. For more information on Comet Racing Engines visit our website http://www.cometkartsales.com or give us a call 317-462-3413.