CIK-FIA KF and KF Junior European Championships Set for This Weekend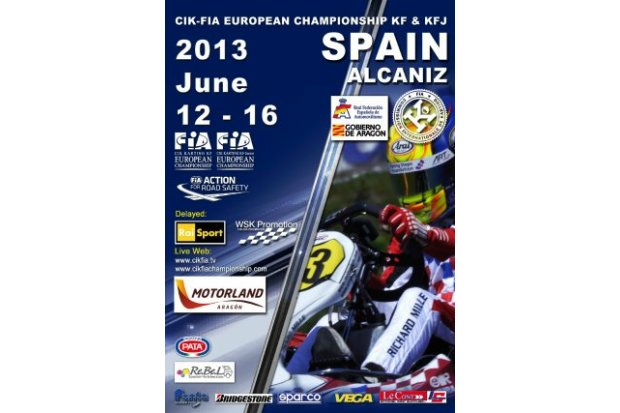 THE CIK-FIA KF AND KF JUNIOR EUROPEAN CHAMPIONSHIP FROM 12TH TO 16TH JUNE ON THE MOTORLAND ARAGÒN CIRCUIT IN ALCANIZ, IN SPAIN. THE RACE LIVE IN STREAMING SINCE THE PRE-FINALS ON SUNDAY 16TH ON http://WWW.CIKFIA.TV AND http://WWW.CIKFIACHAMPIONSHIP.COM. PRE-RECORDED BROADCAST ON RAI SPORT WILL FOLLOW.
KF AND KFJ AT THEIR FIRST RACE OF THE SEASON IN THE CIK-FIA EUROPEAN CHAMPIONSHIP
The season of the CIK-FIA European Championships is about to start also for the KF and KF Junior categories, after the good beginning with the KZ and KZ2 last month in Germany. In fact, next weekend the first round of the KF and KF Junior will take place in the Motorland Aragòn facility, in Alcaniz (Spain). This is a place that well represents the top level competitions of motorsport, both on two and four wheels. The facility in Aragon hosts many important international events: among them, of course, the forthcoming European championship from Wednesday 12th June to Sunday 16th June.
TOP QUALITY PROTAGONISTS
The weekend kart racing is going to experience is outstanding not only for the number of entrants – over 150 is the total of the two categories – but also for the quality of the drivers that are going to challenge each other on the circuit of Alcaniz. Their skill has already emerged in the first events of the 2013 season: in KF there are drivers such as the French Dorian Boccolacci, the recent winner of the WSK Euro Series, or the Danish Nicklas Nielsen, who is looking forward to take his revenge after the result of the European Series. In the same way, in KFJ the English Lando Norris, another recent winner of the WSK Euro Series, has accepted the challenge of the Italian Alessio Lorandi.
ON TV THANKS TO WSK PROMOTION
WSK Promotion, which has been promoting all the CIK-FIA events at world and European level since this year, has already tested its new broadcasting platform and it is ready for a worldwide media coverage of this event too. Images of the whole final phase of the event from the Motorland Aragòn facility will be available always live in streaming on the Internet channels of http://www.cikfiachampionship.com and http://www.cikfia.tv. Live broadcast starts on Sunday morning, 16th June, with the Pre-finals. On the satellite channel – always Rai Sport – the pre-recorded broadcast of the race will follow on next days.
TO FOLLOW BY THE INTERNET
http://www.cikfia.com
http://www.cikfia.tv
http://www.cikfiachampionship.com