Kiwi News: Rotax Max Challenge of New Zealand – Round 4 Report
Connor stake his claim at Tokoroa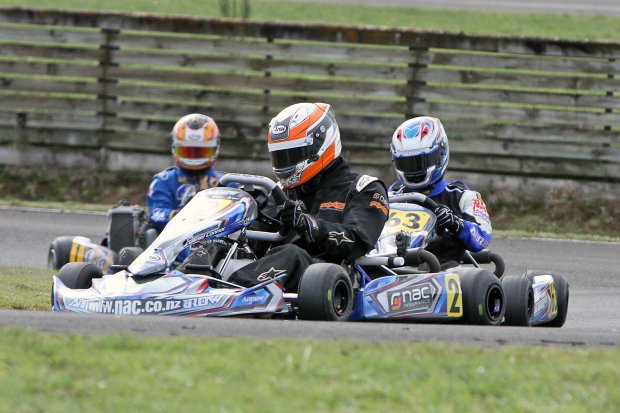 Daniel Connor seen here leading Mason Armstrong and defending title holder Daniel Kinsman
(Photo: Fast Company-Graham Hughes)
Daniel Connor was the big winner in the premier Platinum Glass 125cc Rotax Max Light class at the latest round of the YÖGG Rotax Max Challenge of New Zealand kart racing series at Tokoroa over the weekend, the Helensville teenager qualifying quickest and claiming a clean sweep across the two heats, Pre-Final and Final.
The result sees the former New Zealand champion move from fifth to third in the overall class series points standings just five points behind second placed Mathew Kinsman and only six behind defending class title holder and early season stand-out Daniel Kinsman (Mathew's younger brother).
Over a weekend where both Kinsman brothers, and surprise round 3 class winner Daniel Bray, struggled to find working chassis set-ups in the cool and changeable conditions, Connor and some of the younger drivers in the category including Mason Armstrong, Reid Harker, Rhys Tinney and CJ Sinclair stepped up.
Armstrong was second behind Connor in the heats and Pre-Final and looked set for the same result in the Final until a tangle on the first lap saw him slip back down the field but recover to cross the finish line in seventh place.
In his absence, fellow young guns Harker, Tinney and Sinclair finished the Final line astern in third, fourth and fifth places respectively, behind winner Connor and runner-up Mathew Kinsman, with Mitchell Beach sixth, Mason Armstrong a hard-won seventh, Daniel Kinsman eighth and Daniel Bray ninth.
Palmerston North driver Dylan Drysdale was another early season round winner to come under pressure at Tokoroa, Christchurch rival Marcus Armstrong sharing heat wins with Hamilton driver Campbell Joyes then taking out both the Pre-Final and Final to close to within one point of Drysdale who finished fifth in the Pre-Final then fourth in the Final behind Armstrong, Joyes and Christchurch driver Ryan Yardley.
Points-wise the biggest difference as far as overall series results go came in the Logitech 125cc Rotax Max Heavy class where round winner Aarron Cunningham managed to unseat early season class leader Brendon Hart.
Hart continues to lead the Masters 32 yrs+ category-within-a-category but sixth place in the Final was not enough to maintain his Heavy class series points lead, Cunningham, a former series class winner, now in front by nine points.
Early on in the weekend round three class winner Shane Hodgson looked like the driver to beat, winning both heats but come the Pre-Final it was Cunningham who was in front from KartSport Mt Wellington alumni Stuart Marshall and Hart.
Cunningham then went on to win the Final from Taranaki driver Aaron de Ridder and the first of the Masters class drivers, Brendon Gridley from Nelson.
The weekend's round was the fourth of six with a break now until the fifth in Hawke's Bay in mid-August and the final in Auckland in September.
2013 YÖGG Rotax Max Challenge of New Zealand
Platinum Glass 125cc Rotax Max Light
Round
1. Daniel Connor; 2. Mathew Kinsman; 3. Reid Harker; 4 . Rhys Tinney; 5. CJ Sinclair; 6. Mitchell Beach; 7. Mason Armstrong; 8. Daniel Kinsman; 9. Daniel Bray; 10. Kaleb Currie.
Points after Rnd of 6
1. Daniel Kinsman 255 points; 2. Mathew Kinsman 254 3. Daniel Connor 249
Arai Helmets Junior Max
Round
1. Marcus Armstrong; 2. Campbell Joyes; 3. Ryan Yardley; 4. Dylan Drysdale; 5. Maddie Wise; 6. Ethan Anderson; 7. Trey Nairn 27; 8. Mitchell Turner; 9. Taylor Harte; 10. Sebastian Bainbridge
Points after Rnd 4 of 6
1. Dylan Drysdale 259 points; 2. Marcus Armstrong 258; 3. Campbell Joyes 252.
Logitech 125cc Rotax Max Heavy
Round
1. Aaron Cunningham; 2. Aaron de Ridder; 3. Brendon Gridley; 4. Mark Oudney; 5. Daniel Sayles; 6. Brendon Hart; 7. Teddy Bassick; 8 87 Nicholas Revell; 9. Shane Hodgson; 10. Stuart Marshall
Points after Rnd 4 of 6
1. Aarron Cunningham 259; 2. Brendon Hart 250; 3. Stuart Marshall 250.
Masters (over 32)
1. Brendon Hart 250 points; 2. Stuart Marshall 249; 3. Brendon Gridley 235