PROgression: Newgarden and Daly Complete Journey from Karting to Indy 500
Dreams come true for duo that began racing career against one another at New Castle Motorsports Park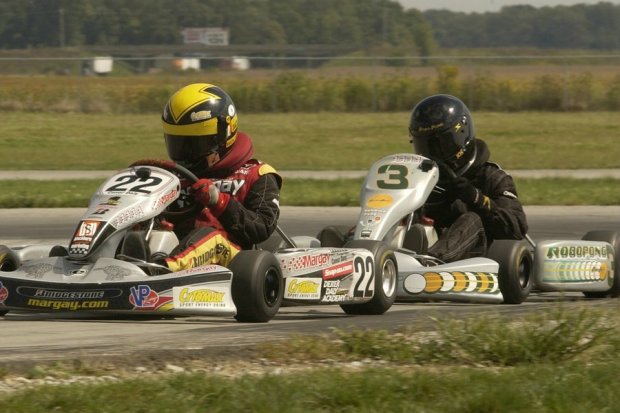 Conor Daly and Josef Newgarden at a New Castle Motorsprots Park KRA race during their early karting years
(Photo: davidleephoto.com)
This weekend is among the best for motorsports fans – Formula One at Monaco, NASCAR's 600 miler in Charlotte, and of course the Indianapolis 500. Many young drivers today will be watching this year's race, dreaming of one day crossing the yard of bricks around the iconic Indianapolis Motor Speedway in a future Memorial Day Weekend. That dream came true for 22 year-old Josef Newgarden last year, who began his karting career at the New Castle Motorsports Park. Now, one of his NCMP rivals, 21-year old Conor Daly will make his first Indy 500 start, putting two former karting club racers together on the track on Sunday in Indianapolis.
Their paths from karting to the Indy 500 are very similar, and the fact that both began racing at the same karting facility against one another is something unheard of in the sport today.
Newgarden drove his first kart at the age of 13, and was a regular at the Kart Racers of America (KRA) series at the New Castle Motorsports Park. It was in 2006 that Josef claimed his first titles, winning two Yamaha Junior championships that season. From there, he jumped back and forth between karting and Skip Barber, where he excelled quickly and won a number of races. Daly began karting earlier, hitting the track at the age of 10. In 2005, Daly won the two Yamaha Junior championships and moved on to racing nationally in the sport of karting. Daly scored three WKA Manufacturers Cup Series victories, including a Grand National event. The following year, he moved up to the Senior level, where he earned the Stars of Karting Eastern championship in TaG driving for Top Kart USA.
2008 would be a year to remember for both as they competed in the Skip Barber National Championship. The two swapped victories with Daly earning five – along with the championship – while Newgarden took home three wins and finished runner-up in the standings. That September, the duo was named to the Team USA Scholarship program to compete at the Formula Ford Festival and the Walter Hayes Trophy Formula Ford event in England. Newgarden became the first American to win theFormula Ford Festival, while Daly took the honor as the first North American to claim victory at the Walter Hayes event.
Jeremy Shaw, President of the Team USA Scholarship program, offered his words about Newgarden and Daly. "We have had a long list of very talented young drivers come through the scholarship program over the years, but I have to say the "Class of 2008″ was particularly strong. Josef and Conor were friends before they made the trip to England and really used that relationship to their mutual benefit. It was very exciting to witness their progress and share their successes. There was no doubt they both had the talent — as well as the crucial desire and worth ethic — to enable them to progress up the racing ladder. We will have five graduates among the starting field for this year's Indy 500 — plus two team owners — and I must admit it will be especially satisfying to watch Josef and Conor in action again in the same race."
The two went their separate ways in 2009, as Newgarden remained in Europe racing in the British Formula Ford Championship, the Formula Palmer Audi series, and graduating to the FIA GP3 Series in 2010. Daly returned back to the USA, competing for two years in the Star Mazda Championship – earning the title in 2010 with a record-breaking season. 2011 saw them switch places with Newgarden returning back home to compete in the Indy Lights series, claiming the championship and launching his path to the IZOD IndyCar Series in 2012. Daly moved his career to Europe and followed Newgarden's path into the GP3 series, where he drove for the past two seasons before earning a spot to qualify for the Indy 500.
Both continue to come back to their roots, especially at the New Castle Motorsports Park. Each continues to compete at the popular RoboPong 200 endurance event at the facility. Newgarden claimed victory, racing with mentor Mark Dismore Sr. in 2011, while Daly's best finish came in 2010, teaming with IndyCar driver Graham Rahal to place runner-up behind Jay Howard and Bill McLaughlin Jr. Sunday, both will start the 97th running of the Indianapolis 500. Newgarden will go from the 27th starting position in his Sarah Fisher Hartman Racing entry, while Daly is gridded 31st piloting an AJ Foyt Enterprises machine.
EKN tracked both down this week as they prepared for the final few days leading up to the Indy 500 for a few questions regarding their similar past and now future this Sunday.
eKartingNews: Josef, what do you remember about the first time you met Conor?
Josef Newgarden: I think I met Conor the second or third time at New Castle. He was racing Junior Can, and one of the bad ass drivers, along with Eric Morrow and a few others. I was just getting into the sport, practicing and understanding more about the sport. New Castle was the first and closest place to our home. It's one of the best facilities in the sport and the KRA series they run was pretty packed when we raced there. It provided a great opportunity to race without having to travel to other programs like WKA or Stars of Karting.
EKN:What is the best memory you have racing against Conor in karts?
JN: We were pretty head-to-head in the Yamaha Junior class for a few years there, racing against Elliot Bachelart, Josh Hall, Morrow, and others. There were a number of races that were pretty memorable during that time.
EKN: While your path has been very similar, did you ever expect to be racing the Indy 500 alongside Conor?
JN: No. During karting, I had never really thought about making it all the way to the Indy 500 or being a professional driver because it was so rare along with being a difficult process to complete. In our situation, I loved karting and I loved racing, but I never thought I would be racing the Indy 500 with someone I had been karting with.
EKN: NCMP owner Mark Dismore Sr. has been influential to your racing career, what type of advice has he given you over the last couple of years for Indy?
JN: He's given me a couple tips for getting around this place. He was here for my first Indy 500 last year and shared some of his secrets and thoughts particularly turn one. Nothing I won't repeat to anyone (laughing). He's the guy that started everything for me in karts, and it was great to have him out here with me at Indy.
EKN: With one Indy 500 under your belt, what type of advice have you given Conor during the month of May and for the race on Sunday?
JN: Conor has so many people around him that are great people to have. He doesn't need any advice from me, as I know he'll figure it out for himself. He's got the right tools and the right people behind him. He's very experienced, so I know he'll be quick to learn as the race goes on. I don't think I'd be able to teach him anything that would be useful, but I hope the best for him.
EKN: Conor, what do you remember about the first time you met Josef?
Conor Daly: I don't even know if I remember the first time I met Josef. I think it was at New Castle, racing against each other in Yamaha Junior Can. He was one of my main competitors, so we got to know one another and now have raced against each other for so many years. I won the championships one year, and then he took them both the following year, then we moved up together, and in Skip Barber and Team USA Scholarship together. After time apart, we found ourselves racing against each other in Indy Lights, and now at the Indy 500. It's been a long road.
EKN: What is the best memory you have racing against Josef in karts?
CD: We were always first or second at New Castle, battling it out. It's funny to see where we have ended up after starting at the same place. It's always been competitive between me and Josef, we are good friends, but really want to beat each other with our competitive spirits.
EKN: While your path has been very similar, did you ever expect to be racing the Indy 500 against Josef?
CD: It's a bit of a shock because not a lot of drivers make it here, let alone from the karting ranks. There are plenty of guys who we raced against in karts who never got a chance to move on. We were obviously able to do that, being at the right place at the right time with the right people. For two guys to make it from the same karting club to the Indy 500 is pretty rare. It's definitely a cool. It goes to show the racing at New Castle is strong (laughing).
EKN: Speaking of New Castle, have you taken any advice from NCMP Mark Dismore Sr.?
CD: Mark was always more on Josef's side of things (laughing), but he's always been kind and a good friend to our family throughout the years. While I haven't seen him this month, I hope to see him on race weekend.
EKN: Now that you've qualified for the Indianapolis 500, what are you expecting when you hear 'Back Home Again in Indiana' playing while you are strapping yourself into the car?
CD: It was interesting, this morning we had the rookie lunch-in at the Speedway, and one of the guys stood up and sang the song. We all stood up there and my heart started racing. When you hear that song, you know what happens soon after. I think it will be an awesome experience. Everything so far has been incredible, and it will be a cool feeling on Sunday.