Industry News: Comet Racing Engines Win 8 National Races at WKA Manufacturers Cup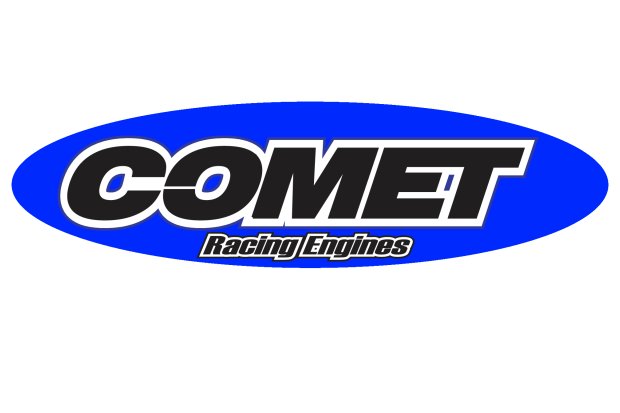 The Comet Racing Engines team made the short journey from home base in Greenfield, Indiana 30 miles east to New Castle Motorsports Park for the third round of the 2013 WKA Manufacturers Cup Nationals. Warm temps and hotter racing were in store for the 1 mile track.
Probably the hottest topic of the weekend was the pace of the iKart chassis in TaG with drivers Jesus Rios and Mike Giessen who won at the opening round of the USPKS series at Mooresville. Jesus Rios put the field on notice when he claimed the pole in TaG Senior 1 on Saturday and then claimed pole in Parilla Senior just a little while later with his Comet Leopard! Rios wasn't done there taking the win in both TaG Senior and Parilla Leopard! Fellow Comet Engines Racing driver Ashley Rogero was 2nd in Parilla Senior 1 with Billy Lewis in 6th. Rios was followed across the line in TaG Senior 1 by Mason Chelootz on a Comet Leopard with Derek Dignan in 5th and Dustin Stross in 10th.
Sunday Rios was back in form taking the pole in Parilla Senior 2 but after such a strong Saturday, Sunday was going to be a tougher race. After winning the prefinal Rios was disqualified for a broken airbox clamp while fellow iKart driver Mike Giessen was penalized for filling out a tire form incorrectly. For the final they would both start shotgun on the field but when the green flag fell they looked like they were both shot out of a cannon! Slicing their way through the field they ran fast lap after fast lap on their way to a 3rd and 4th place finish! But up front it was all Ashley Rogero who made her way through the top 5, assumed the lead and checked out for her first win of the weekend! Behind the trio of Rogero, Rios and Giessen was Billy Lewis in 7th.
TaG Senior 2 seen Mick Gabriel work his way through the field and into the lead! Gabriel put some distance between himself and second place for the win but was penalized after the race for a change in electrical parts. It was a great run for Gabriel and an unfortunate ending. Dustin Stross was 8th and Derek Dignan was 10th.
Continuing his strong performances this year, Mark Fineis earned the pole position in Yamaha Rookie Sportsman as well as a second place finish. Jeremy Fairbairn came from deep in the pack for a 5th place finish and Madison Campeau continued to run well this season with a 7th.
Zach Holden had a strong weekend sweeping the Cadet Sportsman class winning both days with his Comet K80. David Malukas had a strong run in Yamaha Sportsman 1 with Holden in third and Simon Sikes in 10th. In a repeat of Saturday, Malukas would finish 2nd once again in Yamaha Sportsman 2 with Holden third after winning the pole earlier in the day and Luke Fineis in 9th. Malukas was 2nd and 3rd in Komet Sportsman 1 and 2 with Holden in 5th in Komet Sportsman 1 with Drew Lindley finishing 9th and 10th.
Grant Quinlan had a breakout weekend with the pole in Komet Junior 1 and Komet Junior 2. Quinlan would go on to win his first WKA National Junior race of the season in Komet Junior 1. The MRP driver finished 5th in Komet Junior 2 with Gresham Wagner 8th both with Comet KPV engines.
Kaden Harter had a strong weekend at NCMP, Harter moved up this year from the Sportsman ranks and has adjusted to the increased speed and weight of the Junior class with ease. Harter was in contention for the win in both finals for Yamaha Junior with a second place finish both days. Quinlan was 3rd and 6th respectively.
Jonathan Kotyk won Komet PRO 1 on Saturday and followed up his win with a 2nd place on Sunday in Komet Pro 2 with a Comet KPV.
Camden Speth, who started his karting career at New Castle Motorsports Park, won his first career WKA National race in the Yamaha Senior 1 final on Saturday after securing the pole and prefinal win earlier in the day! Speth would follow that up with another pole on Sunday, unfortunately contact in the prefinal sent him to the back but with a fast kart Speth was back in the lead in the Final where a frantic last corner, last lap dust up would leave him in 2nd place at the checkered.
The wins, poles and podiums keep rolling in for Comet Racing Engines this season thanks to the hard work of our awesome customers! Brandon Jenkins from Comet Racing Engines was happy with the weekend, "We were in contention for the win in almost every single final this weekend and I think that says a lot for the diversity of our engine program. It's a lot of hard work and long hours but it's worth it on race day when you see that it all pays off".
The Comet Racing Engines team will be back in action at New Castle Motorsports Park June 7th to the 9th for the USPKS race and then on to South Bend Raceway for Route 66 and the next round of the WKA Manufacturers Cup. For more information on our engine program please visit our website at http://www.cometkartsales.com or call us at 317-462-3413.