eKartingNews.com Driver Rankings – TaG – May 6, 2013
Pagano steals top position as Formal and Beasley complete top-three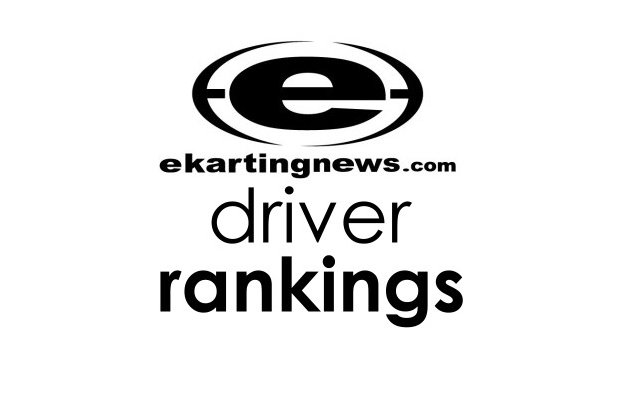 With the second segment of the EKN Driver Rankings comes the release of the newest TaG standings. If there is one thing that we have learned while calculating the rankings throughout the year, it's that you never know just who will rise to the top at any given time. With a full schedule contested during the month of April, one that saw the WKA, SKUSA, USPKS and many other programs holding events, a handful of races were added to the calculations and some key results were removed as the 12-month sliding timeline was adjusted. Some big scores were dropped off the overall point totals of a few leading drivers, especially those who have not raced much, if at all, thus far in 2013. This shook up the standings. All of those factors equated to a new number one driver – Louie Pagano.
The 18-year old Birel pilot is now among the 'veterans' in the category, competing in his fourth season at the Senior level. Two top-five finishes at the recent Superkarts! USA Pro Tour SpringNationals improved his score significantly and bested the rest of the competition to take over the top spot for the first time ever. Due to the fact that all of Pagano's results come from November 2012 to now, it may be some time before anyone can better his point total. Moving up to second is 2012 US Rotax Grand Nationals winner Daniel Formal (Tony Kart). A solid Florida Winter Tour campaign with five top-five finishes in six races started the 2013 season off in the right direction. Third in the order now is another former #1 – Sam Beasley (Tony Kart). The now Ocala Gran Prix driver scored a number of wins in the 2012 season in WKA competition, including a runner-up to Formal at the Rotax Grand Nationals, with KartSport North America.
Moving down to fourth is the most recent #1 driver – Phil DeLaO. The Arizona native is the replacement for Beasley at KSNA, piloting an Arrow this season. The loss of his two SpringNationals victories at PKRA from last year resulted in his overall total dropping about 61 points and, in the end, four positions. 2011 United States Rotax champion Nick Neri (Tony Kart) completes the top-five. The Florida driver had a good winter season as well, matching Formal's numbers with five top-five finishes at the Florida Winter Tour.
Mason Chelootz falls from second down to sixth in this month's calculations, due to dropping some victories from WKA competition last year. The Top Kart USA driver has been quick this year, but has been simply unable to find his way to the front as often as he did in 2012. Up to seventh is Jake Craig, as the SoCal driver celebrated his second-straight win in the California ProKart Challenge, scoring at Adams. The win came off a move to the new ART GP America operation, which found success with EKN April 2013 Driver of the Month Andrew Zimmer, claiming both victories at the SpringNationals. Eighth is Andrew Palmer, the 2012 US Rotax Grand Nationals runner-up. The J3 Competition driver had an up-and-down campaign in the Rotax Challenge of the Americas program, but will be among the contenders at this year's Rotax championships. Tommy Andersen (Top Kart) jumps back into the top-20, gaining about 20 points from last month's total, while Top Kart USA teammate Chris Wehrheim dropped to tenth.
---
TaG
---
TaG Driver Rankings Top-10

| Pos. | Apr. 5 | Plus/Minus | Driver | Races | Score |
| --- | --- | --- | --- | --- | --- |
| 1. | 3 | 2 | Louie Pagano | 12 | 7345 |
| 2. | 4 | 2 | Daniel Formal | 13 | 7267 |
| 3. | 5 | 2 | Sam Beasley | 15 | 7239 |
| 4. | 1 | -3 | Phil DeLaO | 13 | 7234 |
| 5. | 7 | 2 | Nick Neri | 13 | 7214 |
| 6. | 2 | -4 | Mason Chelootz | 29 | 7175 |
| 7. | 10 | 3 | Jake Craig | 14 | 7154 |
| 8. | 9 | 1 | Andrew Palmer | 8 | 7132 |
| 9. | 11 | 2 | Tommy Andersen | 21 | 7120 |
| 10. | 6 | -4 | Chris Wehrheim | 14 | 7114 |
**************
NEW TaG #1 – Louie Pagano
Camarillo, California
After months of hovering inside the top-10, this time it's Pagano's turn at the top of the standings. The DPK/MRP Motorsport Birel driver is among the top pilots in the country, backed up by his runner-up finishes at the SKUSA SuperNationals and Rotax Pan-American Championship events. Pagano was a championship contender this winter at the Rotax Challenge of the Americas, scoring four straight podium finishes until the streak ended at the season finale, placing second in the final point standings to Phil Arscott. There is an odd downside to him becoming number one, as his focus on-track is now turning towards building up his stock car resume, as he will be campaigning the Truck series at the Irwindale Speedway. We don't expect to see a great deal of Pagano in 2013, other than at the SKUSA SummerNationals and season-ending SuperNationals in Las Vegas. Talk about going out in style.
Point Breakdown

Race
Rank
Finish
Points
SKUSA SuperNationals 2012
10
2
1127
Rotax COTA 2013 – Tucson #1
9
2
1032
Rotax COTA 2013 – Tucson #2
9
3
1022
Rotax COTA 2013 – PKRA #1
9
2
1048
Rotax COTA 2013 – PKRA #2
9
3
1035
SKUSA SpringNationals '13 #1
92
1060
SKUSA SpringNationals '13 #2
9
5
1021
Inside the Stats
Average Finish: 2.71
Average Points: 1049.3
Total Points: 7345
**************
TaG 'On the Move' – Derek Dignan – 32nd
Rochester Hills, Michigan
Derek Dignan has become one of the drivers to watch during his rise up the order in the TaG category. The Senior rookie for KartSport North America jumped into the top-50 this month, and is now classified 32nd after opening up the season in 122nd. The 16-year old picked up his first two TaG wins at the WKA Manufacturers Cup Series event in Kershaw, SC last month, and he will going looking for more wins this month when the series travels to New Castle. Dignan had a busy month of April, traveling out west for his first SKUSA SpringNationals, where he scored a best results of 16th at an unfamiliar track, and he was a top qualifier at the United States Pro Kart Series opener at Mooresville after switching over to the FA Kart for KSNA.
Point Breakdown

| Race | Rank | Finish | Points |
| --- | --- | --- | --- |
| WKA Manufacturers Cup Series '13 – IAME #1 | 8 | 5 | 918 |
| WKA Manufacturers Cup Series '13 – TaG #1 | 9 | 8 | 955 |
| WKA Manufacturers Cup Series '13 – TaG #2 | 9 | 15 | 892 |
| WKA Manufacturers Cup Series '13 – IAME #3 | 8 | 1 | 923 |
| WKA Manufacturers Cup Series '13 – TaG #3 | 9 | 1 | 1029 |
| WKA Manufacturers Cup Series '13 – TaG #4 | 9 | 3 | 1004 |
| SKUSA SpringNationals '13 #2 | 9 | 16 | 904 |
Inside the Stats
Average Finish: 7.0
Average Points: 946.4
Total Points: 6625
---
EKN Driver Rankings Calculation Process
The EKN Driver Rankings are calculated using a driver's best finishes in major North American races. Assembled using events from the previous 12 months from the current date, we use a driver's best seven finishes in TaG and six in Stock Moto to determine their overall current point total. With each new release, results posted from more than one year ago are discarded. To deliver our ranking list, we tabulate the results of all the national programs and selected regional programs. We have included the results for the major one-off events such as the SKUSA SuperNationals, the US Rotax Max Challenge Grand Nationals, the Rock Island Grand Prix and the Streets of Lancaster Grand Prix.
Each race is initially weighted based on the prestige and history of the event or series with a score of ten (10) being the highest attainable base ranking. For 2013, the SKUSA SuperNationals and US Rotax Max Challenge Grand Nationals receive a score of 10 in their initial weighting in the TaG category while the SuperNationals is the lone event in the Stock Moto division. The SKUSA Pro Tour series events draw a base ranking of nine (9), while the WKA Manufacturers Cup, Florida Winter Tour, Rotax Challenge of the Americas, IKF 2-Cycle Sprint Grand Nationals, Rotax Pan American Challenge, United States Pro Kart Series and other regional program races were given a base ranking of either eight (8) or nine (9).
The EKN staff reserves the right to adjust the rankings of each event throughout the year. A minimum entry total for any events considered for the Driver Rankings program is five (5). If an event does not have at least five (5) drivers starting the race, those results will not be tabulated toward the Driver Rankings.
Added to these initial rankings are two variables that help confirm the true importance of an event to the ranking process – field size and field strength. A percentage of one weighting point is added for the size of the field, while the number of existing top 50 drivers entered offers another full point or fraction of a point. The sum of these numbers becomes the overall ranking for any race. Following a race, drivers receive points based on their finishing positions with 100 points earned for a win. Each subsequent position drops by one point with 99 points given to the second place driver and so on throughout the field. These points are then multiplied by the overall ranking to produce a driver's final point total from each event. Using a driver's best seven races in TaG, six for Stock Moto, we calculate each driver's overall score and subsequent ranking.
---
TaG – as of May 6, 2013

| Pos. | Apr. 5 | Plus/Minus | Driver | Races | Score |
| --- | --- | --- | --- | --- | --- |
| 1. | 3 | 2 | Louie Pagano | 12 | 7345 |
| 2. | 4 | 2 | Daniel Formal | 13 | 7267 |
| 3. | 5 | 2 | Sam Beasley | 15 | 7239 |
| 4. | 1 | -3 | Phil DeLaO | 13 | 7234 |
| 5. | 7 | 2 | Nick Neri | 13 | 7214 |
| 6. | 2 | -4 | Mason Chelootz | 29 | 7175 |
| 7. | 10 | 3 | Jake Craig | 14 | 7154 |
| 8. | 9 | 1 | Andrew Palmer | 8 | 7132 |
| 9. | 11 | 2 | Tommy Andersen | 21 | 7120 |
| 10. | 6 | -4 | Chris Wehrheim | 14 | 7114 |
| 11. | 16 | 5 | Matt Johnson | 12 | 7092 |
| 12. | 8 | -4 | Jonathan Kotyk | 24 | 7085 |
| 13. | 15 | 2 | Mason Daughters | 17 | 6973 |
| 14. | 17 | 3 | Jesus Rios Jr. | 15 | 6972 |
| 15. | 19 | 4 | Travis Lowe | 17 | 6967 |
| 16. | 18 | 2 | Robby Seward | 15 | 6964 |
| 17. | 14 | -3 | Jacob Knueven | 20 | 6947 |
| 18. | 21 | 3 | Andrew Wiener | 17 | 6929 |
| 19. | 30 | 11 | Andrew Zimmer | 8 | 6919 |
| 20. | 12 | -8 | Austin Elliott | 10 | 6884 |
| 21. | 13 | -8 | Robert Bujdoso | 14 | 6881 |
| 22. | 20 | -2 | Mark Boos | 22 | 6871 |
| 23. | 22 | -1 | William Owen | 28 | 6835 |
| 24. | 27 | 3 | Nick Rivellini | 15 | 6787 |
| 25. | 23 | -2 | Dakota Dickerson | 15 | 6786 |
| 26. | 24 | -2 | TJ Koyen | 18 | 6782 |
| 27. | 28 | 1 | Alejandro Fernandez | 25 | 6757 |
| 28. | 25 | -3 | Alex Keyes | 8 | 6756 |
| 29. | 26 | -3 | Jacob Donald | 17 | 6722 |
| 30. | 37 | 7 | Austin Dement | 9 | 6678 |
| 31. | 85 | 54 | Jonathan May | 8 | 6635 |
| 32. | 122 | 90 | Derek Dignan | 13 | 6625 |
| 33. | 312 | 279 | Michael Giessen | 7 | 6591 |
| 34. | 29 | -5 | Colton Ramsey | 26 | 6589 |
| 35. | 31 | -4 | Fritz Leesmann | 10 | 6567 |
| 36. | 140 | 104 | Garrett Johnston | 9 | 6553 |
| 37. | 40 | 3 | Jess Peterson | 9 | 6447 |
| 38. | 33 | -5 | Scott Kopp | 15 | 6349 |
| 39. | 42 | 3 | Logan Bearden | 14 | 6345 |
| 40. | 43 | 3 | Mike Herda | 13 | 6338 |
| 41. | 38 | -3 | Calvin Stewart | 15 | 6325 |
| 42. | 107 | 65 | Jake Johnston | 12 | 6270 |
| 43. | 41 | -2 | Kindra Hurlbert | 19 | 6259 |
| 44. | 56 | 12 | John McCusker | 12 | 6233 |
| 45. | 44 | -1 | Lloyd Mack | 12 | 6220 |
| 46. | 34 | -12 | Cabot Bigham | 15 | 6218 |
| 47. | 128 | 81 | Andrew Bujdoso | 11 | 6210 |
| 48. | 77 | 29 | Daniel Roeper | 10 | 6208 |
| 49. | 46 | -3 | Nathan Kelly | 8 | 6191 |
| 50. | 47 | -3 | Adam Crepin | 22 | 6184 |
| 51. | 48 | -3 | Charlie Eastwood | 6 | 6141 |
| 52. | 50 | -2 | Phillip Arscott | 6 | 6131 |
| 53. | 51 | -2 | Zachariah Hawley | 12 | 6109 |
| 54. | 52 | -2 | Roger Ralston | 14 | 6070 |
| 55. | 54 | -1 | Corey Towles | 9 | 6045 |
| 56. | 94 | 38 | Brandon Reed | 7 | 6034 |
| 57. | 35 | -22 | Carter Fartuch | 7 | 6015 |
| 58. | 55 | -3 | Hunter Ceto | 14 | 5999 |
| 59. | 53 | -6 | John Wallace III | 9 | 5990 |
| 60. | 49 | -11 | Trenton Walko | 13 | 5984 |
| 61. | 57 | -4 | Oliver Askew | 6 | 5935 |
| 62. | 36 | -26 | Joel Jens | 7 | 5923 |
| 63. | 59 | -4 | Jordan Robertson | 8 | 5905 |
| 64. | 67 | 3 | Rob Murphy | 12 | 5883 |
| 65. | 60 | -5 | Tadasuke Makino | 6 | 5880 |
| 66. | 61 | -5 | Nicky DeFronzo | 13 | 5870 |
| 67. | 62 | -5 | Troy Hottmann | 12 | 5866 |
| 68. | 151 | 83 | Jacob Duvall | 7 | 5863 |
| 69. | 63 | -6 | Parker McKean | 6 | 5863 |
| 70. | 65 | -5 | Shelby Sander | 8 | 5812 |
| 71. | 66 | -5 | Michael Haggar | 11 | 5808 |
| 72. | 68 | -4 | Carlos Calderon | 7 | 5796 |
| 73. | 136 | 63 | Dustin Stross | 9 | 5794 |
| 74. | 70 | -4 | Carlos Lopes | 9 | 5787 |
| 75. | 71 | -4 | Matt Stagl | 14 | 5770 |
| 76. | 102 | 26 | Ray Church | 8 | 5768 |
| 77. | 72 | -5 | Ben Schermerhorn | 7 | 5763 |
| 78. | 73 | -5 | Trevor Summer | 8 | 5742 |
| 79. | 191 | 112 | Chase Jones | 7 | 5730 |
| 80. | 119 | 39 | Patrick Soares | 10 | 5703 |
| 81. | 135 | 54 | Nicholas Martin | 8 | 5696 |
| 82. | 74 | -8 | Luke Varley | 6 | 5692 |
| 83. | 75 | -8 | Brad Winkleman | 12 | 5689 |
| 84. | 69 | -15 | Konrad Czaczyk | 8 | 5679 |
| 85. | 79 | -6 | Ryan Nash | 11 | 5631 |
| 86. | 76 | -10 | Bryce Choquer | 7 | 5620 |
| 87. | 114 | 27 | Sam Cate | 9 | 5521 |
| 88. | 302 | 214 | Oliver Scigliano | 8 | 5488 |
| 89. | 82 | -7 | Bryce Engelhart | 7 | 5399 |
| 90. | 86 | -4 | Jose Zanella | 6 | 5372 |
| 91. | 84 | -7 | Garrett Peterson | 7 | 5351 |
| 92. | 32 | -60 | Jamie Sieracki | 6 | 5322 |
| 93. | 39 | -54 | Raquel Martinez | 6 | 5299 |
| 94. | 80 | -14 | Bailey Murphy | 6 | 5277 |
| 95. | 45 | -50 | Zack Busch | 6 | 5269 |
| 96. | 143 | 47 | Tazio Ottis | 6 | 5266 |
| 97. | 89 | -8 | Zacharie Scalzo | 6 | 5218 |
| 98. | 90 | -8 | Michael Goodyear | 6 | 5207 |
| 99. | 91 | -8 | Steven Szigeti | 6 | 5198 |
| 100. | 92 | -8 | Carlee Taylor | 6 | 5150 |
| 101. | 121 | 20 | Brandon Salyer | 6 | 5110 |
| 102. | 93 | -9 | Wilson Esteban Hurtado Guerrero | 6 | 5083 |
| 103. | 96 | -7 | Evan Mehan | 6 | 5025 |
| 104. | 64 | -40 | Ryan Casner | 6 | 4986 |
| 105. | 58 | -47 | Thomas Appleton | 6 | 4951 |
| 106. | 98 | -8 | Sabre Cook | 6 | 4917 |
| 107. | 99 | -8 | Matt Chase | 6 | 4900 |
| 108. | 100 | -8 | Kevin Barbesino | 6 | 4875 |
| 109. | 101 | -8 | Mason Marotta | 5 | 4856 |
| 110. | 104 | -6 | Stepanova Nekeel | 5 | 4852 |
| 111. | 106 | -5 | Bernard Cohen | 6 | 4845 |
| 112. | 105 | -7 | Jesse Grose | 6 | 4826 |
| 113. | 255 | 142 | Drake Ostrom | 6 | 4756 |
| 114. | 111 | -3 | Hailey Groff | 6 | 4703 |
| 115. | 112 | -3 | Mike Horton | 6 | 4689 |
| 116. | 115 | -1 | Bradley Dezall | 6 | 4639 |
| 117. | - | - | Austin Erikson | 6 | 4637 |
| 118. | 117 | -1 | Tristan DeGrand | 5 | 4602 |
| 119. | 87 | -32 | Craig Riske | 6 | 4568 |
| 120. | 118 | -2 | Max Mallinen | 6 | 4545 |
| 121. | 120 | -1 | AJ Myers | 5 | 4455 |
| 122. | 95 | -27 | David Vasquez | 5 | 4270 |
| 123. | 124 | 1 | Joe Criscione | 5 | 4256 |
| 124. | 188 | 64 | Kyle Kalish | 5 | 4249 |
| 125. | 254 | 129 | Matt England | 5 | 4226 |
| 126. | 125 | -1 | Andrew Sherry | 5 | 4223 |
| 127. | 152 | 25 | Kathryn Cornell | 5 | 4158 |
| 128. | 220 | 92 | Billy Lewis | 5 | 4148 |
| 129. | 126 | -3 | Tyler Edwards | 5 | 4134 |
| 130. | 127 | -3 | Juan Diego Maldonado | 5 | 4123 |
| 131. | 275 | 144 | Dallas Hollins | 5 | 4079 |
| 132. | 129 | -3 | Nicolas Daza | 5 | 4075 |
| 133. | 109 | -24 | Brandon Tomko | 5 | 4035 |
| 134. | 132 | -2 | Michael Ilavia | 5 | 4035 |
| 135. | 205 | 70 | Ashley Rogero | 5 | 4023 |
| 136. | 133 | -3 | Jeremy Doll | 5 | 4014 |
| 137. | 134 | -3 | Morgan Schuler | 5 | 4010 |
| 138. | 163 | 25 | Zeb Davis | 5 | 4000 |
| 139. | 137 | -2 | Colton Aldridge | 5 | 3981 |
| 140. | 155 | 15 | Michael Andrews Jr. | 5 | 3968 |
| 141. | 200 | 59 | Sven Nicolas Schele | 5 | 3928 |
| 142. | 110 | -32 | Amber Friedberg | 5 | 3925 |
| 143. | 204 | 61 | Louis Satterlee II | 5 | 3810 |
| 144. | 168 | 24 | Bobby Kelley | 4 | 3784 |
| 145. | 81 | -64 | Devin Lindsey | 4 | 3776 |
| 146. | 139 | -7 | Jamie McMurray | 4 | 3698 |
| 147. | 97 | -50 | Enzo Mestre | 4 | 3625 |
| 148. | 113 | -35 | Shawn Cricca | 4 | 3621 |
| 149. | 83 | -66 | Kevin Hernandez | 4 | 3617 |
| 150. | 142 | -8 | Andrew Evans | 4 | 3574 |
| 151. | 123 | -28 | Aaron Telitz | 4 | 3569 |
| 152. | 218 | 66 | Daley Pagano | 4 | 3527 |
| 153. | 233 | 80 | Grayson Browne | 4 | 3434 |
| 154. | 144 | -10 | Felipe Vargas Valverde | 4 | 3397 |
| 155. | 145 | -10 | Mark Vielgut | 4 | 3389 |
| 156. | 146 | -10 | Augie Lerch | 4 | 3381 |
| 157. | 147 | -10 | Adam Dowler | 4 | 3371 |
| 158. | 246 | 88 | Roberto Manduchi | 4 | 3361 |
| 159. | 148 | -11 | Alex Nowysz | 4 | 3350 |
| 160. | 149 | -11 | Chris Bogart | 4 | 3344 |
| 161. | 173 | 12 | Andy Schlosser | 4 | 3318 |
| 162. | 150 | -12 | Artie Carpenter | 4 | 3304 |
| 163. | 130 | -33 | Andrew Coulter | 4 | 3283 |
| 164. | 187 | 23 | Glen Sides | 4 | 3283 |
| 165. | 153 | -12 | Hanna Zellers | 4 | 3257 |
| 166. | 154 | -12 | Sean Conyers | 4 | 3244 |
| 167. | 157 | -10 | Christopher Morrison | 4 | 3213 |
| 168. | 192 | 24 | Keenan Hertzner | 4 | 3189 |
| 169. | 159 | -10 | Ashlie Couch | 4 | 3185 |
| 170. | 108 | -62 | Nick Nile | 4 | 3185 |
| 171. | 160 | -11 | Kiron Chakraborty | 4 | 3183 |
| 172. | 131 | -41 | Ann Hayden | 4 | 3168 |
| 173. | 88 | -85 | Remo Ruscitti | 3 | 3157 |
| 174. | 247 | 73 | Aaron Snyder | 4 | 3156 |
| 175. | 161 | -14 | Nicolas Augosto Daza Rovira | 4 | 3150 |
| 176. | 182 | 6 | Austin Queen | 4 | 3144 |
| 177. | 138 | -39 | Elijah Prychodzko | 4 | 3095 |
| 178. | 164 | -14 | Ricardo Duenas | 4 | 3064 |
| 179. | 165 | -14 | Joshua De Losier | 4 | 3049 |
| 180. | 267 | 87 | Michael Geringer | 4 | 3037 |
| 181. | 207 | 26 | Luis F. Soberal | 4 | 3023 |
| 182. | 166 | -16 | Gerardo Garcia | 4 | 2961 |
| 183. | 317 | 134 | Michael Pagano | 3 | 2768 |
| 184. | 116 | -68 | Scott Hargrove | 3 | 2716 |
| 185. | 170 | -15 | Jimmy Simpson | 3 | 2700 |
| 186. | 171 | -15 | Cory Cacciavillani | 3 | 2677 |
| 187. | 172 | -15 | Kolby Araki | 3 | 2673 |
| 188. | 219 | 31 | Emily Maddison | 3 | 2664 |
| 189. | 78 | -111 | Kyle Smith | 3 | 2645 |
| 190. | 174 | -16 | David Sera | 3 | 2636 |
| 191. | 176 | -15 | Brody Zink | 3 | 2631 |
| 192. | 221 | 29 | Blake Murdock | 3 | 2625 |
| 193. | 177 | -16 | Mick Gabriel | 3 | 2624 |
| 194. | 180 | -14 | Thomas Radivoy | 3 | 2575 |
| 195. | 226 | 31 | AJ Juergens | 3 | 2569 |
| 196. | 178 | -18 | Ayrton Climo | 3 | 2545 |
| 197. | 257 | 60 | Darin Marcus | 3 | 2522 |
| 198. | 232 | 34 | Matthew Koerner | 3 | 2512 |
| 199. | 185 | -14 | Luca Forgeois | 3 | 2479 |
| 200. | 186 | -14 | Henry Taleb | 3 | 2462 |
| 201. | 342 | 141 | Jimmy Clark | 3 | 2458 |
| 202. | 158 | -44 | David Martinez | 3 | 2436 |
| 203. | 156 | -47 | Ryan Sisemore | 3 | 2435 |
| 204. | 189 | -15 | Sean Meier | 3 | 2433 |
| 205. | - | - | Chris Guimarra | 3 | 2424 |
| 206. | 190 | -16 | Laurentin Mardan | 3 | 2416 |
| 207. | 289 | 82 | Cris Araujo | 3 | 2397 |
| 208. | 253 | 45 | Harrison Mills | 3 | 2386 |
| 209. | 194 | -15 | Alejandro Liverant | 3 | 2358 |
| 210. | 195 | -15 | Morgan Healey | 3 | 2353 |
| 211. | 103 | -108 | Robert Young | 3 | 2344 |
| 212. | 196 | -16 | Adam Taylor | 3 | 2336 |
| 213. | 293 | 80 | Jason Devine | 3 | 2335 |
| 214. | 197 | -17 | Nick Grossi | 3 | 2332 |
| 215. | 162 | -53 | Zach Maclean | 3 | 2327 |
| 216. | 198 | -18 | Michael Purnell | 3 | 2322 |
| 217. | 199 | -18 | Daniel Santiago Acero Beltran | 3 | 2320 |
| 218. | 396 | 178 | Ricky Brooks | 3 | 2299 |
| 219. | 201 | -18 | Brian McEvoy | 3 | 2287 |
| 220. | 358 | 138 | Matthew Laukaitis | 3 | 2258 |
| 221. | 411 | 190 | Michael Prokup | 3 | 2194 |
| 222. | 208 | -14 | Jordon Lennox | 2 | 2034 |
| 223. | 209 | -14 | Nicolas Morales Farjado | 2 | 1986 |
| 224. | - | - | Juan Jimenez | 2 | 1985 |
| 225. | - | - | Austin Self | 2 | 1891 |
| 226. | 211 | -15 | Phillip Orcic | 2 | 1862 |
| 227. | - | - | Andres Ceballos | 2 | 1856 |
| 228. | 212 | -16 | Joel Miller | 2 | 1851 |
| 229. | 213 | -16 | Nelson Piquet Jr. | 2 | 1851 |
| 230. | 214 | -16 | Kyle Byers | 2 | 1848 |
| 231. | 216 | -15 | Mitch Carey | 2 | 1832 |
| 232. | 217 | -15 | Adam Isman | 2 | 1821 |
| 233. | 320 | 87 | Cory Davison | 2 | 1807 |
| 234. | 181 | -53 | Maya Gutierrez | 2 | 1758 |
| 235. | 224 | -11 | Sandor Jakab | 2 | 1758 |
| 236. | 225 | -11 | Kent Schonberger | 2 | 1751 |
| 237. | 227 | -10 | Porter Aiken | 2 | 1747 |
| 238. | 228 | -10 | Matt Kimball | 2 | 1743 |
| 239. | - | - | James Raffield | 2 | 1735 |
| 240. | 229 | -11 | Chris Beck | 2 | 1733 |
| 241. | 230 | -11 | Sam Jones | 2 | 1726 |
| 242. | 183 | -59 | Bill McLaughlin Jr. | 2 | 1719 |
| 243. | 184 | -59 | Jason Hannegan | 2 | 1709 |
| 244. | 234 | -10 | Brennan Harrington | 2 | 1698 |
| 245. | 235 | -10 | Daniel Burkett | 2 | 1698 |
| 246. | 236 | -10 | Bronson Eggert | 2 | 1697 |
| 247. | - | - | Wyatt Maness | 2 | 1697 |
| 248. | 237 | -11 | Artem Korolev | 2 | 1696 |
| 249. | 238 | -11 | Shelby Freese | 2 | 1690 |
| 250. | 239 | -11 | Tyson Carlson | 2 | 1689 |
| 251. | - | - | Jack Weprin | 2 | 1687 |
| 252. | 240 | -12 | Gael Moreau | 2 | 1680 |
| 253. | - | - | Armin Cavkusic | 2 | 1670 |
| 254. | - | - | Austin McCusker | 2 | 1665 |
| 255. | - | - | Jarrett Duncovich | 2 | 1664 |
| 256. | - | - | Brenden Johnson | 2 | 1663 |
| 257. | 241 | -16 | Connor Thomas | 2 | 1663 |
| 258. | 336 | 78 | JR Raczko | 2 | 1652 |
| 259. | - | - | Shawn Sharkey | 2 | 1652 |
| 260. | - | - | Nick Landi | 2 | 1648 |
| 261. | 242 | -19 | Andrew Wilson | 2 | 1647 |
| 262. | 261 | -1 | Jensen Talmo | 2 | 1646 |
| 263. | 244 | -19 | Jeff Bartz | 2 | 1644 |
| 264. | 330 | 66 | Austin Jordan | 2 | 1643 |
| 265. | - | - | Mike McAndrews | 2 | 1640 |
| 266. | 245 | -21 | Rob Maier | 2 | 1640 |
| 267. | 248 | -19 | John Keefe | 2 | 1633 |
| 268. | 249 | -19 | Kyle Sneed | 2 | 1631 |
| 269. | 250 | -19 | Gene Kinnison | 2 | 1630 |
| 270. | 251 | -19 | Dominic Tesoro | 2 | 1629 |
| 271. | 338 | 67 | Michael Politis | 2 | 1627 |
| 272. | 252 | -20 | Cristian Vomir | 2 | 1619 |
| 273. | - | - | Gresham Wagner | 2 | 1615 |
| 274. | 206 | -68 | Kyle Koetters | 2 | 1613 |
| 275. | 256 | -19 | Ariel Castro | 2 | 1609 |
| 276. | - | - | Braden Eves | 2 | 1607 |
| 277. | 258 | -19 | Geoffrey Roberti | 2 | 1605 |
| 278. | 259 | -19 | Kaylee Granberg | 2 | 1604 |
| 279. | 260 | -19 | Mario Iemma | 2 | 1602 |
| 280. | - | - | Anthony Granata | 2 | 1600 |
| 281. | 263 | -18 | Noel Dowler | 2 | 1595 |
| 282. | 346 | 64 | Jeremy Frediani | 2 | 1594 |
| 283. | - | - | Matt Solarczyk | 2 | 1589 |
| 284. | 265 | -19 | August Eichelberger | 2 | 1588 |
| 285. | 268 | -17 | Chad Campbell | 2 | 1584 |
| 286. | 269 | -17 | Jacob Macavoy | 2 | 1583 |
| 287. | 270 | -17 | Darren Whitehead | 2 | 1582 |
| 288. | 271 | -17 | Kyle Prokup | 2 | 1582 |
| 289. | 343 | 54 | Robert Maier | 2 | 1582 |
| 290. | 272 | -18 | Brandon Winfield | 2 | 1579 |
| 291. | 273 | -18 | Timothy Venable | 2 | 1574 |
| 292. | 274 | -18 | Troy Castaneda | 2 | 1566 |
| 293. | - | - | Davey Manthei Jr. | 2 | 1565 |
| 294. | - | - | Chandler Horton | 2 | 1564 |
| 295. | 277 | -18 | Jamie McAllister | 2 | 1558 |
| 296. | 278 | -18 | Mark Thomas | 2 | 1558 |
| 297. | 280 | -17 | Koi Bailey | 2 | 1554 |
| 298. | 281 | -17 | Ian Cummings | 2 | 1550 |
| 299. | 282 | -17 | Maria Luz Salvucci | 2 | 1550 |
| 300. | 284 | -16 | Pete Terkildsen | 2 | 1547 |
| 301. | 285 | -16 | Mark Peters | 2 | 1543 |
| 302. | 193 | -109 | Chris Grektorp | 2 | 1535 |
| 303. | 286 | -17 | Kristina Vondran | 2 | 1535 |
| 304. | 287 | -17 | Geoff Shaw | 2 | 1531 |
| 305. | - | - | Austin Cindric | 2 | 1522 |
| 306. | 203 | -103 | Brian Zirves | 2 | 1515 |
| 307. | 290 | -17 | Arika White | 2 | 1510 |
| 308. | 291 | -17 | Bryan Wong | 2 | 1507 |
| 309. | 292 | -17 | Don Whittington | 2 | 1507 |
| 310. | - | - | Andrew Cook | 2 | 1506 |
| 311. | 401 | 90 | Will Lockwood | 2 | 1503 |
| 312. | 294 | -18 | Joseph Skaggs | 2 | 1502 |
| 313. | 295 | -18 | Alexander Hornborg | 2 | 1499 |
| 314. | - | - | Mark Dismore Jr. | 2 | 1493 |
| 315. | 297 | -18 | Hunter Armstrong | 2 | 1491 |
| 316. | 299 | -17 | Nathan Adair | 2 | 1487 |
| 317. | - | - | Earl Douthwright | 2 | 1477 |
| 318. | 202 | -116 | Francois Brun-Wibaux | 2 | 1473 |
| 319. | 300 | -19 | Clay Keel | 2 | 1470 |
| 320. | - | - | Jason Rowe | 2 | 1459 |
| 321. | 303 | -18 | Izak Hayda | 2 | 1439 |
| 322. | 305 | -17 | Nicholas Chow | 2 | 1417 |
| 323. | - | - | Jason Foley | 2 | 1372 |
| 324. | 306 | -18 | Maddison Snow | 2 | 1363 |
| 325. | 308 | -17 | Gabriel Chaves | 1 | 1138 |
| 326. | 309 | -17 | Kiel Spaulding | 1 | 1115 |
| 327. | 310 | -17 | Charles Leclerc | 1 | 1104 |
| 328. | 311 | -17 | Alessio Guazzaroni | 1 | 1058 |
| 329. | 313 | -16 | Collin Daley Jr. | 1 | 1032 |
| 330. | 314 | -16 | Pearce Herder | 1 | 1005 |
| 331. | 315 | -16 | Marco Tulio Souza | 1 | 1002 |
| 332. | 222 | -110 | Cody Gardner | 1 | 999 |
| 333. | 316 | -17 | Thiago Parazinho | 1 | 954 |
| 334. | 318 | -16 | Max Preston | 1 | 923 |
| 335. | - | - | Tyler Coffman | 1 | 920 |
| 336. | 179 | -157 | Ayrton Mutagaana | 1 | 917 |
| 337. | 319 | -18 | Jay Howard | 1 | 913 |
| 338. | 321 | -17 | Jordan Jadallah | 1 | 889 |
| 339. | 322 | -17 | Patick Kelly | 1 | 888 |
| 340. | 323 | -17 | Paul Russo | 1 | 883 |
| 341. | 175 | -166 | Kolton Griffin | 1 | 879 |
| 342. | 324 | -18 | Ryan Phinny | 1 | 879 |
| 343. | - | - | Brandon Jarsocrak | 1 | 874 |
| 344. | 325 | -19 | Yannick Rolland | 1 | 871 |
| 345. | 326 | -19 | Nicolas Guillermo Armien Sanz | 1 | 862 |
| 346. | 327 | -19 | David Zippie | 1 | 852 |
| 347. | 328 | -19 | Mario Iffredo | 1 | 847 |
| 348. | 329 | -19 | Alex Mayer | 1 | 844 |
| 349. | 331 | -18 | Derek Wang | 1 | 841 |
| 350. | 332 | -18 | Mike Manning | 1 | 839 |
| 351. | 333 | -18 | Kennan Hertzner | 1 | 838 |
| 352. | 334 | -18 | Elliot Finlayson | 1 | 837 |
| 353. | - | - | Hayden Pederson | 1 | 835 |
| 354. | 335 | -19 | Brandon Shaw | 1 | 826 |
| 355. | 337 | -18 | Kurt Fisher | 1 | 824 |
| 356. | 339 | -17 | Dillon Krantz | 1 | 822 |
| 357. | 340 | -17 | Chaz Nagel | 1 | 821 |
| 358. | 341 | -17 | Bradley Espinoza | 1 | 816 |
| 359. | - | - | Kevin Martz | 1 | 816 |
| 360. | 344 | -16 | Jordan Towery | 1 | 813 |
| 361. | 345 | -16 | Stephen Huelsman | 1 | 812 |
| 362. | 347 | -15 | Rafael Enrique Blanco Ramo | 1 | 810 |
| 363. | 348 | -15 | Joey Bickers | 1 | 809 |
| 364. | - | - | Joseph Pizzuto | 1 | 809 |
| 365. | 350 | -15 | Maxime Couturier | 1 | 806 |
| 366. | 351 | -15 | Douglas Ohoro | 1 | 804 |
| 367. | - | - | Brandon Jones | 1 | 803 |
| 368. | 352 | -16 | Gianni Alexandria | 1 | 803 |
| 369. | 353 | -16 | Keith Harris | 1 | 802 |
| 370. | 169 | -201 | Ben Searcy | 1 | 801 |
| 371. | 354 | -17 | Kenny Manchester | 1 | 801 |
| 372. | - | - | Kerry Manchester | 1 | 801 |
| 373. | 355 | -18 | Thomas Roth | 1 | 801 |
| 374. | 356 | -18 | Kevin King | 1 | 800 |
| 375. | 357 | -18 | Kyle Blum | 1 | 799 |
| 376. | 359 | -17 | Brandon Southwick | 1 | 797 |
| 377. | 360 | -17 | Mark Bollaert | 1 | 796 |
| 378. | 279 | -99 | Arielle Kuntz | 1 | 793 |
| 379. | 361 | -18 | Christian Rochester | 1 | 792 |
| 380. | 362 | -18 | Santiago Jariton | 1 | 792 |
| 381. | 363 | -18 | Jesse Yorio | 1 | 790 |
| 382. | 364 | -18 | Sterling Mullen | 1 | 790 |
| 383. | - | - | Camilo Miranda | 1 | 788 |
| 384. | 365 | -19 | Mateo Fernandez | 1 | 786 |
| 385. | 266 | -119 | Jerry Henderson | 1 | 785 |
| 386. | 167 | -219 | Michael Valiante | 1 | 785 |
| 387. | 367 | -20 | Chrystal Szeto | 1 | 784 |
| 388. | 368 | -20 | Nicolas Rodriguez | 1 | 784 |
| 389. | 369 | -20 | Jacob Maxfield | 1 | 783 |
| 390. | 370 | -20 | Jared Anders | 1 | 782 |
| 391. | 371 | -20 | Jake Wilmott | 1 | 781 |
| 392. | 372 | -20 | Tim Trocke | 1 | 781 |
| 393. | 373 | -20 | Mauricio J. Hernandez Guillen | 1 | 780 |
| 394. | 374 | -20 | Saeed Altaee | 1 | 780 |
| 395. | 375 | -20 | Jeff Belter | 1 | 779 |
| 396. | 376 | -20 | Mike Hoff | 1 | 778 |
| 397. | - | - | Jake Cole | 1 | 777 |
| 398. | 378 | -20 | Santiago Lozano Mesa | 1 | 775 |
| 399. | 379 | -20 | Matt Sides | 1 | 774 |
| 400. | 380 | -20 | Matt Blair | 1 | 773 |
| 401. | 381 | -20 | Nick Stagl | 1 | 770 |
| 402. | 382 | -20 | Thomas Stayton | 1 | 770 |
| 403. | 384 | -19 | Joffrey Amaya | 1 | 767 |
| 404. | 385 | -19 | Sam Chastain | 1 | 767 |
| 405. | 386 | -19 | Max Lupfer | 1 | 766 |
| 406. | 387 | -19 | Bruni Palli | 1 | 763 |
| 407. | 388 | -19 | Chris Carmody | 1 | 761 |
| 408. | 389 | -19 | Brayden Seberras | 1 | 759 |
| 409. | 264 | -145 | Anthony Snow | 1 | 751 |
| 410. | 392 | -18 | Dennis Olsen | 1 | 751 |
| 411. | 394 | -17 | Eric Jones | 1 | 748 |
| 412. | 395 | -17 | Nick Frangoulis | 1 | 748 |
| 413. | 397 | -16 | Chad Landers | 1 | 745 |
| 414. | 398 | -16 | Scot Carapellatti | 1 | 745 |
| 415. | 399 | -16 | Austin Gant | 1 | 742 |
| 416. | 400 | -16 | Justin Peck | 1 | 735 |
| 417. | 402 | -15 | Arthur Oliveira | 1 | 728 |
| 418. | 403 | -15 | Brian Wilzoch | 1 | 728 |
| 419. | 301 | -118 | Michael Melancon | 1 | 723 |
| 420. | 404 | -16 | Hector Rodriguez | 1 | 720 |
| 421. | 405 | -16 | Luke Chudleigh | 1 | 717 |
| 422. | 406 | -16 | Gabriel Sierra | 1 | 711 |
| 423. | 407 | -16 | Sam Schippers | 1 | 707 |
| 424. | 408 | -16 | Olin Galli | 1 | 706 |
| 425. | - | - | Robert Murray | 1 | 704 |
| 426. | 409 | -17 | Christian Ross | 1 | 688 |
| 427. | 410 | -17 | Andre Nicastro | 1 | 671 |
| 428. | - | - | Alex Salsbury | 1 | 670 |