Team News: VemmeKart/Extreme Karting – ProKart Challenge California Round Three Report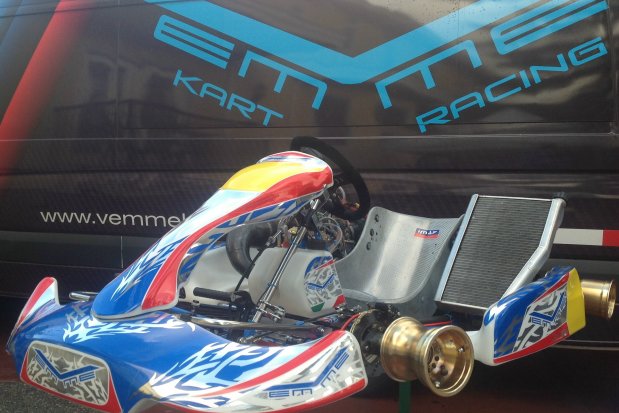 VemmeKart/Extreme Karting made their presence felt at the 3rd round of ProKart Challenge (PKC) California May 3-4 at Adams Kart Track in Riverside, CA.
Doug Sorensen/Extreme Karting, Vemme USA importer, with his team trailer along with Team Vemme and the VemmeKart factory truck from Canada made the trek not only to Adams, but will also be attending all of the ProKart Challenge California and Pro Tour races to provide factory trackside service and support.
VemmeKart/Extreme Karting is very proud to announce a team of diverse drivers who competed in the S1, S4 & TaG M classes.
S1
S1 (Pro) and S2 (Semi-Pro) classes are ran together and these two classes are the cream of the crop of young shifter drivers with the S2 hot shoes looking to make a big impression and move up to S1 next year. This makes for arguably the toughest racing at any PKC event. Long time Extreme Karting SoCal team driver Peter Abba (S1) left Adams scoring solid points and moved up from 7th in points to 4thout of 11!
S4
Another long time Extreme Karting SoCal team driver Ken Schilling made up some ground in the season points as well.
Ken finished the Main just off the podium in 4th and left Adams a very strong tied for 3rd out of 22 drivers in points and cut his deficit in half to the #1 & #2 points drivers! Ken commented after the race, "Over the last few years in S4 I've usually been mid-pack, but the only change has been the new Vemme chassis helping me to move towards the front. I want to thank and give all of the credit to Team Vemme!"
Here's a link for a video of Ken's Main race:
http://www.youtube.com/watch?v=bA0fFf93Cig&list=UUIQnA__TdyyOVLXoJXQRjQQ&index=2
TaG M
A newcomer to Team Vemme was Kevin Manning, son of veteran karter and kart shop owner, Mike Manning of Mike Manning Karting (MMK). After driving a competitor brand for many years, Kevin was very excited to switch to the Vemme. In qualifying Kevin laid down a hot lap that landed him 3rd! In H1 he was forced to retire on the penultimate lap which forced him to start H2 at the back (14th). In H2 Kevin made great progress and finished 6th. Unfortunately in the Main Kevin ended his race on the 6th lap.
Kevin said after the Main, "I've been on another brand for so long that I wasn't sure what to expect on the Vemme. After receiving it early this year it was clear that even the smallest change could be felt and tuning it was easy. I'm very excited to be on the new Vemme chassis and contesting the rest of the PKC season as well as the Pro Tour and SuperNats representing Team Vemme!!!" Kevin came away from Adams maintaining his 2nd out of 21 in points position!
"2013 Vemme Road to the Rio"
Vemme Kart and Extreme Karting (Vemme USA importer) are pleased to announce the "2013 Vemme Road to the Rio" plan.
For any driver winning a race series championship in the United States in 2013 using a Vemme chassis exclusively, Vemme Kart and Extreme Karting will pay for that driver's entry, race tires and tent space in the Vemme tent alongside the factory drivers and tuners for the 2013 SuperNats at the Rio in Las Vegas (November 20-24, 2013).
"We are pleased to be able to make this offer to our customers and hope to see even more racing with us throughout 2013 and especially in Las Vegas. We are confident that competing on a Vemme chassis will help all of our loyal existing and new customers alike to improve their program" says Doug Sorensen, Extreme Karting principal.
Vemme owner/principal Vince Mandarino and son Lorenzo have many years of racing both in North America and Europe. Vince has designed these chassis for the North American market to suit the tracks and tires commonly run. Christian Schureman's victory in S2 at the SKUSA Summer Nationals in Utah last year is evidence of the Vemme capabilities.
Vemme has both a 30/32mm and a 30/30mm chassis available. The Omega 30/32 comes in both shifter configuration and TAG/100cc. Either version is available with steel or ceramic brakes. The Omega 30/30 chassis has proven successful in TAG and 100cc.
The just released new VemmeKart cadet was designed not only to have friendly grip level characteristics and ease of tuneability, but also a lot of attention was paid on minimizing the brake rotating mass. Vince states, "We have developed a brake system of very small dimensions and also chose to have the rotor made from ceramic. The ceramic brake rotor weighs at least one pound lighter than the steel rotor allowing much more free rotation. This provides "free" horsepower in both acceleration and steady state MPH which is a huge advantage in this class". Another benefit of the ceramic rotor is greater heat dissipation than steel which provides the best pedal feel and braking power in this class.
The VemmeKart factory and Extreme Karting would like to extend a heartfelt thank you to all of the team owners, drivers, mechanics, etc… Without you there would be no VemmeKart!!!
For more information concerning this offer and/or joining the team, please contact Extreme Karting. See below for contact info.
Extreme Karting, Inc.
Doug Sorensen
1177 N. Kraemer Blvd.
Anaheim, CA 92806
714-630-3655 – doug@extreme-karting.com
http://www.extreme-karting.com