New CIK-FIA Championship Website Launched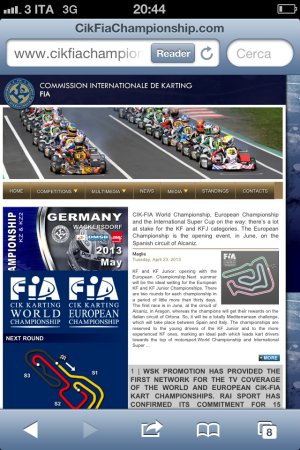 THE NEW CIK-FIA WEBSITE -WWW.CIKFIACHAMPIONSHIP.COM – IS ACTIVE. THE SITE IS THE REFERENCE POINT IN THE INTERNET FOR ALL THE EVENTS OF THE CIK-FIA WORLD AND EUROPEAN CHAMPIONSHIPS. THIS IS THE NEW TOLL OF WSK PROMOTION TO IMPROVE COMMUNICATION.
The opening event of the 2013 CIK-FIA Season is approaching: the KZ and KZ2 European Championship in Wackersdorf, Germany, at the weekend from 16th to 19th May. During these last days, WSK Promotion communication tools are improving fast. The new website has been presented: it provides all the news about the events of the World Championship, the European Championship and the International Super Cups, together with http://www.cikfia.com and http://www.cikfia.tv
GLOBAL INFORMATION THROUGH THE INTERNET
The new website is active at the web address http://www.cikfiachampionship.com . The website content provides information about the races: from the standings to the details of every single event. Besides this crucial information, also the latest news, a video section and a photo gallery dedicated to each event. Moreover, the live streaming and the live timing allow to follow live all the race weekends.