Team News: VemmeKart/Extreme Karting ProKart Challenge California at Willow Springs Preview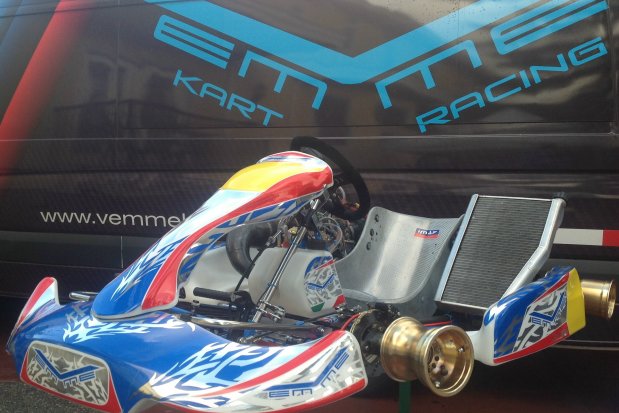 VemmeKart/Extreme Karting will be making their presence felt at the 2nd race of the ProKart Challenge California series March 1-2 at Willow Springs kart track.
Doug Sorensen, Extreme Karting principle, with his team trailer along with Lorenzo Mandarino and the VemmeKart factory truck will be making the trek not only to Willow Springs, but also to all of the ProKart Challenge California and Pro Tour races to provide factory trackside service and support.
Between races, the VemmeKart team along with the three Canadian drivers took the time, effort & expense for a team practice day at Willow Springs. Doug Sorensen, Ken (S4) & Peter (S1) also attended and all came away feeling strong and confident for the upcoming race.
VemmeKart/Extreme Karting is very proud to announce a team of nine diverse drivers who will be competing in the S1, S2, S3, S4, TaG J & TaG M classes.
S1
Long time Extreme Karting SoCal team driver Peter Abba will be joined by S1 newcomer Cam Egger. Cam, who moved up to S1 from S2 this year, hails from Canby, OR where his father Chris runs the Pat's Acres karting track. S1 continues to get more competitive each year as the SKUSA class/licensing system grows and matures. Both Peter & Cam are looking to make headway in the points after a tough season opener.
S2
Joining us from Golden, CO is Christian Schureman. Christian won one of the two Pro Tour SummerNats races last year in Utah and finished extremely well in 9th place at the SuperNats. Christian struggled in qualifying at the last race at Buttonwillow but had great heats and main resulting in him coming to Willow Springs 2nd in points out of 19 drivers!
S3
Making the trek from Calgary, AB, Canada is Kyoichi Tsui who will be making his debut in the novice Spec Honda class.
S4
Another long time Extreme Karting SoCal team driver Ken Schilling will be joined by Chris Perrault who hails from Campbell River, BC, Canada. Both Ken & Chris qualified for the SuperNats main event on Super Sunday out of an extremely competitive and deep 68 driver field. S4 has continually been one of the largest and deepest classes in ProKart Challenge. At Buttonwillow Ken qualified an extremely strong 3rd out of 17 drivers! He finished 2nd in H1 but unfortunately contact with the leader in H2 sent Ken to the back for the main where he struggled to get by defending slower traffic to finish 10th coming away 9th in points. Chris, racing at the home track friendly Buttonwillow track for the very first time came away 11th in points.
TaG J & TaG M
Also from Canada (Surrey, BC) is the father/son duo of Dave & Kale Kunicki. Kale will be competing in the TaG J field and Dave will be contesting TaG M. Both TaG J & TaG M are large and fiercely fought classes. Kale, like Chris, had never seen the Buttonwillow track and struggled with engine issues. He set his fastest lap of the day in the main but was unable to see the checkered flag due to mechanical woes. Kale is looking ahead to Willow Springs to turn things around!
Dave was racing in his first ever kart race at Buttonwillow. Even though he was caught out in qualifying being just underweight and starting H1 at the back of the 17 kart field, Dave charged forward throughout the day to finish in an extremely respectable 8th in his first race! Dave continues to get faster and also looks forward to Willow Springs to continue to improve.
VemmeKart is very excited to announce a new addition to the team in Kevin Manning who will be contesting TaG M. Kevin will be racing a brand new Vemme chassis under his father's tent (Mike Manning Karting/MMK). He did extremely well at Buttonwillow coming into this race 2nd in points to his teammate Billy Cleavelin.
"2013 Vemme Road to the Rio"
Vemme Kart and Extreme Karting (Vemme U.S. importer) are pleased to announce the "2013 Vemme Road to the Rio" plan.
For any driver winning a race series championship in the United States in 2013 using a Vemme chassis exclusively, Vemme Kart and Extreme Karting will pay for that driver's entry, race tires and tent space in the Vemme tent alongside the factory drivers and tuners for the 2013 SuperNats at the Rio in Las Vegas (November 20-24, 2013).
"We are pleased to be able to make this offer to our customers and hope to see even more racing with us throughout 2013 and especially in Las Vegas. We are confident that competing on a Vemme chassis will help all of our loyal existing and new customers alike to improve their program" says Doug Sorensen, Extreme Karting principle.
Vemme owner Vince Mandarino and son Lorenzo have many years of racing both in North America and Europe. Vince has designed these chassis for the North American market to suit the tracks and tires commonly run. Christian Schureman's victory in S2 at the SKUSA Summer Nationals in Utah last year is evidence of the Vemme capabilities.
Vemme has both a 30/32mm and 30/30mm chassis available. The Omega 30/32 comes in both shifter configuration and TAG/100cc and either version is available with steel or ceramic brakes. The Omega 30/30 chassis has proven successful in TAG and 100cc. Just introduced is a brand new TaG Cadet chassis with the latest ceramic brakes for lightweight, class leading braking & "free" horsepower!
For more information concerning this offer and/or joining the team, please contact Extreme Karting. See below for contact info.
Extreme Karting, Inc.
Doug Sorensen
1177 N. Kraemer Blvd.
Anaheim, CA 92806
714-630-3655 – doug@extreme-karting.com
http://www.extreme-karting.com