Kiwi News: Rotax Max Challenge of New Zealand – Round 1 Report
Kinsmans Lead Kiwi Charge at Trans-Tasman Kart Meeting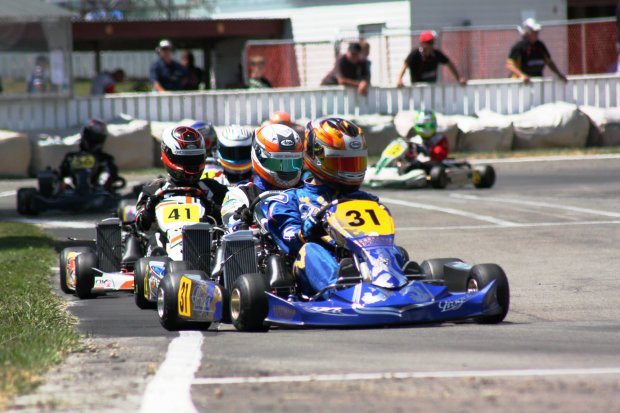 Defending class champion Daniel Kinsman (31) was the winner of the Right Karts 125cc Rotax Max Light class
(Photo: Fast Company - Leith Roberston)
Auckland's Kinsman brothers, Daniel and Mathew, led the Kiwi charge against a six-strong group of visiting Australian karters at the opening round of the 2013 YÖGG Rotax Max Challenge of New Zealand in Palmerston North on Saturday.
Continuing on from where they left off at the final round of the 2012 Challenge series the brothers dominated proceedings in the premier Right Karts 125cc Rotax Max Light class at the KartSport Manawatu club's annual Twilight Trans-Tasman meeting, Mathew claiming pole position from fellow Aucklander Daniel Connor and younger brother Daniel Kinsman in qualifying, then Daniel turning the tables on Mathew to win all four class races.
Daniel Connor ended up third in the first heat and both the Pre-Final and Final, with fellow Aucklander Aaron Hodgson third in the first heat and fellow former Junior front runner Reid Harker fourth in the Final from top South Island driver James Penrose and Auckland's Mason Armstrong.
Reigning Aussie V8 Utes title holder, and former States and National Australian karting champion, Ryal Harris qualified sixth and ran strongly in the heats and Pre-Final but slipped back through the field in the early laps of the Final before contact saw him tumble to 22nd place from where he made it back to16th place at the flag.
Christchurch driver Jordan McDonnell also kept the Kiwi ensign flying high in the Arai Helmets Formula Junior class, qualifying quickest and conceding only one race win – in the Pre-Final – to the Australian driver in the field, Lachlan McHugh.
Come the Final it was McDonnell back in front, leading home fellow Christchurch driver Marcus Armstrong with McHugh third and top local (Palmerston North) driver Dylan Drysdale fourth.
The visitors got their revenge in the Logitech 125cc Rotax Max Heavy class, regular New Zealand visitor Lane Moore qualifying quickest and sharing heat wins with fellow Aussie Michael Saller then winning both the Pre-Final and Final from Saller and the first of the Kiwis, local class stalwart Brendon Hart, the latter also taking Masters (over 32) honours.
Saturday's opening series round is the first of six with subsequent rounds to be held at Rotorua, Te Puke, Tokoroa, Hawke's Bay and Auckland.
2013 YÖGG Rotax Max Challenge of New Zealand Rnd 1 Twilight Trans-Tasman Challenge meeting Manawatu Toyota Raceway Palmerston North Sat Feb 16 2013
125cc Rotax Max Light
1. Daniel Kinsman 22 16:45.187
2. Mathew Kinsman +00:00.567
3. Daniel Connor +00:03.163
4. Reid Harker +00:08.090 0
5. James Penrose +00:10.717
6. Mason Armstrong +00:11.522
Fastest lap: Daniel Connor 45.055
Arai Helmets Junior Max
1. Jordan McDonnell 16:55.405
2. Marcus Armstrong +00:00.530
3. Lachlan McHugh +00:00.879
4. Dylan Drysdale +00:01.116
5. Campbell Joyes +00:01.939
6. Jacob Cranston +00:02.210
Fastest lap: Jordan McDonnell 45.482
125cc Rotax Max Heavy
1. Lane Moore 17:06.764
2. Michael Saller +00:04.860
3. Brendon Hart +00:09.177
4. Trent Moore +00:11.534
5. Caleb Hartley +00:11.757
6. Stuart Marshall +00:12.103
7. Jody Vincent + 00:15.977
Fastest lap (and new class track lap record) Lane Moore 46.252