EKN Trackside: Rotax Challenge of the Americas – PKRA Preview
Series reaches halfway point as championship chases heat up in the Arizona desert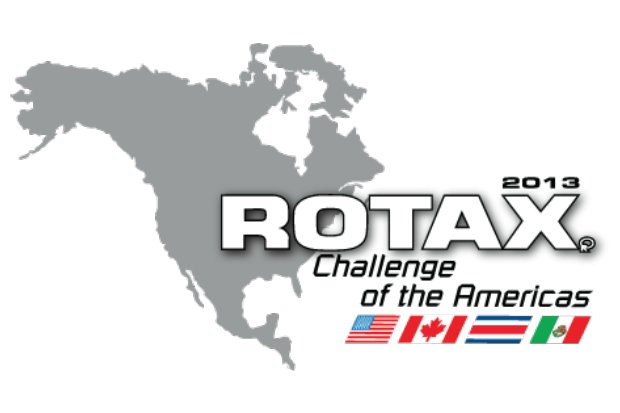 The 2013 Rotax Challenge of the Americas is at the halfway point of its sixth season as the international Rotax Max Challenge travels to Glendale, Arizona February 8-10. The Phoenix Kart Racing Association facility will host the premier winter karting series on the left coast with over 110 drivers from the United States and Canada contesting rounds three and four of the six-race championship series. The opening weekend in Tucson, AZ at the Musselman Honda Circuit shaped up the seven championship chases, with the three days of competition in Phoenix to single out the contenders from the pretenders, as four tickets to the Rotax Grand Finals are on the line in Senior Max, DD2, DD2 Masters and Junior Max with Grand Nationals spots up for Masters Max, Mini Max and Micro Max.
PKRA Formula K Raceway has a vast history in the sport of karting, hosting a Challenge weekend for the fifth straight year. The 3/4-mile, 12-turn 'Full Course' provides a great challenge for the competitors, feature technical corners and one long straight that will test driver and machine. Friday will host a full day of ##10#682#practice## with two independent rounds on Saturday and Sunday featuring ##10#686#qualifying##, prefinal and final runs. Each on track session will be important toward the series championship, with five points going toward top qualifier, up to 10 points in the prefinal, another five for fast lap in the main event and 100 points for the victory.
Senior Max may go down to the wire, much like most title chases do at The Challenge, as four drivers enter the Phoenix round separated by just 10 points. Round 1 winner Parker McKean (Rolison Performance Group/Kosmic) leads by just one point over Round 2 winner Phillip Arscott (Rolison Performance Group/Kosmic) and former Junior Max champ Louie Pagano (Birel).
Both McKean and Arscott finished outside the top-five in their other feature races, while Pagano was podium finisher in both main events. Pagano has more experience at the PKRA circuit, standing on the podium a year ago, but former US Grand Nationals champion Arscott can adapt to nearly any circuit he visits. McKean won at the series finale last year, and will carry a two win streak into Phoenix this weekend. Will Owen (Full Throttle Karting/Arrow) was impressive in Tucson, driving his way to second behind Arscott on Sunday and is just 10 points back of McKean.
Last year's event was dominated by Aussie David Sera, as he visited the series for a one-weekend tour. The 2012 Challenge of the Americas champion Phil DeLaO elected to not defend his crown this year, but is rumored to compete this weekend in Phoenix for a one-off event.
Defending DD2 champ Fritz Leesmann (PSL Atlantic/CRG) was perfect in 2012, and began 2013 in similar fashion. A perfect score in Tucson puts him out front in the title chase with series rookies Andrew Evans (Rolison Performance Group/Kosmic) and Sean Owens (Dallas Karting Complex/Sodi Kart) giving chase this year. Veteran Alan Rudolph (Team WRS/CRG) made his first Challenge start last month in Tucson, winning the Round 2 feature race to lead the DD2 Masters championship standings. Round 1 winner Mike Jones (Dallas Karting Complex/Sodi Kart) sits second, back by 20 points with defending champion John Crow (Billet Performance/Arrow) back in third. The class provided one of the most exciting races of the weekend in their Sunday Prefinal (watch video HERE , courtesy of Scott Falcone).
Junior Max sees last year's vice champion Luke Selliken (Rolison Performance Group/Kosmic) leading the way in the points standings after the first two rounds. Selliken won the opening round in Tucson and finished second to Blaine Rocha (Rolison Performance Group/Kosmic) on Sunday. Rocha currently is second in the chase, 17 points behind his new teammate.
Aside from Selliken, youngster Noah Grey (Phil Giebler Racing/FA Kart) was the only other driver to podium both days and enters the Phoenix weekend third with Utah driver Austin Versteeg (CRG-USA/CRG) fourth. Selliken won both feature races a year ago, and you can watch Sunday's run HERE with his EKN On-Board video, while Versteeg stood on the podium both days behind Selliken. Local driver Jim McKinney (Overdrive Motorsports/KGB) was quick in Tucson and could be a wild card in Phoenix.
Diego Pelosi (FA Kart) was only the second driver to score two feature wins in Tucson, as he doubled up in the Masters Max category. He leads the title chase by 36 points over Donald Durbin Jr. (Cambrian Go Karts/Birel) with Utah's Justin Peck (Rolison Performance Group/Tony Kart).
Sting Ray Robb and Horatio Fitz-Simon are the top two drivers in the Mini Max division, separated by seven points. Each won in Tucson, Fitz-Simon (CRG) from last to first in Saturday's main event with Robb (Rolison Performance Group/Tony Kart) edging out the competition on Sunday. Phoenix last year saw two wild days of racing in Mini Max, and the same is expected this time around. Micro Max was just that in Tucson, as there was no predicting what would happen, lap after lap. Liam Letzsch (KGB) left the weekend with the point lead as the only driver on the podium, including a win in Round 1, and leads the championship by 33 points over Round 2 winner Payton Durrant (Birel). Filip Niemkiewicz (Buddy Rice Karting/Energy) and Anthony Willis (DR Kart) are third and fourth, less than 50 points out.
Complete coverage can be found in the EKN Event Page, updates posted throughout the weekend on the Official Discussion Thread with live coverage set for Saturday and Sunday at http://www.ekartingnews.com/live
Rotax Challenge of the Americas
Phoenix Pre-Entry List
Senior Max
| | | | | | |
| --- | --- | --- | --- | --- | --- |
| No. | Driver | Team | Chassis | City | State/Prov. |
| 300 | Joe Criscione | Black Flag Racing | Energy | West Linn | OR |
| 302 | Augie Lerch | Pure Karting | Tony Kart | Tucson | AZ |
| 305 | Parker McKean | Rolison Performance Group | Kosmic | Gig Harbor | WA |
| 313 | Bailey Murphy | AZ Kart Werx | CRG | Phoenix | AZ |
| 314 | Hailey Groff | Rolison Performance Group | Kosmic | Richland | WA |
| 315 | Andrew Wiener | ART GP America | ART GP | Spring Valley | CA |
| 316 | Sean Conyers | | Intrepid | Phoenix | AZ |
| 321 | Andrew Palmer | J3 Competition | Kosmic | Chicago | IL |
| 323 | Will Owen | Full Throttle Karting | Arrow | Castle Rock | CO |
| 324 | Bradley Dezall | Overdrive Motorsports | Tony Kart | Okotoks | AB |
| 325 | Louie Pagano | | Birel | Santa Rosa Valley | CA |
| 326 | Alejandro Fernandez | Buddy Rice Karting | Energy | San Bernadino | CA |
| 331 | Artie Carpenter | | Tony Kart | Oregon City | OR |
| 332 | Michael Ilavia | Dallas Karting Complex | Sodi Kart | Houston | TX |
| 333 | Carlos Calderon | Aluminos | CRG | San Jose | CA |
| 341 | Nick Rivellini | Team WRS | Kosmic | Great Falls | VA |
| 345 | Tyler Edwards | Billet Performance | Arrow | Littleton | CO |
| 347 | Mike Herda | | Energy | Las Vegas | NV |
| 352 | Jacob Maxfield | | Arrow | Bluffdale | UT |
| 353 | Adam Dowler | Buddy Rice Karting | Energy | Sherwood Park | AB |
| 354 | Mason Marotta | Ryan Perry Motorsports | FA | Bakersfield | CA |
| 355 | Ben Schermerhorn | Schermerhorn Motorsports | Arrow | Highlands Ranch | CO |
| 357 | Phillip Arscott | Rolison Performance Group | Kosmic | Portland | OR |
| 361 | Alex Keyes | | CRG | Folsom | CA |
| 371 | Max Mallinen | | CRG | Liberty Lake | WA |
| 373 | Andrew Zimmer | Buddy Rice Karting | Energy | Tigard | OR |
| 380 | Dakota Dickerson | Phil Giebler Racing | FA | San Diego | CA |
| 382 | Carlee Taylor | | Tony Kart | Yucaipa | CA |
| 386 | Kol Bailey | | Intrepid | Peoria | AZ |
DD2/DD2 Masters
| | | | | | |
| --- | --- | --- | --- | --- | --- |
| No. | Driver | Team | Chassis | City | State/Prov. |
| 413 | Bill Kann | | Zanardi | Scottsdale | AZ |
| 419 | Sean Owens | Dallas Karting Complex | Sodi Kart | Arlington | TX |
| 427 | Andrew Evans | Rolison Performance Group | Kosmic | Sammamish | WA |
| 461 | Fritz Leesmann | PSL Atlantic | CRG | Elk Grove | CA |
| 504 | Mike Jones | Dallas Karting Complex | Sodi Kart | Sachse | TX |
| 520 | Paul Bonilla | Full Throttle Karting | Arrow | Cypress | CA |
| 531 | John Crow | Billet Performance | Arrow | Anaheim | CA |
| 577 | Alan Rudolph | Team WRS/PSL Atlantic | CRG | Gilbert | AZ |
| 590 | Daryle Redlin | True-North Zanardi | Zanardi | Aldergrove | BC |
Junior Max
| | | | | | |
| --- | --- | --- | --- | --- | --- |
| No. | Driver | Team | Chassis | City | State/Prov. |
| 200 | Josh Kurtz | Unser Racing/Gphactory | Kosmic | Huntington Beach | CA |
| 202 | Coltin McCaughan | CRG West | CRG | Calgary | AB |
| 203 | Luke Selliken | Rolison Performance Group | Kosmic | Portland | OR |
| 208 | Lindsey Freier | Billet Performance | Birel | Arvada | CO |
| 209 | Blaine Rocha | Rolison Performance Group | Kosmic | Oakdale | CA |
| 210 | Ryan Martin | Ryan Perry Motorsports | Tony Kart | Edmonton | AB |
| 212 | Stevie Pugsley Jr. | Cambrian Karting | Birel | Eagle Point | OR |
| 214 | Vincent Combret | CRG West | CRG | Kaleden | BC |
| 216 | Brenden Baker | ART GP/D-Power | ART GP | Palmdale | CA |
| 218 | Marco Eakins | Buddy Rice Karting | Energy | Beaverton | OR |
| 219 | Jim McKinney | Overdrive Motorsports | KGB | Chandler | AZ |
| 221 | Lindsay Brewer | CRG-USA | CRG | Arvada | CO |
| 224 | Noah Grey | Phil Giebler Racing | FA | Dana Point | CA |
| 226 | Jake Boyle | | CRG | Anthem | AZ |
| 228 | Nathan Adds | Dallas Karting Complex | Sodi Kart | Rowlett | TX |
| 229 | Vincent DePalma | Pure Karting | Tony Kart | Glendale | AZ |
| 231 | Jeff Fulham | | Lewis Hamilton | Winnipeg | MB |
| 243 | Jessica Dezall | | ##10#670#PCR## | Okotoks | AB |
| 251 | Jake Preston | Phil Giebler Racing | FA | Renton | WA |
| 263 | McKay Snow | Rolison Performance Group | Kosmic | Lehi | UT |
| 266 | Grant Copple | | Kosmic | Golden | CO |
| 277 | Austin Kuehl | Ruthless Racing | KGB | Cave Creek | AZ |
| 279 | Austin Versteeg | CRG-USA | CRG | Sandy | UT |
| 280 | Toni Breidinger | Rolison Performance Group | Kosmic | Hillsborough | CA |
| 288 | Annie Breidinger | Rolison Performance Group | Kosmic | Hillsborough | CA |
| 290 | Jordan Redlin | True-North Zanardi | Zanardi | Aldergrove | BC |
| 291 | Sara Houston | Mike Collins Racing | Birel | Glendale | AZ |
| 298 | Phillippe Denes | Buddy Rice Karting | ART GP | Carmel | CA |
| 299 | Scott Huffaker | Snow Racing | Energy | Menlo Park | CA |
Masters Max
| | | | | | |
| --- | --- | --- | --- | --- | --- |
| No. | Driver | Team | Chassis | City | State/Prov. |
| 616 | Randy Stover | Full Throttle Karting | Arrow | Scottsdale | AZ |
| 617 | Jacob Zamora | Full Throttle Karting | Arrow | Chino Hills | CA |
| 618 | Billy Kann | | Zanardi | Scottsdale | AZ |
| 625 | George Patton | Full Throttle Karting | Arrow | Anaheim | CA |
| 641 | Larry Hayashigawa | Buddy Rice Karting | Energy | Downey | CA |
| 649 | Justin Peck | Rolison Performance Group | Tony Kart | Sandy | UT |
| 654 | Steve Wiener | ART GP America | ART GP | Spring Valley | CA |
| 662 | Ken Maxfield | | Arrow | Murray | UT |
| 679 | Donald Durbin Jr. | Cambrian Go Karts | Birel | Campbell | CA |
| 696 | Scott Berryman | | | | |
Mini Max
| | | | | | |
| --- | --- | --- | --- | --- | --- |
| No. | Driver | Team | Chassis | City | State/Prov. |
| 100 | Chase Farley | | Energy | Walnut Creek | CA |
| 103 | Max Fedler | Unser Racing/GPhactory | Sodi Kart | Denver | CO |
| 106 | Griffin Dowler | | Energy | Sherwood Park | AB |
| 107 | Sting Ray Robb | Rolison Performance Group | Tony Kart | Ontario | OR |
| 117 | Sophia Price | Utah Contingency | Kosmic | Heber City | UT |
| 121 | Zoey Edenholm | AZ Kart Werx | CRG | Scottsdale | AZ |
| 124 | Christina Dezall | | ##10#670#PCR## | Okotoks | AB |
| 128 | Dante Yu | | Energy | El Monte | CA |
| 132 | David Ilavia | Dallas Karting Complex | Sodi Kart | Houston | TX |
| 153 | Jacob Blue Hudson | Buddy Rice Karting | Energy | Keizer | OR |
| 156 | Horatio Fitz-Simon | Clayton Snow/Ricky Luther | CRG | Pleasanton | CA |
| 176 | Everest Fedler | Unser Racing/GPhactory | Sodi Kart | Denver | CO |
| 186y | Roy Fulmer IV | Full Throttle Karting | Arrow | Placerville | CA |
Micro Max
| | | | | | |
| --- | --- | --- | --- | --- | --- |
| No. | Driver | Team | Chassis | City | State/Prov. |
| 3 | Sebastian Davis | Overdrive Motorsports | KGB | Phoenix | AZ |
| 5 | Marco Kacic | CRG West | CRG | West Kelowna | BC |
| 10 | Filip Niemkiewicz | Buddy Rice Karting | Energy | Breckenridge | CO |
| 14 | Christian Newland | Overdrive Motorsports | Italkart | Nanaimo | BC |
| 17 | Liam Letzsch | | KGB | Golden | CO |
| 19 | Cooper Becklin | Black Flag Racing | Energy | Medford | OR |
| 23 | Ellie Anna Musgrave | CRG West | CRG | Snohomish | WA |
| 25 | Max Wright | | Energy | Damascus | OR |
| 48 | Cole Thompson | | Sodi Kart | Conifer | CO |
| 56 | Diego LaRoque | AZ Kart Werx | CRG | Laveen | AZ |
| 73 | Anthony Willis | | DR | Peoria | AZ |
| 81 | Payton Durrant | | Birel | Lehi | UT |
| 88 | Austin Torgerson | Overdrive Motorsports | KGB | Central Point | OR |
| 91 | Tanner Hudspeth | | Birel | San Diego | CA |
| 99 | Joshua Pierson | NRC | Tony Kart | Oregon | OR |
| 78x | Paden Hall | AZ Kart Werx | CRG | Tucson | AZ |