Route 66 Series 2012 Awards Banquet a Big Success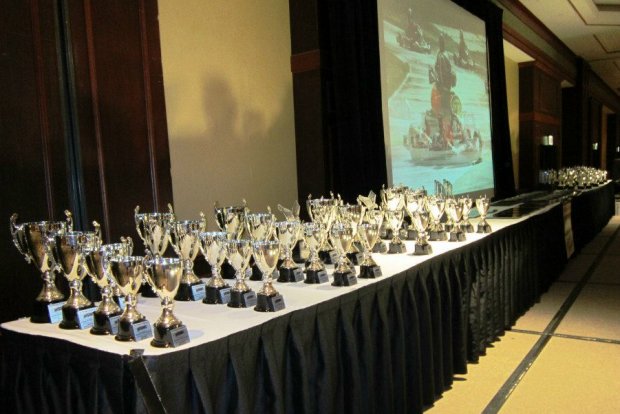 To view photos courtesy of Joe Brittin, click Here
Over 200 people attended the 2012 Route 66 Series awards banquet on the evening of January 26 where over $60,000 in awards and merchandise were given out.  The banquet was held at the elegant Crowne Plaza Hotel ballroom in Springfield, IL.  Awards were presented to the point champions from 15 classes with 92 positions being awarded to the drivers in attendance.  Some classes were awarded as far back as 10th position with the remaining classes awarding at least the top five in season points.
A 60 inch monitor was setup for the drivers to show some GoPro videos while the adults socialized during the cocktail hour preceding the dinner.  Following the dinner, master of ceremonies Rick Fulks, who served as race director throughout the season, began the awards presentations.  As the class point champions were called to the stage, high energy music was played by the DJ when the class champion was recognized.  Some class champions gave a brief speech to thank their supporters.  Recognition awards included crystal eagle trophies for class champions and silver cup trophies for 2nd through 10th in points.  Double class champions received unique crystal trophies for their feat of winning their class on Saturday and Sunday. During the awards presentation, each driver's photo was projected onto a screen showing their kart in action from one of the season's events.
Merchandise awards given to the drivers included jackets for class champions, Razor electric scooters to all Kid Kart drivers, Bridgestone tire sets, cases of Burris oil, gallons of Red Line Oil, Douglas mag wheel sets, L & T clutches, Mychron steering wheels, Mychron stop watches and RLV chains.  Gift certificates were awarded from Franklin Karting, Laukaitis Racing, MKP, Adkins, Triple E, Oktane Visual, Best Buy gift cards and Visa gift cards.
Special series awards were given this year to the most improved Junior class driver (won by Kenlen Morse), most improved Sportsman/Rookie driver (won by Sam Mayer), engine builder series champion (Source-Jerry Keldner) with 17 finals wins and chassis manufacturer series champion (Merlin) with 46 finals wins.
Series appreciation awards were given to the following series officials and supporters:
Race Director:  Rick Fulks
Assistant Race Director:  Jason Ludwig
Registration:  Kris Tapocik
Chief Scorer: Lisa Guess
Technical Director:  Mike Everson
Series Photographer:  Joe Brittin
Series Webmaster:  Greg Dingus
Apparel Sales:  Sabrina Bergeson
Series Assistants: Lisa and Stan Guess, Colleen and Matt Dial, Jeff Vancil
The following sponsors were given appreciation plaques:
Margay Racing/Bridgestone Tire – Series Sponsor
L&T Manufacturing – Series Sponsor
Russell Karting Specialties – Series & Banquet Sponsor
EMJ Metals – Event Sponsor
B&B Electric – Event Sponsor
DRT Racing – Event & Banquet Sponsor
Franklin Motorsports/Merlin Racing Karts – Event & Class Sponsor
MKP – Event & Banquet Sponsor
Bestway Drywall – Event & Special Event Sponsor
Comet Kart Sales – Class Sponsor
Hollywood Crane Service – Class Sponsor
Laukaitis Racing – Class Sponsor
CKT – Class Sponsor
Triple E Sales – Class Sponsor
Jet Karting – Class Sponsor
Woltjer Racing Engines – Class Sponsor
Express Karts & Parts – Class Sponsor
Two Cycle Engine Technologies – Class Sponsor
AdkinsSpeedCenter – Class Sponsor
Switch Racing Engines – Class Sponsor
KartLift – Class Sponsor
Ballistic Designs – Class Sponsor
PRD-USA – Class Sponsor
Streeter Super Stands – Class Sponsor
KartSport North America – Special Event Sponsor
All drivers receiving awards were entered into a drawing for a Top Kart chassis which was won by Alec Evers.  Many of the drivers were also eligible for engine award drawings.  Engine drawings were held for four Yamahas and a TAG Leopard.  Winners of the Yamahas included Maks Kowalski, Tommy Burke, Michael Gerringer and Adam Crepin.  Nicky DeFronzo won a TAG Leopard engine.
For the non-drivers, many family prizes were given out donated by Marx Fireplaces and Lighting and Express Karts and Parts including gas and charcoal grilles.  For all series drivers in attendance, many prizes were drawn for using a prize board system.  Prizes included drivers suits, sprocket sets, wheel hubs, Burris Oil cases, Mychron4 gauges, Mychron stop watches, KartLift stands, AIM transponders, Birel kart covers, brake bleeders, Douglas wheel sets,  L & T clutches, Tillett seats, tire gauges, and many other gift from various class sponsors.
At the end of the awards presentation, several great raffle prizes were drawn for.  Randy Fulks won a 2013 Margay Brava Senior kart and Kenlen Morse won a 2013 Top Kart chassis.  Dave Mears won a KartLift electric stand, Collin Griffin won a Yamaha engine and the Paskiewicz family won a $950 Weber gas grill.  Also Tim Chapin was the lucky recipient of the 50/50 drawing cash prize.
At the conclusion of the awards ceremony, more socializing and dancing to a DJ took place along with viewing of racer's favorite GoPro videos from the season.
The 2013 Route 66 Series race schedule has been announced with a five   event schedule that will be contested at New CastleMotorsportsPark , MichianaRacewayPark , Badger Raceway, Concepts Haulers Motor Speedway and Mid-State Raceway.  Special money races will be held at each event in 2013.  For more information about the series visit www.route66kartracing.com .
The following drivers received year-end awards:
YAMAHA SUPERCAN LITE – ADKINS SPEED CENTER
1)      #8C Jimmy Clark – LaGrange, Illinois – CRG/Woltjer
2)      #55 Collin Griffin – Winfield, Illinois
3)      #81 Matthew Laukaitis – Decatur, Illinois
4)      #37 Adam Crepin – St. Louis, Missouri
5)      #7 Brad Brittin – Springfield, Illinois
6)      #5 Mike Prokup – Granville, Illinois
7)      #26 Justin Vancil – Quincy, Illinois
YAMAHA ROOKIE HEAVY – TWO CYCLE ENGINE TECHNOLOGIES
1)      #22 Sam Mayer – Franklin, Wisconsin – Merlin/Source
2)      #20 Maks Kowalski – Barrington, Illinois
3)      #17 Cohle Santiago – Joliet, Illinois
4)      #29 Blake Bauman – Nashotah, Wisconsin
6)      #76 James Lynch – Chicago, Illinois
7)      #21 Caden Paszkiewicz – Hartland, Wisconsin
YAMAHA SPORTSMAN II – SWITCH RACING ENGINES
1)      #79 David Malukis – Franklin Park, Illinois – Birel/Fleming
2)      #1 Brandon Lemke – Eagle, Wisconsin
3)      #4 Alex Bertagnoli – Algonquin, Illinois
4)      #37 Thayne Chapin – Maquoketa, Iowa
5)      #24 Brant Carter – Davenport, Iowa
6)      #27 Dillon Schwanbeck – Poynette, Wisconsin
7)      #12 Ryan Weyer – Hubertus, Wisconsin
8)      #77 Tommy Burke – South Bend, Indiana
9)      #5 Spike Kohlbecker – St. Louis, Missouri
KOMET SENIOR – JET KARTING
1)      #7 Brad Brittin – Springfield, Illinois – Margay/Adkins
2)      #17 Michael Haggar – Greenfield, Minnesota
3)      #99 Andrea Crivello – West Allis, Wisconsin
YAMAHA ROOKIE LITE – CKT RACING ENGINES
1)      #22 Sam Mayer – Franklin, Wisconsin – Merlin/Source
3)  #29 Blake Bauman – Nashotah, Wisconsin
4)      #76 James Lynch – Chicago, Illinois
5)      #17 Cohle Santiago – Joliet, Illinois
6)      #20 Maks Kowalski – Barrington, Illinois
7)      #Caden Pasziewicz – Hartland, Wisconsin
YAMAHA JUNIOR LITE – COMET KART SALES
1)      #3 Michael Geringer – Elburn, Illinois – Arrow/Woltjer
2)      #14 Kenlen Morse – Plainfield, Illinois
3)      #69 Anthony Granata – Itasca, Illinois
4)      #00 Christian Ledesma – Joliet, Illinois
5)      #77 Jeremy Cline – Naperville, Illinois
6)      #9 Robby McQuinn – Springfield, Illinois
9)  #47 Georgia Henneberry – Fenton, Missouri
10) #39 Jimmy Tapocik – Springfield, Illinois
YAMAHA SUPERCAN HEAVY – LAUKAITIS RACING
1)      #8C Jimmy Clark – LaGrange, Illinois – CRG/Woltjer
2)      #81 Matthew Laukaitis – Decatur, Illinois
3)      #37 Adam Crepin – St. Louis, Missouri
4)      #55 Collin Griffin – Winfield, Illinois
6)  #26 Justin Vancil – Quincy, Illinois
7)      #5 Mike Prokup – Granville, Illinois
8)      #41 Dave Timmerman – Dubuque, Iowa
YAMAHA SPORTSMAN I – TRIPLE E SALES
1)      #79 David Malukas – Franklin Park, Illinois – Birel/Fleming
2)      #1 Brandon Lemke – Eagle, Wisconsin
3)      #27 Dillon Schwanbeck – Poynette, Wisconsin
4)      #37 Thayne Chapin – Maquoketa, Iowa
5)      #4 Alex Bertagnoli – Algonquin, Illinois
6)      #77 Tommy Burke – South Bend, Indiana
7)      #24 Brant Carter – Davenport, Iowa
9)      #88 Alec Evers – Rochester, Illinois
10) #5 Spike Kohlbecker – St, Louis, Missouri
PRD SENIOR – RLV/PRD FIREBALL
1)      #26 Justin Vancil – Quincy, Illinois – Margay/Triple E
2)      #81 Matthew Laukaitis – Decatur, Illinois
KID KART – HOLLYWOOD CRANE SERVICE
1)      #18 Talan Drake – Riverside, Iowa – Tornado Kart
2)      #6 Mason Maine – Wintzville, Missouri
3)      #20 Tate Steinmann – DeSoto, Missouri
4)      #0 Joey Varco – West Chicago, Illinois
5)      #7 Je'na Rentmeister – Mt. Pulaski, Illinois
6)      #55 Mason Santiago – Joliet, Illinois
7)      #75 Sinead Lynch – Chicago, Illinois
TAG I SENIOR – FRANKLIN KART
1)      #37 Adam Crepin – St. Louis, Missouri Merlin/Laukaitis
2)      #08 Colton Ramsey – Springfield, Illinois
3)      #17 Michael Haggar – Greenfield, Minnesota
5)      #8C Nicky Defronzo – Willow Springs, Illinois
8)      #7 Bryce Engelhart – Madison, Wisconsin
YAMAHA JUNIOR HEAVY – WOLTJER RACING ENGINES
1)      #00 Christian Ledesma – Joliet, Illinois – Arrow/Triple E
2)      #14 Kenlen Morse – Plainfield, Illinois
3)      #3 Michael Geringer –Elburn, Illinois
4)      #77 Jeremy Klein – Naperville, Illinois
5)      #9 Robby McQuinn – Springfield, Illinois
6)      #69 Anthony Granata – Itasca, Illinois
9)      #39 Jimmy Tapocik – Springfield, Illinois
10)#47 Georgia Henneberry – Fenton, Missouri
YAMAHA MASTERS – STREETER SUPERSTANDS
1)      #41 Dave Timmerman – Debuque, Iowa – Merlin/Triple E
2)      #7 Clair Ruenger – Verona, Wisconsin
3)      #7X Steve Everitt – Galesburg, Illinois
KOMET SPORTSMAN – EXPRESS KARTS & PARTS
1)      #1 Brandon Lemke – Eagle, Wisconsin – Merlin/Source
2)      #79 David Malukas – Franklin Park, Illinois
3)      #4 Alex Bertagnoli – Algonquin, Illinois
4)      #27 Dillon Schwanbeck – Poynette, Wisconsin
5)      #37 Thayne Chapin – Maquoketa, Iowa
6)      #3 Alec Evers – Rochester, Illinois
7)      #5 Spike Kohlbecker – St. Louis, Missouri
8)      #9 Riley Yates – Rockton, Illinois
9)      #7 Stephen Dial – Elwood, Illinois
TAG II SENIOR – KartLift
1)      #37 Adam Crepin – St. Louis, Missouri – Merlin/Laukaitis
2)      #8C Nicky Defronzo – Willow Springs, Illinois
3)      #08 Colton Ramsey – Springfield, Illinois
4)      #17 Michael Haggar – Greenfield, Minnesota