ASN Canada FIA Canadian Karting Championships Return to Ontario for 2013
Historic Goodwood Kartways in Stouffville, Ontario to host Canada's premier kart racing event – August 21-25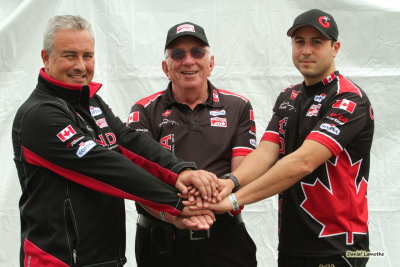 Michel Boisclair, Paul Cooke and Daniel Di Leo "seal the deal" at West Palm Beach during the Florida Winter Tour event
(Photo: maxchallenge.ca)
ASN Canada FIA today announced the return to Ontario of Canada's premier kart racing event – the Canadian Karting Championships. The annual championship, in its 15th year, event brings drivers together from across Canada to compete for the title of "Canadian Champion" in nine classes.
"We are pleased that our Championship is returning to Ontario for 2012 after a three-year home at Mont-Tremblant, Québec" said Paul Cooke, Vice President of ASN Canada FIA. Crowning nine Canadian Champions in the Rotax and Briggs and Stratton classes is an exciting spectacle to look forward to at Canada's historic Goodwood circuit".
"Goodwood Kartways is pleased to host the 2013 Championships at our newly paved facility", said Daniel Di Leo, President of Goodwood Kartways. "Having hosted the Canadian Championships in 2009, our team at Goodwood is aware of the importance of planning and presenting a quality full-featured event for drivers, families, sponsors and spectators, and we look forward to welcoming drivers from across Canada".
Michel Boisclair, Canadian Rotax Challenge Series principal commented: "Our Canadian Championships event is the showcase for Canadian Rotax Max Challenge classes and Canadian Rotax kart racing drivers. Determining the final seats on Team Canada for the Rotax World Finals is never dull. This year's Rotax Grand Finals will be held at the NOLA Motorsports Park in New Orleans, Louisiana".