Forum Tutorial
How to Register
Making a Post
Inserting a Photo
REGISTRATION AND FORUM GUIDELINES
What guidelines must I obey here?
These forums are the property of eKartingNews.com and Howden Media Group. In order to keep this an informative place for all, there are certain guidelines that need to be followed. As a registered member of these fourms, you agree to hold eKartingNews, Howden Media Group, its agents, employees, advertisers, and forum moderators harmless from any and all criminal and civil liability arising from your publications on this forum, and, agree to defend any legal action taken against eKartingNews, Howden Media Group, its agents, employees, advertisers, and forum moderators as a result of your publications.
Use your real name.
When registering with eKartingNews, members MUST use their real name, first and last, as the DISPLAY Name – not your username.
Respect one another.
Treat others in your messages as you would like to be treated; respect works both ways. Any blatant insults to others will be deleted without warning.
No self-promotion/advertising. Blatant, obvious self-promotion of one's self or one's business, or the blatant promotion of another's business, will not be tolerated. Repeated subtle attempts to mention one's business services is the same as advertising. Forum members may include a single link to their personal website or business entity; extended business dealings should be conducted away from these forums. Use of Private Messages facility to solicit business is prohibited.
No inappropriate material.
Material must be karting related, or at the least, related to motorsports. Excessive posting of non-karting related material is discouraged.
No inappropriate language.
This would include George Carlin's Seven Filthy Words You Can Never Say on TV, plus all associated derivatives.
Don't spam.
Spamming is either posting repeatedly about the same thing (either in a single forum or multiple forums) or starting multiple topics about the same thing. There are other actions that are considered spamming, such as constantly posting off-topic as well as providing links that have nothing to do with the forum at hand. Spam will be deleted without warning.
Stay on-topic.
There will be some leniency on this, and we don't mind if you bring in another idea or two, but stay focused. If you think it's a good enough topic, start a new thread about it. This also prevents losing a good idea in a thread about another topic. Threads that wander significantly off-topic may be closed and/or trimmed.
No conversations.
Conversations are for the telephone, or email, but not for these discussion forums. A minimum of friendly banter is to be permitted, but threads with excessive conversations will be deleted or trimmed accordingly. No impersonating. Attempting to pose as another registered user will not be tolerated and will result in the deletion of that username and the immediate banning of the impersonator. This also applies to not-so-clever variations of registered names.
Don't troll.
Topics that are designed to start an unruly argument/flame war will be treated as spam and deleted without warning.
In closing…
Of course, there will be folks who try to find the loopholes in these guidelines, or enjoy being clever by circumventing the spirit and intent of the forums. Therefore, we reserve the right to edit, delete, or ban for our own reasons, without warning. Repeated violations of board guidelines will result in either temporary or permanent suspensions of posting privileges. More serious violations may result in further actions, including contacting the offender's ISP and other authorities.
Thank you in advance for abiding by these guidelines which will help make the forums enjoyable for all.
Login and Registration Issues
How to Register
Step 1: Go to the EKN Global Register link at the top of the website or visit http://ekartingnews.com/sign-up/
Step 2: Fill out the form completely, and be sure to read the text in red.
Tips: If you create a username with a space, it will be replaced with a '-'. Also be sure to answer the Security Question and check the Terms of Service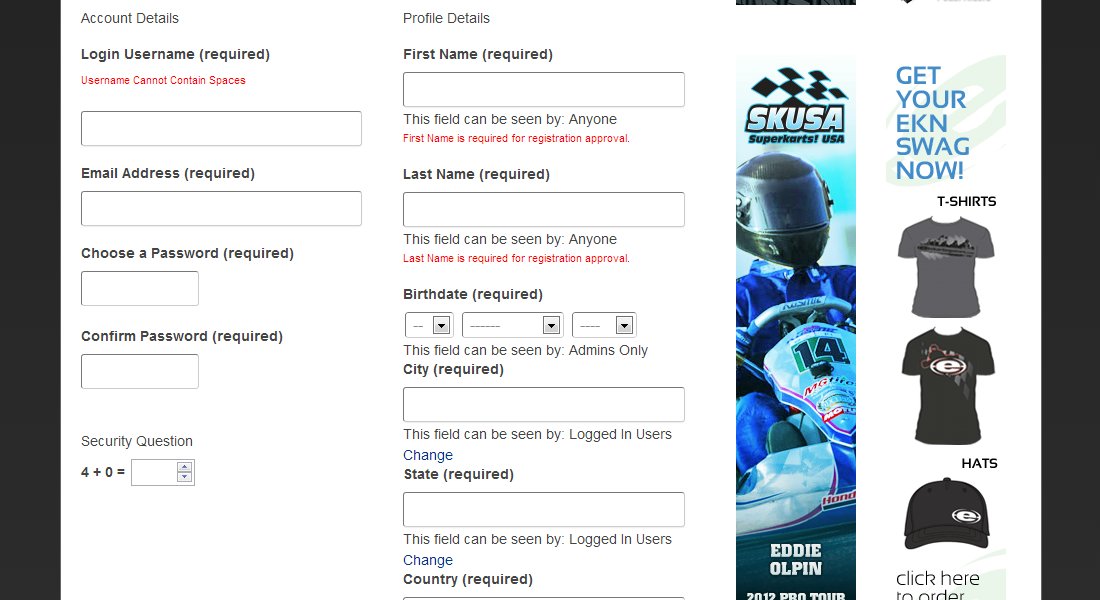 Step 3: Once you submit your EKN Global account, you will see this screen that let's you know your account is in the process to be activated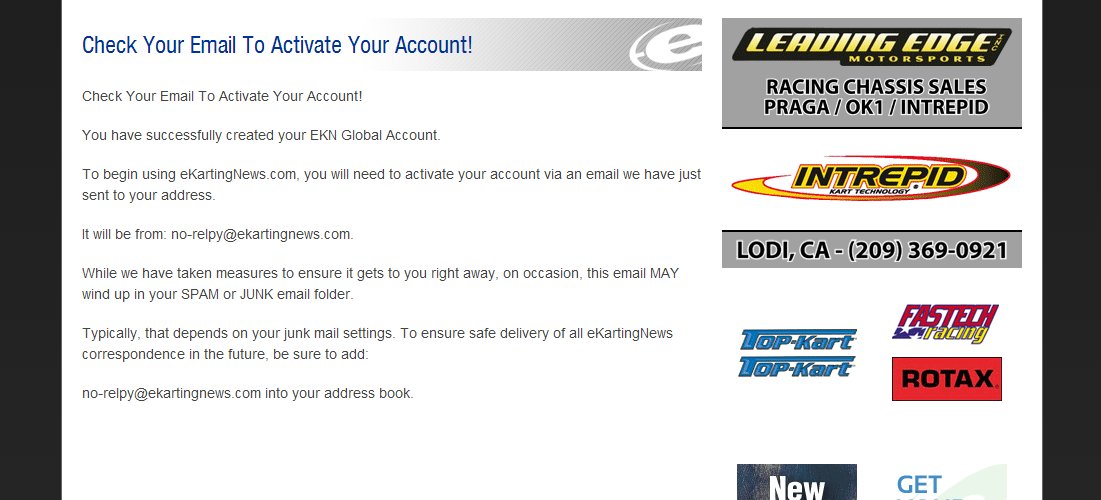 Step 4: You will receive an email with a similar activation link. Please click on the link to activate your EKN Global account.

Step 5: Once you have successfully opened the activation link, you will receive the following message: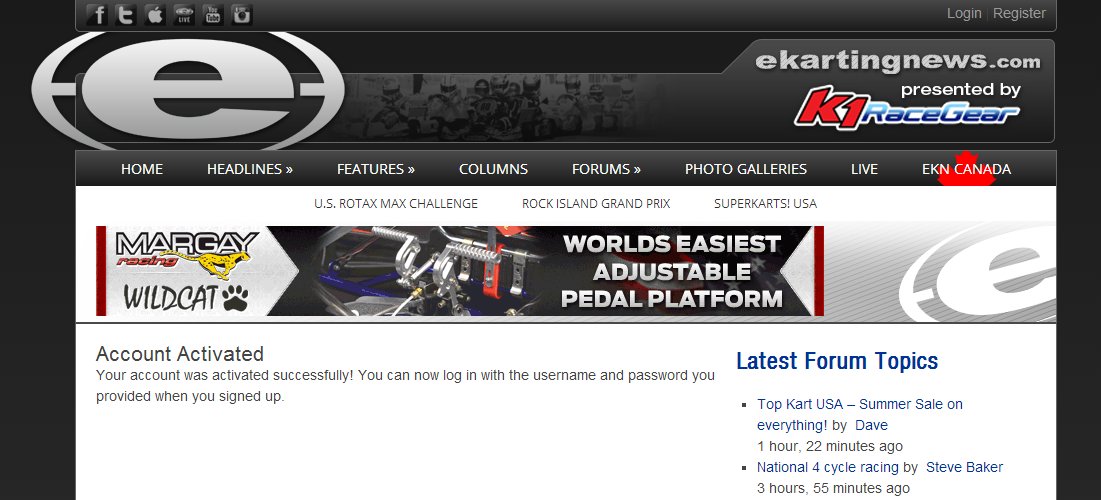 Step 6: Click on the Login link at the very top of the site, and enter your username and password. It is recommended that you click on the 'Remember Me' option, so you remained logged in on this computer or mobile device. Also, if you forget your password, click on the 'Lost your Password?' link to reset it.
If you have any more specific questions, be sure to email webmasters@ekartingnews.com
Why can't I login?
Have you registered? You must register in order to login. Accounts from the EKN Classic forum do not transfer over. Have you been banned from the board? If so then you should contact the webmaster or board administrator to find out why. If you have registered and are not banned and you still cannot login then check and double check your username and password. Usually this is the problem, if not then contact the board administrator they may have incorrect configuration settings for the board.
Why do I need to register at all?
You may not have too, it is up to the administrator of the board as to whether you need to register in order to post messages. However registration will give you access to additional features not available to guest users such as publishing comments, private messaging, emailing of fellow users, usergroup subscription, etc. It only takes a few moments to register so it is recommended you do so.
Why do I get logged off automatically?
If you do not check the 'Remember Me' box when you login, the board will only keep you logged in for a preset time. This prevents misuse of your account by anyone else. To stay logged in check the box during login, this is not recommended if you access the board from a shared computer, e.g. library, internet cafe, university cluster, etc.
I've lost my password!
Don't panic! While your password cannot be retrieved it can be reset. To do this go to the login page and click Lost your password, follow the instructions and you should be back online in no time.
I registered but cannot login!
First, check your are entering the correct username and password. If they are okay then one of two things may have happened. Does your account need activating? Some boards will require all new registrations be activated, either by yourself or by the administrator before you can logon. When you registered it would have told you whether activation was required. If you were sent an email then follow the instructions, if you did not receive the email then are you sure your email address is valid? One reason activation is used is to reduce the possibility of rouge users abusing the board anonymously. If you are sure the email address you used is valid then try contacting the board administrator.
I registered in the past but cannot login any more?!
The most likely reasons for this are; you entered an incorrect username or password, your account has been blocked, or the administrator has deleted your account for some reason. Please try to use the Lost your password or contact the board administrator.
User Preferences and Settings
How do I change my settings and profile?
All your settings (if you are registered) are stored in the database. To alter them click on your name at the top-right of the EKN site. This will allow you to change all your settings, including email address, password, profile features, etc.

Making a Comment to a Story
At the bottom of any article on eKartingNews.com, you can leave comments regarding that article. Scroll to the bottom of the story, be sure that you are signed into your EKN Global Members account, and leave your comment
Subscribe to Sections and Threads
The Subscribe function allows users to receive notifications by email when a section of the forums receives a new post, or a topic receives a new post. Look for the 'Subscribe' link next to the 'name' of the section to subscribe to a particular section of the forums, and in the black header at the beginning of thread.
Formatting and Topic Types
What is BBCode?
BBCode is a special implementation of HTML. BBCode itself is similar in style to HTML, tags are enclosed in square braces [ and ] rather than < and > and it offers greater control over what and how something is displayed. Click HERE for more information on BBCode.
Can I use HTML?
Yes. You must be using the Text tab when producing your post or reply.
Subscribe to Sections and Threads
The Subscribe function allows users to receive notifications by email when a section of the forums receives a new post, or a topic receives a new post. Look for the 'Subscribe' link next to the 'name' of the section to subscribe to a particular section of the forums, and in the black header at the beginning of thread.


Posting Issues
Making a Post
Step 1: Make sure that you are signed in, as you will not be able to start a new topic or reply to a current topic
Step 2: Scroll down to the bottom of the forum section you wish to post in, until you see the 'Create New Topic'.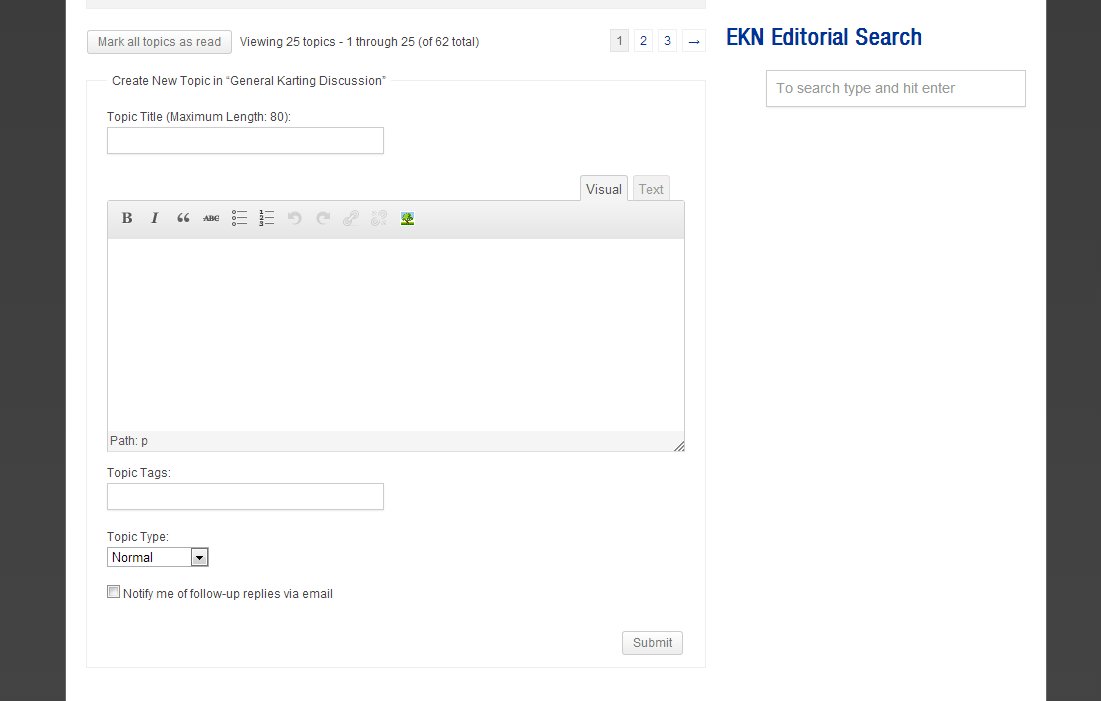 Step 3: Fill out the 'Topic Title', enter your text in the Text Box, add any 'Topic Tags' you wish to use, and select the 'Notify me of follow-up replies via email' if you choose to.
Step 4: Hit Submit
How do I edit or delete a post?
Unless you are the board admin or forum moderator you can only edit your own posts. You can edit a post by clicking the EDIT button for the relevant post. Please note that normal users cannot delete a post.
How do I add a signature to my post?
To add a signature to your account, go to Edit Your Profile page of your EKN Global account. You can use the following link, including your username where it states 'username': http://ekartingnews.com/members/username/profile/edit/group/1/ . Photos, logos, or any type of images are not permitted in signatures. Please limit them to a few words, and at most three URL links.
Why can't I access a forum?
Some forums may be limited to certain users or groups. To view, read, post, etc. you may need special authorization, only the forum moderator and board admin can grant this access, you should contact them. Or, your account may not be working properly. Please try to access another section of the forum before contact administrators.
Inserting a Photo
Images can indeed be shown in your posts. However, there is no facility at present for uploading images directly to this board. Therefore you must link to an image stored on a publicly accessible web server, e.g. http://www.some-unknown-place.net/my-picture.gif. You cannot link to pictures stored on your own PC (unless it is a publicly accessible server) nor images stored behind authentication mechanisms, e.g. hotmail or yahoo mailboxes, password protected sites, etc.
In Visual tab:
Step 1: Click on the 'Insert/Edit Image' button'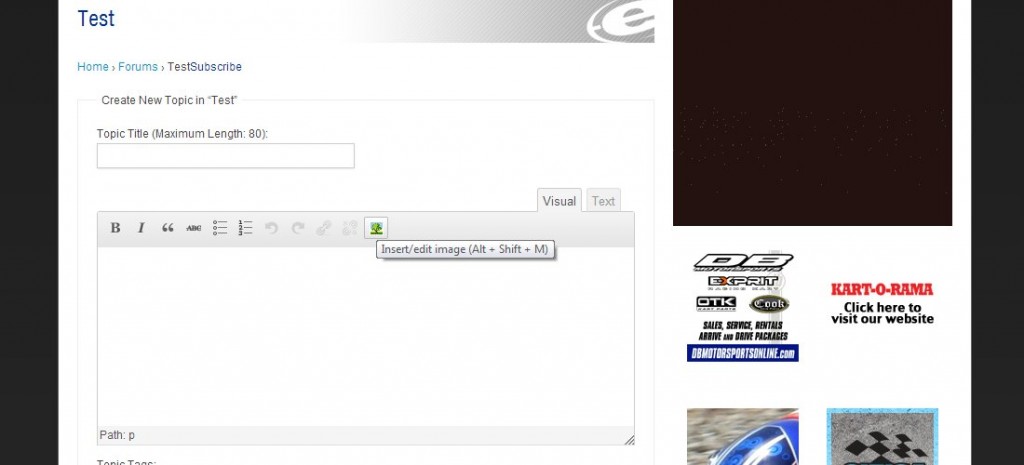 Step 2: Insert Image URL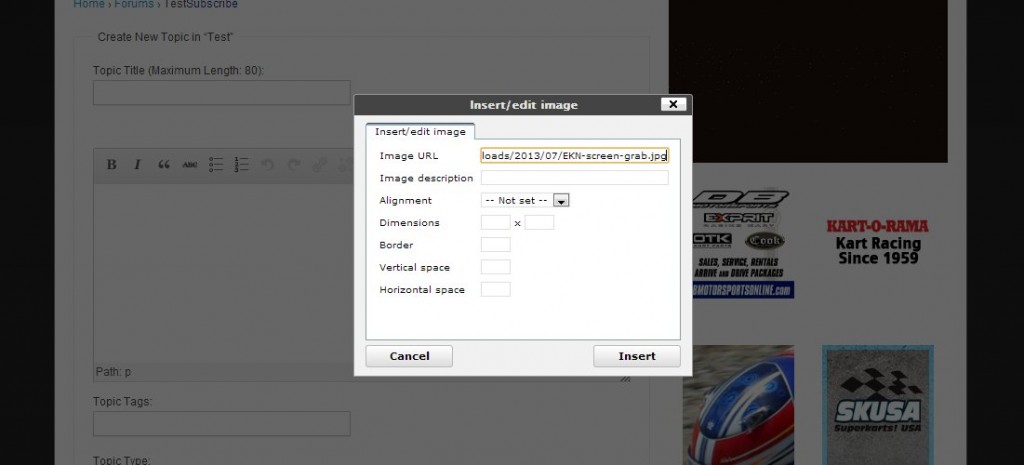 In Text tab:
Step 1: Click on the 'img' button and Insert Image URL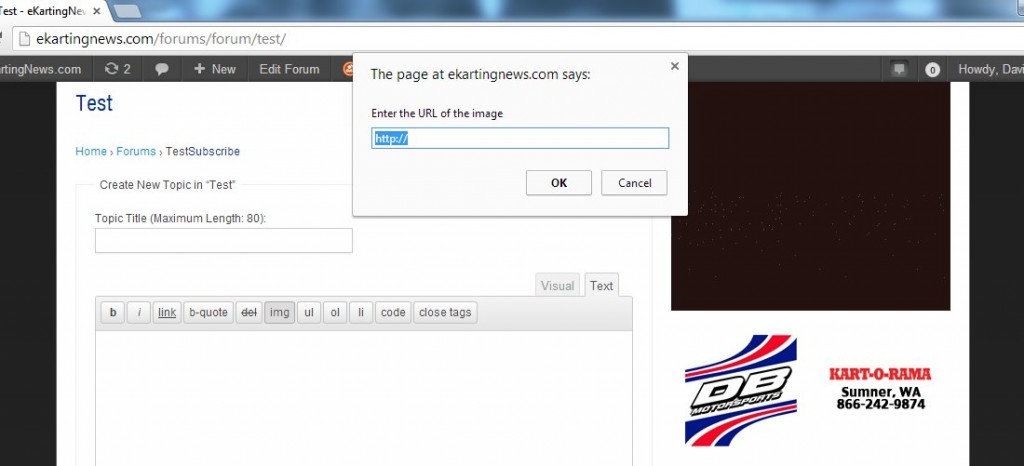 Step 2: Enter a description of the image. Click OK