EKN Trackside: 2017 SKUSA Pro Tour SummerNationals – Preview Part 2
Master championships going down to the wire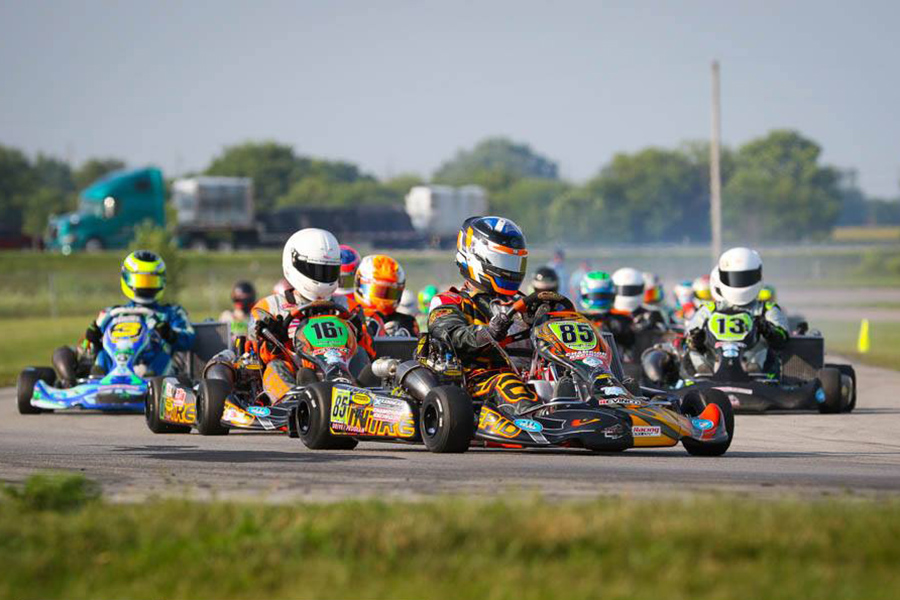 (Photo: On Track Promotions - otp.ca)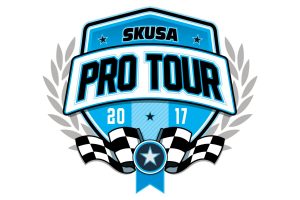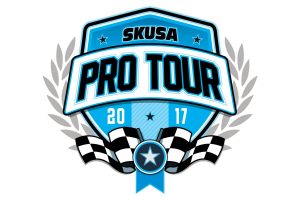 For the first time in Superkarts! USA Pro Tour history, the championship chase will end in August. The eighth running of the SKUSA Pro Tour SummerNationals is set for August 11-13 at the New Castle Motorsports Park. This is the third straight year the 1-mile course outside New Castle, Indiana is playing host to the SummerNationals. And for the first time, the event will mark the end of the six-round SKUSA Pro Tour championship chase with the addition of the WinterNationals. Tensions will be high for the five IAME divisions and four Honda categories competing on the weekend.
The New Castle Motorsport Park opened in 2004 and is a landmark facility for the sport of karting. Owner Mark Dismore, former IndyCar driver and second generation karter, forged the 1-mile circuit with his own vision and creativity to provide the sport with the ultimate playground. Since its opening, New Castle has hosted major events and the 2017 SKUSA SummerNationals will be no different with another record turnout, eclipsing the 250 pre-entry mark.
eKartingNews is bringing all the action live to anyone and everyone with a laptop or mobile device. Bookmark www.ekartingnews.com/live and listen in to the live play-by-play provided by the official voice of SKUSA – EKN's own Rob Howden. Updates, photos and videos will be available throughout the weekend on the EKN social media outlets – Facebook, Twitter and Instagram.
---
X30 Master
The closest championship battle heading into the SummerNationals is in the X30 Master division. The racing has been unpredictable throughout the season, with a number of different winners and podium finishers. This year is an added bonus for the SKUSA Pro Tour champion with a ticket to the IAME International Final on the line. The driver who comes away from New Castle as the top driver in the standings will join the Team USA contingent to compete at the Le Mans, France facility in October against the best IAME drivers in the world.
With two runner-up results at the SpringNationals, Travis Irving (FW / CompKart) is the championship leader heading to New Castle. His advantage is only four points when factoring in the drop over defending champion Derek Wang (BBR / FA Kart). Wang won Round Two after issues during the opening day at NOLA. The Washington driver bounced back from issues Saturday in Sonoma to a podium finish of third, helping to put him back in title contention heading to New Castle. Irving is going to have to keep himself on the podium and in front of Wang all weekend for a shot at the SKUSA Pro Tour title.
Sitting third in the standings is Blake Choquer (BBR / PDB), who suffered a broken collar bone and other injuries in a hard flip in Sonoma. Choquer will not be in the seat this weekend, but instead helping support his race team that includes Mario Barrios (BBR / PDB). The driver from Peru won his first SKUSA Pro Tour feature at New Castle last year, and a repeat would help his championship cause. Barrios is back of Irving by 70 points.
In total, five drivers sit within 100 points of each other at the top of the standings when factoring in the drop. Double SpringNationals winner Jess Peterson (PGR / Ricciardo) missed the opener at NOLA but recorded a perfect score in Sonoma, however, the Nevada driver will not be in New Castle, helping to move Miguel Mier (DKC / Sodi Kart) up further in the championship chase. The Texan remains in the hunt, looking for his first podium finish after three top-five results.
The field is just four drivers away from the 30-mark, with a number of new and old SKUSA Pro Tour racers this year. We could very well see one or two first-time SKUSA winners this weekend.
X30 Master Championship Standings Top-10
[table]Pos.,Total,No.,Driver,Drop,Diff,R1,R2,R3,R4
1,780,52c,Travis Irving,625,0,175,155,225,225
2,672,N1,Derek Wang,621,4,146,270,51,205
3,555,144r,Blake Choquer,555,70,245,220,90,0
4,590,011f,Mario Barrios,550,75,210,215,125,40
5,540,255y,Jess Peterson,540,85,0,0,270,270
6,632,377t,Miguel Mier,530,95,185,190,102,155
7,550,101y,Carlos Calderon,466,159,118,153,195,84
8,552,82j,Laurentiu Mardan,436,189,152,159,116,125
9,440,55k,Jonathan Silva,378,247,135,141,62,102
10,460,77x,Vatche Tatikian,376,249,92,84,142,142
[/table]
Provisional X30 Master Entry List
[table]No.,Driver,Team,Chassis,Hometown
011f,Mario Barrios,BBR Karting,PDB,Miami Beach FL
672n,John Bonanno,J3 Competition,CompKart,Thorofare NJ
101y,Carlos Calderon,Aluminos,Aluminos,San Jose CA
5n,Kim Carapellatti,Carapellatti Racing,PCR,Cuba NY
43n,Scot Carapellatti,Carapellatti Racing,Formula K,Olean NY
100t,Adam Gleason,DKC / Sodi Kart USA,Sodi Kart,Dallas TX
52c,Travis Irving,Formula Works,CompKart,Norco CA
601n,Miles Mahony,Checkered Motorsports,PCR,Bronx NY
82j,Laurentiu Mardan,KartCraft / Pole Position Inc,Kosmic,Arlington Heights IL
423j,John Mauro,Trinity Karting Group,Tony Kart,Middletown OH
97j,Brian McEvoy,Franklin Motorsports,Merlin,Oregon WI
497j,Paul Meise,Trinity Karting Group,Tony Kart,Cincinnati OH
0x,Tim Meyer,Atomic Karting,Tony Kart,Trabuco Canyon CA
377t,Miguel Mier,DKC / Sodi Kart USA,Sodi Kart,Frisco TX
93j,Roman Padans,Franklin Motorsports,Merlin,Sun Prairie WI
272n,Adam Pettit,Solo Kart USA,Solo Kart,Mullica Hill NJ
628f,Scott Roberts,Speed Concept Racing,Tony Kart,Winter Park FL
609f,Danny Robertson,Speed Concept Racing,Tony Kart,Ocala FL
155s,Todd Shambo,,FA Kart,Monroe GA
55k,Jonathan Silva,Formula Works,CompKart,Corona CA
611n,Antonio Sparacio,Solo Kart,Solo Kart,Vincentown NJ
612n,Salvatore Sparacio,Solo Kart,Solo Kart,Vincentown NJ
77x,Vatche Tatikian,Phil Giebler Racing (PGR),Ricciardo,Altadena CA
28j,Cristian Vomir,KartCraft,Kosmic,Hoffman Estates IL
N1,Derek Wang,BBR Karting,FA Kart,Kirkland WA
61s,John Wehrheim,,Top Kart,Norcross GA
[/table]
---
S4 Master Stock Honda
The numbers have not been as strong as in the past for the S4 Master Stock Honda category. The graduation of former S1/S2 stars to the S4 age level could be the factor as why numbers remain low, in addition to the creation of the S4 Super Master division. Either way, the competition level has been fierce all season long with four different winners in the four rounds on the SKUSA Pro Tour.
2013 SKUSA Pro Tour champion Jordon Musser (3G / Birel ART) won the opening round of 2017, and has led the championship chase since. Musser's lead is 30 points over Round Two winner, Brazilian Renato David (Orsolon / Birel ART) – who is not on the pre-entry list but will be in attendance this weekend in New Castle. The two will be going head-to-head every session for every possible point in an attempt to claim the SKUSA Pro Tour title. Defending champion Ryan Kinnear won Round Four to help move him up to third in the championship chase. The title defense has not gone as planed for the Champion Racing / Intrepid driver, needing a perfect weekend and some help to have a chance at reclaiming the crown. Ben Schermerhorn (Birel ART) has a chance at a SKUSA plate for 2018, trailing Kinnear by 30 points. Inaugural S2 Pro Tour champion Derek Crockett (Intrepid) is making his S4 debut, and could be a wild card throughout the weekend.
S4 Master Championship Standings Top-10
[table]Pos.,Total,No.,Driver,Drop,Diff,R1,R2,R3,R4
1,1264,N2,Jordon Musser,730,0,270,235,225,200
2,865,250a,Renato David,700,30,220,260,220,165
3,1040,N1,Ryan Kinnear,630,100,215,170,160,245
4,775,255d,Ben Schermerhorn,600,130,195,200,175,205
5,639,823m,Victor Jimenez,540,190,180,180,99,180
6,616,021t,Nathan Stewart,498,232,167,177,118,154
7,595,707y,Justin Bennett,459,271,154,151,154,136
8,328,10y,Rene Martinelli,328,402,0,0,161,167
9,310,7m,Antonio Perez,310,420,0,0,260,50
10,300,13z,Terry Lawrence,300,430,0,0,142,158
[/table]
Provisional S4 Master Entry List
[table]No.,Driver,Team,Chassis,Hometown
151j,Derek Crockett,Crockett Motorsports,Intrepid,Millstadt IL
N1,Ryan Kinnear,Champion Racing,Intrepid,Richmond TX
N2,Jordon Musser,3G Kart Racing,Birel ART,Coppell TX
4f,Desiderio Sartelli,DKC / Sodi Kart USA,Sodi Kart,Miami FL
255d,Ben Schermerhorn,,Birel ART,Highlands Ranch CO
021t,Nathan Stewart,CRG Nordam,CRG,Flower Mound TX
[/table]
---
S4 Super Master Stock Honda
The second season of the S4 Super Master Stock Honda category on the Pro Tour is set to wrap up with the same driver at the top. Defending champion Robert Marks (PKS / CRG) has won three of the four main events in 2017, heading into the New Castle weekend with a sizable 145-point lead in the standings. Marks won in Indiana last year, helping him to claim the title at SuperNationals 20. This time, Marks could be crowned before the weekend is over depending on how the action unfolds for Round Five on Saturday.
The battle for second includes four drivers fighting to be part of the championship podium. The lead challenger is Mike Jones (DKC / Sodi Kart). A runner-up to Marks in both NOLA main events, Jones struggled in Sonoma and lost valuable ground to the defending champion in the points race. Jones is going to need a perfect weekend and some help in order to fight for the top spot on the championship podium.
Veteran John Crow (MRC / Aluminos) is third in the standings – back home again in Indiana – looking to use the weekend at New Castle to keep him inside the top three. Crow also has a shot at taking over the second spot in the standings depending on his results versus Jones. The only other driver to win this season is Rod Clinard (CRG Nordam), who came out of the Round Three main event as the top survivor. Clinard, who owns the SKUSA #3 plate is looking for two more podium finishes to retain that number for 2018, or even better depending on how the action plays throughout the weekend. Ron White Racing's Kevin Woods (CRG) sits fifth, only 31 points back of Clinard with a shot at landing inside the top-three with a solid outing in New Castle.
S4 Super Master Championship Standings Top-10
[table]Pos.,Total,No.,Driver,Drop,Diff,R1,R2,R3,R4
1,908,N1,Robert Marks,780,0,250,260,128,270
2,761,100t,Mike Jones,635,145,240,235,126,160
3,755,31c,John Crow,580,200,190,200,190,175
4,738,N3,Rod Clinard,574,206,167,167,240,164
5,702,994y,Kevin Woods,549,231,170,154,153,225
6,657,N2,Nick Firestone,532,248,125,200,190,142
7,400,422c,Willy Musgrave,400,380,215,185,0,0
8,400,21x,Ken Schilling,400,380,136,0,147,117
9,500,102x,Darrell Tunnell,385,395,118,115,144,123
10,456,155f,Farshad Bagheri,366,414,107,133,126,90
[/table]
Provisional S4 Super Master Entry List
[table]No.,Driver,Team,Chassis,Hometown
155f,Farshad Bagheri,TB Kart USA,TB Kart,St. Petersburg FL
104x,Levi Bennett,PKS Kart Supplies / Team Visalia,CRG,Visalia CA
N3,Rod Clinard,CRG Nordam,CRG,Hewitt TX
31c,John Crow,Musgrave Racing Company,Aluminos,Corona CA
100t,Mike Jones,DKC / Sodi Kart USA,Sodi Kart,Union Valley TX
24f,Jim Lewis,TB Kart USA,TB Kart,St. Johns FL
N1,Robert Marks,PKS Kart Supplies / Team Visalia,CRG,Visalia CA
68t,Venkat Reddy,Core Karting,CRG,Flower Mound TX
122q,Michael Rivera,CKR,CKR,North Haven CT
13s,Byron Rothenhoefer,,Praga,Leesburg VA
102x,Darrell Tunnell,PKS Kart Supplies / Team Visalia,CRG,Visalia CA
994y,Kevin Woods,Ron White Racing,CRG,Newark CA
[/table]