Michael d'Orlando Looking to Keep the Momentum in Italy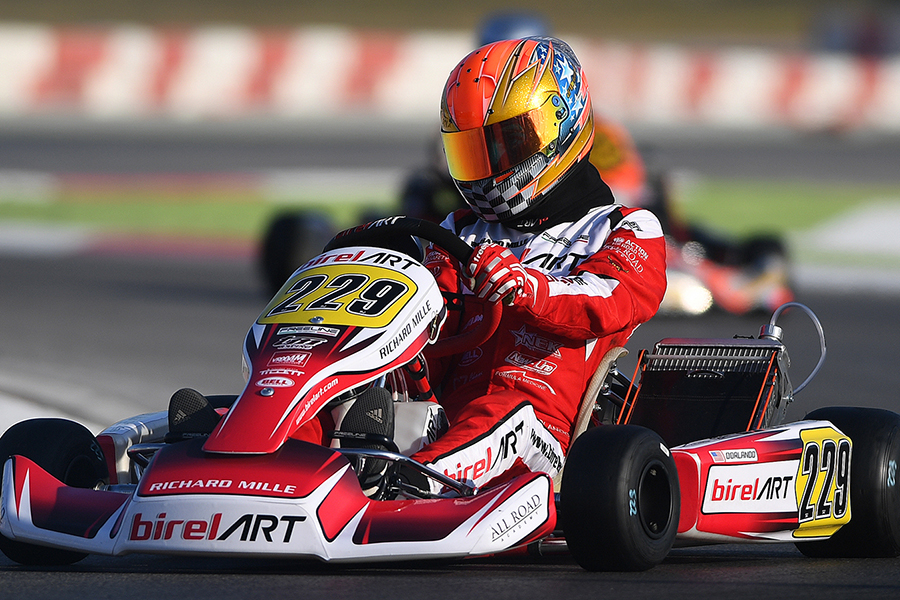 The International Circuit La Conca in Muro Leccese, Italy is known in the karting world as one of, if not THE, most difficult tracks in the world.  The grip level is comparable to none and the experienced racers have the leg up.  But American Michael d'Orlando has the perseverance and the determination to take on that kind of challenge at the track he had never seen before, at the third round of the WSK Super Master Series.  So, it was no surprise to see d'Orlando overcome a disappointing 37th qualifying effort and three incomplete heat races.
Placing 51st overall at the conclusion of the heat races, and starting 26th at the tail of the field in Pre-Final A of the OK (senior) class, d'Orlando showed an impressive performance to move up the 10 positions he needed to earn a spot in the main event with a 16th place result.  And again, he would turn heads in the 20-lap final moving his way up the 34-driver field (starting 32nd) to an impressive 15th place finish overall in the packed field of experienced, and some professional, drivers.
Now, the 15-year old Hartsdale, NY native and his Birel ART team will look to build on that momentum going into Round 4 of the WSK Super Master Series in Sarno, Italy, starting April 7th-9th.
"I am excited about racing here in Sarno, Italy.", said Michael d'Orlando. "I have been here only once before, last October, as a member of Team USA for the Rotax Grand Finals and I hope to carry the momentum we had at La Conca. We are definitely going to work very hard this weekend to continue to improve our results and to keep on improving each race."
For more information about the WSK Super Master Series race in Sarno, Italy, April 7th-9th go to www.wskkarting.com.
Michael and d'Orlando Enterprises would like to thank Ronni Sala, Rickard Kaell Franchini and the entire staff at Birel ART (www.birelart.com) for their ongoing support and leadership.  And a special thanks to DB Collaborative (www.db-collaborative.com) and owner John Macones, Danilo Oliveira and Nathalia Iervolino at Fyshe USA/Adidas Motorsport (www.adidasmotorsport.com), all the staff at Iona Preparatory School (wwww.ionaprep.org) and Focused Project Management (www.focusedpm.net).
A sincere Thank You to all our family, friends & fans for your ongoing support as our team continues to work toward our dream in 2017.
Stay tuned for continued updates and more information on Michael d'Orlando at www.dorlandoracing.com. Be sure to follow him on Facebook (Michael d'Orlando Racing), Twitter (@dorlandoracing) and Instagram (@dorlandoracing).