EKN Trackside: 2017 SKUSA Pro Tour WinterNationals – Preview Part 3
Number of top contenders in X30 Senior, S1 Pro and S2 Semi-Pro ready for NOLA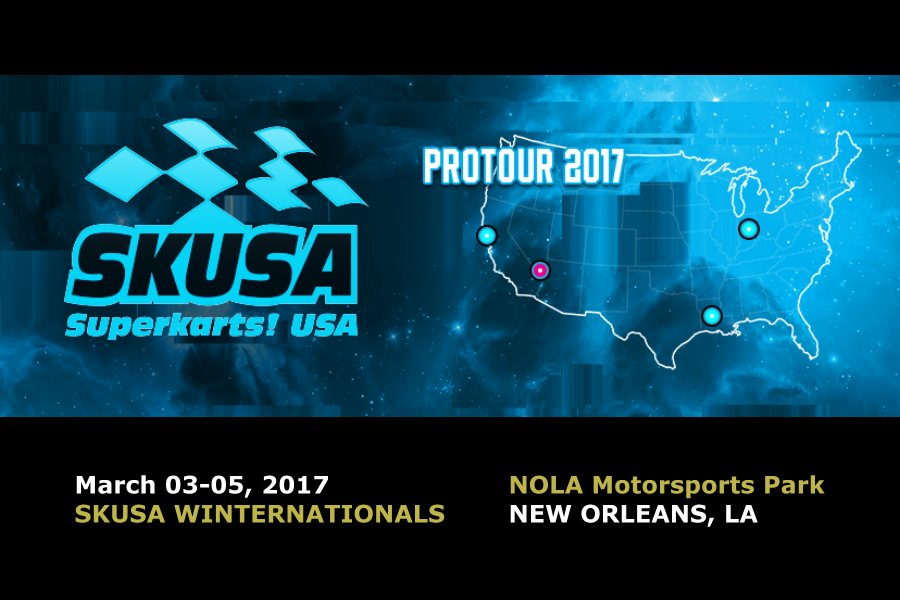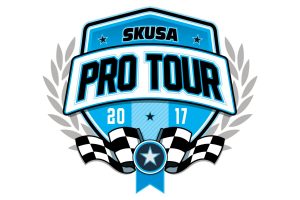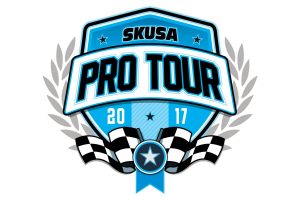 Just 100 days since the checkered flags waved to close out the 20th edition of the Superkarts! USA SuperNationals in Las Vegas, drivers, teams and families are all preparing for the start of the 2017 season and the SKUSA Pro Tour. It is a new era for the organization with the introduction of the WinterNationals, set to make its debut at the NOLA Motorsports Park facility in New Orleans on March 3-5.
NOLA Motorsports Park was opened in 2012 as a full motorsports facility, including the 1.5-mile long kart track. The New Orleans circuit began hosting major karting events in 2012, moving onto the world stage as the site for the 2013 Rotax Grand Finals – the first time the event was held on United States soil. SKUSA regional action has visited the course in previous years, including last weekend with the Texas ProKart Challenge. This is the first ever visit by the SKUSA Pro Tour.
eKartingNews is bringing all the action live to anyone and everyone with a laptop or mobile device. Bookmark www.ekartingnews.com/live and listen in to the live play-by-play provided by the official voice of SKUSA – EKN's own Rob Howden. Updates, photos and videos will be available throughout the weekend on the EKN social media outlets – Facebook, Twitter and Instagram.
---
X30 Senior
The quest for history begins in NOLA for defending X30 Senior champion Ryan Norberg. The Florida native scored three victories in 2016 en route to his first SKUSA title, and now carrying the SKUSA #1 plate aboard his PSL Karting / Birel ART machine, has the chance to become the first driver to repeat the class championship. The start to the 2017 season began with the move to PSL after running 2016 as a privateer aboard a Tony Kart. Norberg has been solid in his opening races with the Canadian squad at the Florida Winter Tour, and with the absence of EKN TaG Driver Rankings #1 driver Brandon Lemke – Norberg is the king of the mountain.
Behind Norberg at the end of the season was Brandon Jarsocrak. 'Money' was a consistent podium contender throughout the 2016 season, earning just one victory at the start of the year in Daytona. Now, the KartSport North America / Praga pilot will bear the #2 SKUSA plate for the season, looking to earn that extra step to finish the season on top.
It all begins in NOLA at the inaugural WinterNationals with 42 drivers set to battle in the X30 Senior category featuring a number of potential winners and championship contenders. 2014 SKUSA Pro Tour champion and 2016 SuperNationals champion Jake Craig (RPM / Tony Kart) is at the top of the list. He finished 2016 in the #3 slot of the EKN Driver Rankings, thanks to another US Rotax Grand National victory and of course the SuperSunday triumph. Braden Eves was the only other driver to beat Norberg in SKUSA competition in 2016. The MDD / Kosmic pilot is among the favorites heading into the WinterNationals, held at his team's home circuit. Austin Garrison (J3 / CompKart) has had success at the NOLA facility in the past, and is among the top drivers thus far in the Florida Winter Tour season.
Other names to watch include CRG Nordam's Brendan Baker – who is always fast. Challenge of the Americas point leader Christian Brooks (Nash / FA Kart) has momentum following a victory in Phoenix this past weekend. Zach Holden (Comet Kart Sales / Tony Kart) is returning to karting while his F2000 schedule allows it. Veteran Stepanova Nekeel (Vemme Kart) is always threat. 2012 Pro Tour Junior champion Luke Selliken (RPG / Kosmic) taking a break from school at Wake Forest to get back behind the wheel with veteran karter Billy Cleavelin turning the wrenches.
A solid crop of Canadian drivers are making their way across the north border to take part at the inaugural WinterNationals. Rolison Performance Group's Kellen Ritter was among the top rookies last season. He will be joined by brothers Cedrik and Samuel Lupien – both solid drivers behind the wheel capable of contending for podium positions. Coming from the Netherlands is former European champion Nick de Bruijn. He will be joining the BBR Karting for his SKUSA debut aboard the new PDB that has been gaining a number of victories at the Challenge of the Americas this winter.
This year's rookie class is stacked with talent, including the 2016 SKUSA Pro Tour Junior champion Alex Bertagnoli. The Illinois driver is taking the role as lead driver under the Franklin Motorsports / Merlin tent while carrying the SKUSA #1 plate. Dante Yu (CompKart) is making the jump up to Senior in 2017 coming off a solid final year in the Junior ranks – both on US soil and overseas. Ryan MacDermid (PSL / Birel ART) is among the top Junior drivers in Rotax competition this winter, set for his Senior debut at SKUSA competition. Jacob Gulick has shown speed during the winter months of his Senior rookie season under the Rolison Performance Group tent, rounding out a solid team roster. Former 2014 SKUSA Pro Tour Junior title contender Nick Bruckner is making a return, set for his Senior debut with Orsolon Racing.
Provisional X30 Senior Entry List
[table]
No.,Driver,Team,Chassis,Hometown
303q,Kyle Apuzzo,CompKart,CompKart,North Scituate RI
316t,Brenden Baker,CRG Nordam,CRG,Celina TX
91f,Eduardo Barrichello,Ocala Gran Prix (OGP),Tony Kart,Ocala FL
24t,John Berry,DAMZ Motorsports,Alpha,Katy TX
1,Alex Bertagnoli,Franklin Motorsports,Merlin,Lakewood IL
274t,Nick Brueckner,Orsolon Racing,Tony Kart,Hockley TX
371z,Mason Buck,BBR Karting,PDB,Newcastle WA
65o,Bryce Cornet,Champion Racing,Intrepid,Norman OK
60c,Jake Craig,JC Racing / Ryan Perry Motorpsort (RPM),Tony Kart,Mission Viejo CA
993r,Logan Cusson,Rolison Performance Group (RPG),Kosmic,Port Hope ON
00a,Nico de Bruijn,BBR Karting,PDB,Vlaardignen ZH
115y,Colby DuBato,PKS,Tony Kart,Madera CA
41j,Braden Eves,Jay Howards MDD,Kosmic,Gahanna OH
129f,Austin Garrison,J3 Competition,CompKart,Davie FL
315z,Jacob Gulick,Rolison Performance Group (RPG),Kosmic,Vancouver WA
151c,Nicky Hays,Formula Works,CompKart,Huntington Beach CA
333t,Max Hewitt,J3 Competition,CompKart,Houston TX
222j,Zach Holden,Comet Kart Sales,Tony Kart,Greenfield IN
117s,Blake Hunt,,FA Kart,Mooresville NC
32t,David Ilavia,J3 Competition,CompKart,HOUSTON TX
N2,Brandon Jarsocrak,KartSport North America,Praga,Reading PA
732j,Ayrton Kazee,Trinity Karting Group,Tony Kart,Cincinnati OH
14y,Worawong Komarakul,Leading Edge Motorsports (LEM),Praga,San Francisco CA
020r,Cedrik Lupien,Rolison Performance Group (RPG),Kosmic,Mascouche QC
94r,Samuel Lupien,Rolison Performance Group (RPG),Kosmic,Mascouche QC
416r,Ryan MacDermid,PSL Karting,Birel ART,Brooklin ON
311t,Andy Miller,Kart Racing Solutions,FA Kart,Denton TX
382t,Brett Mitchell,ALPHA Kart USA,Alpha,Spring TX
2c,Billy Musgrave,Musgrave Racing Company,Mad Croc,Norco CA
22z,Stepanova Nekeel,Team VemmeKart,Vemme,Seattle WA
N1,Ryan Norberg,PSL Karting,Birel ART,Orlando FL
15n,Ryan Raffa,Checkered Motorsports,PCR,Washington Crossing PA
3c,Nick Ramirez,CRG-SoCal / Empire Karts,Top Kart,Riverside CA
204t,Nathan Ratton,Team Koene USA,Tony Kart,Rockwall TX
399r,Kellen Ritter,Rolison Performance Group (RPG),Kosmic,N. Vancouver BC
103z,Luke Selliken,Rolison Performance Group (RPG),Kosmic,Portland OR
387t,Kasimir Sinnott,KRS,Tony Kart,Southlake TX
326z,Adam Smalley,SmaK Plastics Racing,Kosmic,Battle Ground WA
55j,Lane Vacala,J3 Competition,CompKart,Antioch IL
188t,Jake Venberg,Franklin Motorsports,Merlin,Dallas TX
087t,Adam White,DKC,Sodi Kart,Dallas TX
044x,Dante Yu,Formula Works / CompKart,CompKart,Temple City CA
[/table]
---
S1 Pro Stock Honda
The numbers throughout the years in the S1 Pro division have increased and decreased year by year. The talent pool has never faltered and 2017 is no different. 2016 SKUSA Pro Tour champion Daniel Formal is coming back from Costa Rica for more as the EKN Stock Honda Driver Rankings #1 pilot is set to defend his crown. Carrying the SKUSA #1 plate on his DRT Racing / DR Kart, Formal is driven to be the best and an inaugural win at the WinterNationals would be another star on his karting resume. Next to Formal is Jake French, considered to be among the best United States shifterkart driver today. The DKC / Sodi Kart pilot is still searching for his first SKUSA Pro Tour victory in the S1 division, finishing on the podium three times, including a third at the SuperNationals.
From the month of July through the SuperNationals, AJ Myers held the title of top US shifterkart driver. Myers missed the SpringNationals, and made up for it with a dominating performance at the SummerNationals followed up with a runner-up finish at the SuperNats. The TB Kart USA driver is primed to battle for victory once again and contend for the Pro Tour title. Another driver making a return to Superkarts! USA competition is Gary Carlton. For the past decade, the NorCal native has been the best in North America multiple times, including KZ victories at the SuperNationals in 2006 and 2015. Carlton has spent the last few years living in Europe, working directly with the major chassis manufacturers. Finding a new home with IPKarting, Carlton is back to contest more races in the United States aboard his Formula K machine under the Leading Edge Motorsports banner.
This year's S1 rookie class includes a number of S2 front-runners from 2016. Last year's S2 Pro Tour champion Austin Wilkins (DKC / Sodi Kart) is graduating up to S1 with the #1 plate, and has the ability to work directly with teammate Jake French. Mathias Ramirez drove away with the victory in the S2 category at the SuperNationals this November. That win put him up into the S1 division for 2017 with the Andersen Racing Team / Birel ART driver no stranger to the big stage, placing second at the Rotax Grand Finals in 2015. Hunter Pickett (Aluminos) and Hunter Kelly (Praga) – the 2012 TaG Cadet Pro Tour champion – are set to begin their S1 rookie seasons.
Provisional S1 Entry List
[table]
No.,Driver,Team,Chassis,Hometown
50y,Gary Carlton,Leading Edge Motorsports (LEM),Formula K,Marysville CA
317d,Sabré Cook,Energy Kart USA,Energy,Grand Junction CO
N1,Danny Formal,DRT Racing,DR Kart,Costa Rica
N2,Jake French,Dallas Karting Complex (DKC) / SodiKart USA,Sodi Kart,Sachse TX
435y,Hunter Kelly,Leading Edge Motorsports (LEM),Praga,Elk Grove CA
322c,Billy Musgrave,Musgrave Racing Company (MRC),Aluminos,Norco CA
128f,AJ Myers,TB Kart USA,TB Kart,Palm Harbor FL
36y,Hunter Pickett,Muscle Milk / Pickett Racing,Aluminos,Alamo CA
88c,Matias Podboj,Mad Old Nut Racing,Mad Croc,Eastvale CA
41f,Mathias Ramirez,Andersen Racing Team,Birel ART,Palmetto FL
1,Austin Wilkins,Dallas Karting Complex (DKC) / SodiKart USA,Sodi Kart,Wylie TX
[/table]
---
S2 Semi-Pro Stock Honda
With each year, a handful of driver graduate up to the S1 division from the S2 category. While there were good talent advance, six of the top-11 last year's championship standings remain and are returning for more in 2017. It was a breakthrough season for Jamaican Collin Daley as the DRT Racing / DR Kart driver finished his S2 rookie season fourth in the championship chase. That makes him the top returning driver from the 2017 season. Daley has shown the speed to compete at the front of the field, earning a podium at the SpringNationals and a third-place performance at the SuperNationals. Kyle Wick nearly scored his first SKUSA Pro Tour victory at the SpringNationals, but was unable to capture that same speed the rest of the season despite finishing fifth in the standings. The Rolison Performance Group / CRG driver started out 2017 with victory at the California ProKart Challenge event, and enters as one of the leading contenders at the WinterNationals.
Sky Finley (DKC / SodiKart) was another almost first-time winner on the SKUSA Pro Tour, with the SummerNationals marked as his best overall performance thus far. Rory van der Steur (FA Kart) was there at both the SummerNationals and SuperNationals, placing fourth on SuperSunday. Kol Bailey finished 10th last season, and is making the move over to Leading Edge Motorsports aboard a Praga for 2017. Harry Gottsacker (Champion Racing / Intrepid) stood on the podium at the SpringNationals but was unable to match that the rest of the season.
Keep your watches on young guns Riley Dickinson (DKC / Sodi Kart), Gianfranco Mazzaferro (PSL / Birel ART), Michael McCarthy (Andersen / Birel ART) and Jason Pettit (Aluminos). Zach Schiff, a former Stars of Karting 80 Junior champion, is back behind the wheel and ready to make his SKUSA Pro Tour S2 debut with TB Kart USA.
Provisional S2 Entry List
[table]
No.,Driver,Team,Chassis,Hometown
86k,Kol Bailey,Leading Edge Motorsports (LEM),Praga,Peoria AZ
48c,Gianfranco Casadei,Mad Old Nut Racing,Mad Croc,Eastvale CA
44t,CJ Cramm,PSL Karting,Birel ART,Spring TX
412a,Collin Daley,DRT Racing,DR Kart,Kingston Jamaica
253t,Riley Dickinson,Dallas Karting Complex (DKC) / SodiKart USA,Sodi Kart,New Braunfels TX
7x,Josh Early,Musgrave Racing Company (MRC),CRG,Perris CA
007t,Sky Finley,Dallas Karting Complex (DKC) / SodiKart USA,Sodi Kart,Frisco TX
526o,Tyler Fling,Champion Racing,Intrepid,Atlanta GA
69t,Harry Gottsacker,Champion Racing,Intrepid,New Braunfels TX
27t,Blair Hosie,DAMZ / ALPHA Kart USA,Alpha Kart,Sugar Land TX
016r,Jeff Kingsley,PSL Karting,Birel ART,Pickering ON
07j,Tony Malito,Frontier Autosport,DR Kart,Carmel IN
6j,Darin Marcus,Ryan Perry Motorsports (RPM),Tony Kart,Chicago IL
414r,Gianfranco Mazzaferro,PSL Karting,Birel ART,St. Bruno QC
70f,Michael McCarthy,Andersen Racing,Birel ART,Clearwater FL
125c,Garrett McKelvie,Musgrave Racing Company (MRC),Aluminos,Temecula CA
191y,Harrison Mills,Pickett Racing / Aluminos,Aluminos,Vacaville CA
146y,Jason Pettit,Aluminos,Aluminos,Walnut Creek CA
53j,Joe Ruch,Frontier Autosport,DR Kart,McCordsville IN
155j,Zach Schiff,TB Kart USA,TB Kart,Dublin OH
28j,Devon Smith-Harden,TB Kart USA,TB Kart,Nashville IN
29n,Rory van der Steur,Team Felon,Kosmic,Chesapeake City MD
109z,Kyle Wick,Rolison Performance Group (RPG),CRG,Auburn WA
3t,Andretta Young,CRG Nordam,CRG,Katy TX
[/table]