Tony Kart: First Race, First Victory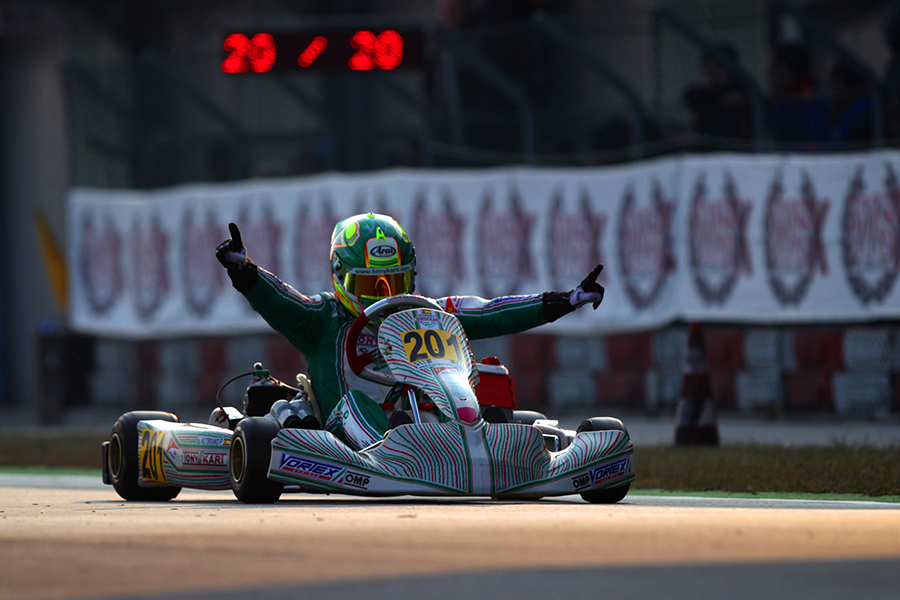 2017 season has begun with a clear success in OK class with Pedro Hiltbrand and clear proof of the competitiveness of our Racer 401 S chassis. We had our debut in all categories OKJ, OK and KZ2 at the Adria Karting Raceway. The one-shot race of the WSK was a good test that allowed the whole Racing Team to enter the competition atmosphere and the new drivers to develop the synergy with the technical material made available to them by our staff. Rewards were many with competitiveness signals coming from every category, so much so that victory also came in OKJ class with Morozov (Ward Racing Team).
OK
Hiltbrand won at the end of a weekend in constant growth which culminated in a final that awarded, deservedly, the name of the champion of the WSK Champions Cup 2017. The clear statement obtained in OK was marked by a positive test for all our drivers. Clément Novalak, after closing the pre final (B) in third place, just missed the podium, fighting the whole final in the top ranking positions. David Vidales has made a good recovery in the final, running in the top-five positions in the early stages of the race and crossing the finish line seventh. The young Brazilian Gianluca Petecof, at his debut with our colors in OK category, easily entered the final, but was then victim of a collision which cost him a penalty. The winning result in OK is supported by the supremacy shown by our products. Not less than five chassis in the top-ten are Tony Kart.
KZ2
In the shifter category the debut of our driver Matteo Viganò ended with a race run in the top-positions. The newcomer has closed the pre-final in third place, competing in the tussle for the success in the final. His withdrawal did not permit to get him on the podium, but the performance he showed off is unmistakably top driver. Also Alessio Piccini's performance was high-level, who, after being delayed by a stop in the heats, put in place a strong comeback allowing him to recover thirteen positions, closing the final in seventh place. In KZ2 class the best lap (48″410) was of a Tony Kart-Vortex-Bridgestone chassis driven by Leonardo Lorandi (Baby Race srl). Further sign, this, confirming the competitiveness of the material made in Prevalle.
OKJ
In the cadet class the winner was a Tony Kart-Vortex. The Racer 401 S of the Russian driver Ilya Morozov (Ward Racing Team) which succeeded with value in the WSK Champions 2017, after winning two heats and the pre-final. Our Viktor Gustavsson entered the final without any problems and laid the foundations for his competitive growth for the rest of the season.
MINI
The young talent Andrea Antonelli had his debut wearing the Racing Team colours with determination and always fought among the first positions, closing the final in sixth place. Such result was possible after Antonelli closed the heats (twice 2nd position and three times 3rd position) in the first three positions and with a best lap in race
Please follow and like us: