Manitoba Karting Association – Race Nine Report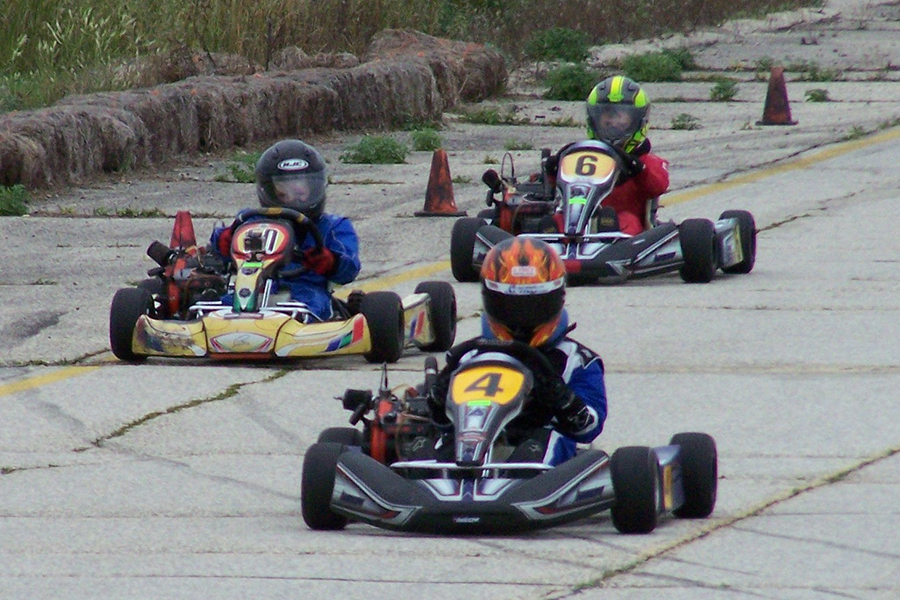 The weather was hot and sunny for Race 9 of the Manitoba Karting Association Championship at Gimli Motorsport Park.
Highlights of Race # 9
In the Senior Briggs class John Buzza had pole and lead flag to flag. In the four way battle for the runner-up spot, Jeff Bachalo, Stephen Bachalo, Jeff Fulham, and Morgan McDonald ran in a tight bunch passing and changing positions lap after lap. Three laps from the end Morgan charged through the pack and at the finish John won with Morgan 2nd and Jeff Bachalo 3rd.
For the Junior 2 Briggs class Wynn Precourt was on pole. By lap 1 Rylan Despins in his vintage Birel Torsion kart had taken the lead. Wynn dropped to P3 with Logan McDonald moving up to P2.By lap three Logan lost a chain and Bianca Bovino moved up to P3. At the finish it was Rylan 1st, Wynn 2nd and Bianca 3rd.
It's good to see the Junior classes still growing in size this late in the season. Junior 1 Briggs had Josh Gill on pole but by lap two Connor Madison dove into the lead. Josh and Connor would change the lead lap after lap putting everyone in the grandstands on the edge of their seats. On the last lap Connor spun allowing Owen Boonstra through for P2. Josh won with Owen 2nd and Connor recovering to 3rd.
In Micro Max Silas Gershman had pole and he kept the lead to the finish with Josh Gill 2nd and Wyatt Mitchell 3rd.
Mini Max had Brad Bachalo on pole and he won easily. Tiana Bovino finished 2nd with Nicole Schellekens 3rd.
The Junior Rotax class had Curtis Veselinovich on pole and he lead from start to finish. Logan McDonald finished 2nd with Bianca Bovino 3rd.
In the DD2 & DD2 Rotax Masters / Senior Rotax race Alexis Budel won DD2 and Mark Sawatsky won DD2 Masters and Jeff Fulham won Senior Rotax.
Next race is the last of this season's Double Header Weekends with Race # 10 on Saturday September 10th and the Rene Berard Charity Enduro on Sunday September 11th at Gimli Motorsport Park. For more information on the MKA, visit http://www.manitobakarting.ca
Race # 9 Results:
Junior 1 Briggs: Josh Gill
Junior 2 Briggs: Rylan Despins
Senior Briggs: John Buzza
Micro Max: Silas Gershman
Mini Max: Brad Bachalo
Junior Rotax: Curtis Veselinovich
Senior Rotax: Jeff Fulham
DD2 Rotax: Alexis Budel
DD2 Masters Rotax: Mark Sawatsky