Maranello Kart Protagonist of DKM in Genk with Mosca and Hold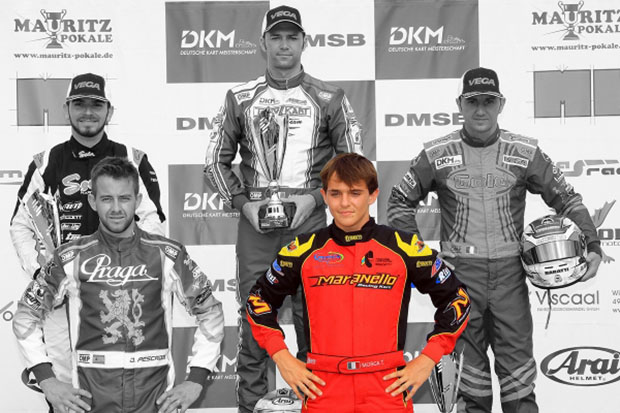 Tommaso Mosca claimed a spectacular pole position in KZ2 leading 60 drivers in Genk. The fifth place in race-1 confirmed him as one of the main protagonists of the category ahead of the European Championship. Christoph Hold took a double podium in KZ2 Cup.
The German Championship DKM has stopped in Genk (Belgium) for its third round of the season, and the two drivers of Maranello Kart, Tommaso Mosca in the international race of KZ2 and Christoph Hold in DMSB Shifterkart Cup, awarded the Italian outfit with strong emotions.
The first strong performance of the weekend of Genk came from Tommaso Mosca, who will be back on the Belgian track at the end of the month for the final round of the European Championship. Mosca has been very quick as usual and this time has crushed all his rivals scoring a stunning pole position and being the quickest of the 60 drivers on track. This has been a good proof of competitiveness for Mosca, his team and Maranello Kart on this important international stage of Genk.
The Italian driver on Maranello-Tm has kept his momentum in the heats securing a fourth and two third places, which placed him among the main protagonists of the weekend while highlighting the quality of the Italian chassis. The first final run by Mosca has also been very good, as he was fifth recovering two places in the closing two laps and posted the fastest lap of the race. His good performance in Genk unfortunately stopped there, as Mosca had a problem at the start of race-2 and could not leave the grid at the green lights. This has been a real pity, but Mosca found what he was after: speed and winning performances ahead of the European Championship that will take place on the circuit of Genk next July 29-31.
The quick Austrian Christoph Hold also put in a strong weekend on Maranello-Modena, being protagonist of the DMSB Shifterkart Cup KZ2 after the two rounds of Wackersdorf and Ampfing. In Genk, Hold has been among the quickest racers with the sixth time in qualifying, position that was later on confirmed in the heats. Hold managed to gain the podium in the first final with an excellent P3, a result that was supported by a great performance in the second final. Hold closed the second race in fourth place, being again on Genk's podium after fighting for the victory. Hold is currently third in the classification at 92 points, that is not far off from the leader Wiggers at 106 points and from Tubben at 103.
The next round of the DKM will take place next Sptember 11th in Oschersleben (Germany).
All results are available at www.kart-dm.de/en/home/