Patrick Olsen: My First Road Racing Experience
Sprint racer takes in first 'laydown' weekend at Blackhawk Farms Raceway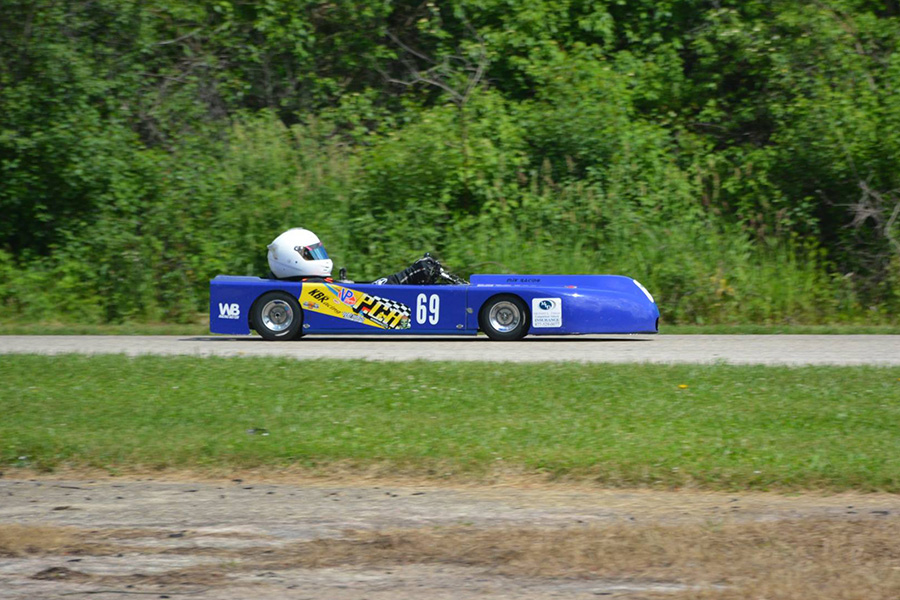 Patrick Olsen taking on the Blackhawk Farms Raceway, driving a laydown for the first time (Photo: Cass Bass Martin)
The following is a first-hand experience of a veteran sprint racer driving a laydown road racing kart for the first time. Road racing – or 'enduro' karting – has been part of the sport dating back to the late 50s and early 60s when the sport was evolving outside of the parking lots and purpose-built facilities, and the 'need for speed' sent karters to the full-size car tracks around the country. Today, road racing remains part of our sport with many giving this form of karting the cold shoulder, ignoring or not caring to learn what the experience is all about. Insert Patrick Olsen and his exposure to the road racing world.
When you grow up from 10-years old sitting up kart racing, that's really all you ever know.  I remember my second and third year kart racing, my parents and I decided to travel with our club – Badger Kart Club – to their special events at Road America and Blackhawk Farms.  That was my first experience with road racing.  Being 12-13 years old at the time, I thought it was awesome watching how fast the karts could go.  I ran a couple races with a "sit up" enduro kart with just a Yamaha Can.  It was fun and all, the drafting was great, but we decided to stay with sprint racing as I was starting to travel regionally racing also.
Fast forward to today.  I have taken a bit of a break from racing at a national level due to the costs being higher and higher.  The past few years, I've done a lot of tuning at sprint races just because I can't stay away.  Recently, I've had the chance to go to a few road racing races just to watch and have fun with my girlfriend Deanne Dean.  I am not the best spectator you will find, so after spending a few weekends at road races and quickly making many new friends, I found myself with the opportunity to have a go in a laydown kart, which in my opinion, were the premier class and the true meaning of 'enduro racing'.
The opportunity took me back to Blackhawk Farms Raceway in South Beloit, Illinois – right on the border of Wisconsin with the Championship Enduro Series. Ms. Dean's family friend 'Wild' Bill Bernet brought up his 'Controlled Limited' machine with a PCR 100cc liquid cooled engine. It's basically an ICA engine with an axle clutch. When we fired it up the first time, I knew it was going to be fast, but how fast?  My answer came quickly as I took it out Saturday morning warm-up, and spun the tires out of turn one.
It took more than a few laps to figure out what to do with my body, you know, laying down, but once I relaxed and got comfortable, it wasn't all that bad. Driving the thing was probably the strangest sensation I've experienced in karting.  The hardest thing to do was just relax.  Let your head physically rest on the headrest instead of trying to crouch up.  Steering it didn't require as much effort as I thought, and the kart itself has a lot of lateral grip through the corners.  That's what made it difficult to drive with essentially no seat, as nothing holds you in side to side.
Next was to figure out this magical thing referred to as a "slippy pipe".  Something I've never encountered in sprint.  Let's say this, it feels like a turbocharger!  Pull it at the right time and the engine starts to scream. And when I say scream, I mean 17,000 rpm – right next to your head!
To say the least, I went into the weekend having many thoughts and expectations of what driving a lay down was going to be like.  Some were close, but others got blown out of the water. One thing was 100% true, you really can not see where you're going.  All of your judgment points are basically the trees and barriers and stuff passing by.  It's also extremely bumpy.  Feeling the smallest of bumps on your spine really makes you sore the next day. And for those who think road racing is boring, you are mistaken. Between watching exhaust temperatures, pulling the 'slippy pipe' lever constantly, tuning the carburetor, keeping your body in a comfortable spot, navigating lap traffic, it really is a busy ride.
One thing I will remember the most, and is probably the best thing about it are the people. At the end of the day, the respect and support from EVERYONE is fantastic. People I didn't even know came up and congratulated me Saturday after the race. The people and energy at any kart race is always great. The excitement, the comradery between everyone is something very similar to sprint racing.  What is a little different, is people reactions to their on track performance.  Everyone is still happy and excited that they just plain finished their race.  They are happy their equipment is still in one piece. You rarely see someone thrashing on their go kart after a race.  It's just very relaxing, and everyone knows everyone. To add something else, unless there is a true accident, you're not coming in off the track with broken tie rods, or bumpers smashed in. The racing is truly clean and respectable.
All in all, my first experience in a lay down was phenomenal.  I could not have wished it any better.  I will keep my sprint roots, but will look forward to another ride in that deep purple laydown.