Jerry Henderson – In Memoriam
Karting veterans speak to the value of their friendships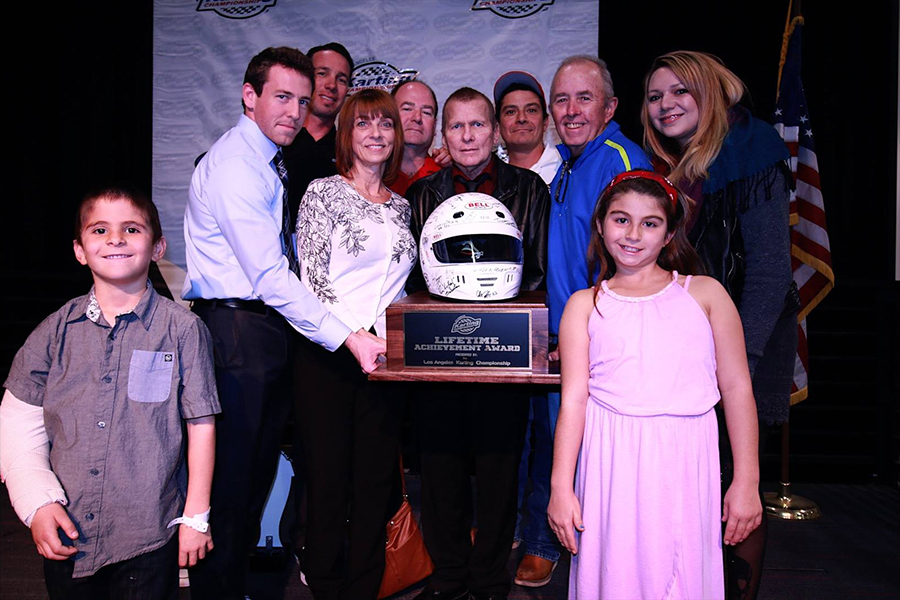 The beginning of 2016 has been rough on the karting community, losing Pacific Northwest legend Danny Hodapp in January, SKUSA visionary Jim Murley in February, SKUSA's founder Don Janowski in April and then, during the week before the SpringNationals, SoCal karting ambassador Jerry Henderson.   Jerry was a tremendously talented driver and a tireless ambassador of the sport.  He coached the next generation and had a special way with the youngest members of the paddock, guiding them to strive for proper race lines and even better racecraft.  In the days that followed the news of Jerry's passing, we reached out to a handful of veteran karters who knew him well.  Here are their thoughts:
Mike Manning – Owner – Mike Manning Karting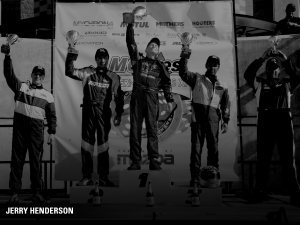 Racing friends are the best friends one can ever have in life. The competitive spirit in all of us is so contagious. It drives us to achieve. Whether it's in line at the grocery store or on the grid, it's what we racers call 'game on'. We just can't help it.
I, and we, just lost one of the best in Jerry Henderson. His battle with cancer was tough for me to watch. He took on this fight the same way he raced. The same way he drove for me.  There was never any quit in him. His love for racing carried over into his love for teaching drivers of all ages. He was a Champion at this as well. For me, personally, the fun we had together racing is what I will remember the most. I will cherish those two SuperNats first place TaG Masters trophies that Jerry won for me, that are still in my shop…and will be, forever. RIP Jerry Henderson
Mike Burris – Owner – Burris Racing
Jerry lived in Oregon and raced flat track bikes up there. When he moved here to So Cal he wanted to race but there wasn't much of that going on. He drove for Consolidated Freight and delivered to our business and started asking about karts and one day he came in and asked if we'd sell him one of ours and as they say, the rest is history. Good guy and a personal friend.
Kurt Burris – Owner – Burris Racing
Too many stories to tell and too many good times to share….Jerry was certainly a one of a kind who you couldn't help but like no matter how mad he may have made you. I could share the stories of going jet skiing in Blythe or when Jerry, My dad and I went to Cabo and after putting my dad to bed (nobody will believe that) Jerry and I went back out and somehow knocked the transmission out of the rental car but I guess the best story of all would be just to recap how many lives Jerry touched and in a positive way.
We met Jerry in the early 1980's when he drove delivery for Consolidated Freight. CF handled the delivery of our tires coming from the factory in PA to our warehouse in CA. Jerry ended up on our route and became fast friends with everyone at the shop– I don't think he ever knew a stranger. He had racing experience in the past before moving to CA and took a quick interest in Karts. We sold him a Yamaha chassis with a KT100 that was one of our shop Karts that we had been running on the dirt at ASCOT and he took to it like a duck to water. He soon discovered Adams Kart Track and because the dirt races weren't often enough and he wanted to race more regularly, not knowing any better, he took his Kart out on the dirt tires and all to give it a shot…..the soft dirt tires only lasted about 30-40 laps but he was hooked on turning left and right.
He took his love of Karting, his gift of gab and his easy going ways and packaged them into his Kart Racing school that I have to believe he enjoyed as much as his students (both kids and adults). As they say – they definitely broke the mold when they made Jerry. His outgoing personality along with his love of the sport was truly a gift to all in Karting whether you were a competitor on the track or one of his students.
We will miss ya, Hendrix, but I can promise you will never be forgotten.
Howie Idelson – Veteran Karter
If you ask me, Jerry Henderson was wrong. He had a saying, and I heard him say it lots of times; "you don't make friends in this sport". Jerry was one of my longest and best friends in karting. He had other friends like me too, lots of them. He got a lot of stuff right, but this is one he was dead wrong about. Not many have done what he's done in karting. Besides winning everything and being one of the fiercest and feared competitors, as his results show, he sat on club boards, volunteered for several organizations and race directed. But, his most cherished role was coaching kids. And, of course, he coached my son. He had a certain magic about him when he worked with the little ones. Sometimes it sounded like he was talking to a grown adult rather than a 6-year-old, but it was a connection deeper than his words that got through to them. He told me several times how he wished he had kids of his own and I always told him that he'd be a great dad. I think he took each one of his students to a place in his heart where there was a special spot that had been left available. He was one of those guys who wasn't afraid to say how he felt about you to your face, good or bad. Luckily for me, it was good. When I told my son that Jerry died, he said nothing and just cried. He's nine. Not too many non-relatives passing can evoke such an emotion from a little boy. I cried too and it was the first time he's ever seen me cry.  We lost someone very special in Jerry Henderson, but I still say he was wrong.