Kaden Wharff Joins Top Kart USA for 2016 Season
Wharff will compete in the Sportsman class with the team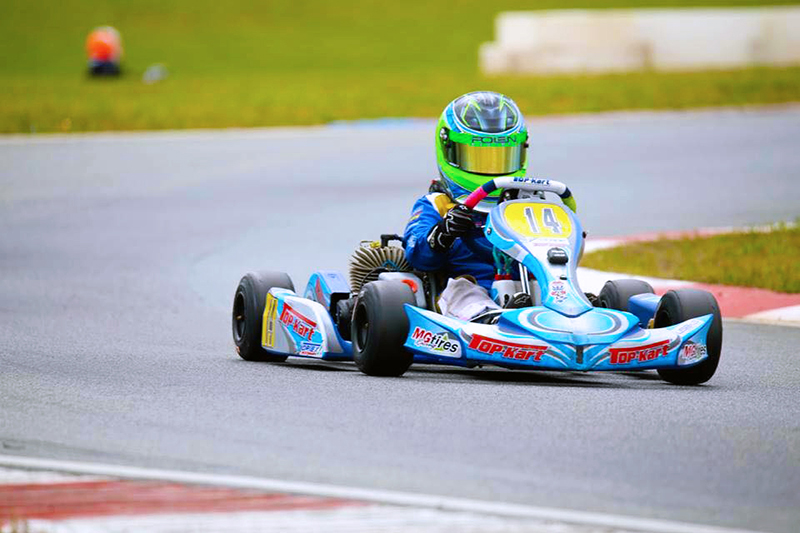 Kaden Wharff will be joining the Top Kart family full time for the 2016 season (Photo: TopKartUSA.net)
Kaden Wharff, a long-time driver of Top Kart USA chassis, will be joining the team full time for the 2016 season. Wharff began his national career with the team in 2015, scoring several podium finishes in the Sportsman class at WKA and USPKS events in Mooresville, NC.
"It is with great excitement that Kaden Wharff Racing announces that Kaden will be joining the Top Kart USA team," said Tonja Wharff, Kaden's mother. "We believe that Top Kart USA has the best track support, a proven race-winning chassis and gives Kaden the chance to team up with one of the best nationally-ranked drivers in North America, Jason Welage."
Wharff has scored impressive results at his home track, New Castle Motorsports Park, and his family hopes that the move to Top Kart USA will allow him to have the same success at the national level. In addition to trackside support and a proven chassis, Top Kart USA will offer Wharff a chance to develop as a driver as he advances in his racing career.
"We feel that Top Kart USA offers the best opportunity for Kaden to reach his goals as a driver," said Matt Wharff, Kaden's father. "We would like to thank Bill McLaughlin Sr., Bill McLaughlin Jr., Blake Deister, and Mike Tetreault with Grand Products for this amazing opportunity of working with your great organization and race team. Kaden is extremely excited for this new adventure and is ready to keep Top Kart at the top. Thank you to all of those that continue to support Kaden. We are looking forward to having an outstanding 2016 season."
"We know that Kaden Wharff Racing works well with Team Top Kart USA, because we had great success at the events he ran with us in 2015," said Blake Deister, co-owner of Top Kart USA. "After racing on the Top Kart chassis for a greater part of last season, it seems like a good fit for 2016. Our racing team welcomes any drivers that would like the experience and environment to increase their driving skills, development, and results."
After a very successful 2015 season, winning several championships across a few series, Top Kart USA is hoping to build on that momentum for continued success in 2016.
"There have been many changes from 2015 to the upcoming 2016 racing season, and this offseason has been a great success thus far," said Bill McLaughlin Jr., co-owner of Top Kart USA. "We will be debuting our new chassis line and rejuvenated Top Kart branding in the upcoming SKUSA SuperNationals event in Las Vegas. It will be the first time on track with the 2016 models, and we look to lock up a TaG Cadet Championship and earn back-to-back SuperNationals titles in TaG Senior with Marco Maestrazni. Along with this, Top Kart USA is welcoming many new drivers to our event roster for 2016 in the WKA, USPKS, Route 66, and SKUSA Pro Tour schedules. Kaden is a driver that has always had the speed and courage to compete against the best in the sport, and we look forward to assisting him in honing his driving skills and achieving impressive results at each event."
About Top Kart USA – Top Kart USA is located in Indianapolis, Indiana, and is a distributor for the Top Kart product line. Housing a national level race team and competing in the World Karting Association and SuperKarts! USA programs, as well as throughout the regional level in the Midwest, Top Kart USA is continuing to evolve and develop Top Kart dealerships throughout the United States. Supported by Top Kart importer Grand Products, Top Kart USA is owned and operated by McLaughlin Motorsports.