2015 Rotax Max Challenge Grand Finals – Team USA – Thursday Report
Up and down day for United States drivers following first day of racing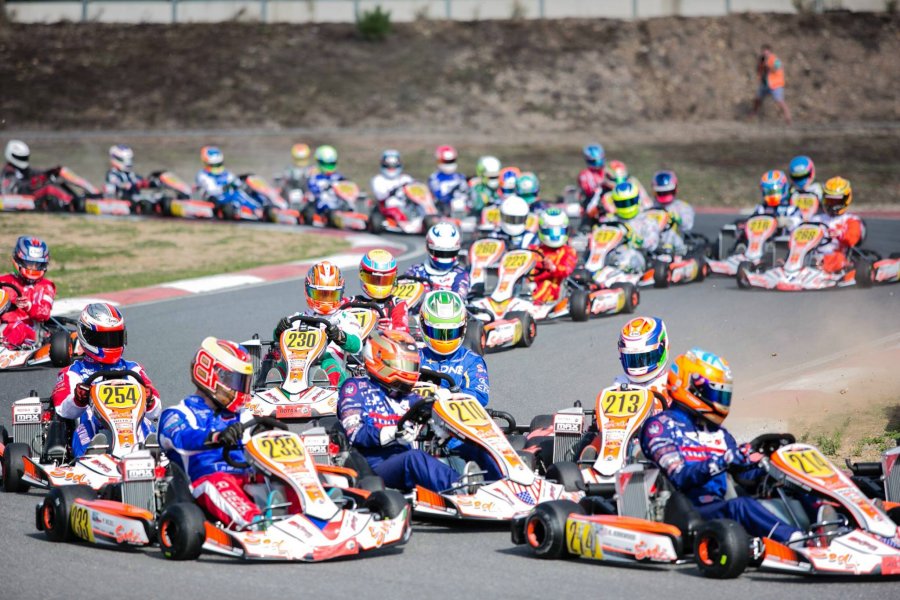 (Photo: Rotax-Kart.com)
The first wheel-to-wheel sessions took place Thursday at the Kartodromo Internactional Algarve in Portimao, Portugal for the 2015 Rotax Max Challenge Grand Finals. Two days of preparing to be the fastest driver on the track, the mindset now transfers over to surviving the next two days without any damage, and the best possible results through the heat races. The general consensus was the racing was too rough in the majority of the races, with a number of major pile-ups, especially on the start. With the way the 1.532km circuit is laid out, the start is flat out for at least 500km before the field is shuffled down into a tight hairpin. Drivers simply are not respecting one another during these opening moments. It was up and down for the United States of America drivers, 20 in all representing the Red, White and Blue.
The bright spot thus far has been the performance by Derek Wang and Luis Schiavo in the DD2 Masters category. Wang qualified first overall yesterday, with he and Schiavo posting second place and fourth place results in their two heat races. Luke Selliken and Kyle Kirkwood have two top-10 finishes each, with Selliken scoring a runner-up in his opening race. The same for Trenton Estep and Darren Keane in Junior Max, finishing in the top-10 for their two heat races. Jake French is the top USA driver in DD2, earning a best finish of 10th.
Friday is the final round of heats for all four categories, which qualifies those drivers moving on and those relegated to the Second Chance Heat at the end of the day to transfer into Championship Saturday. Below is a recap of the Team USA performances. Head over to Rotax-Kart.com for more information on the event, including live timing and live video links.
Junior Max
#111 – Mathias Ramirez-Barrero
Age: 13
Hometown: Bradenton, Florida
Qualified: Florida Winter Tour Vice-Champion
RMCGF Appearances: None
Warm-up: 1:03.019 (17th)
AvsB: 19th (25th)
AvsC: 4th (25th)
#112 – Trenton Estep
Age: 15
Hometown: San Antonio, Texas
Qualified: US Open
RMCGF Appearances: None
Warm-up: 1:02.625 (7th)
CvsD: 2nd (3rd)
AvsC: 8th (4th)
#113 – Michael Michoff
Age: 15
Hometown: Roseville, California
Qualified: Can-Am Karting Challenge Vice-Champion
RMCGF Appearances: None
Warm-up: 1:02.706 (8th)
CvsD: 25th (25th)
AvsC: 11th (26th)
#114 – Sting Ray Robb
Age: 13
Hometown: Boise, Idaho
Qualified: Rotax Challenge of the Americas Champion
RMCGF Appearances: 1 (2014)
Warm-up: 1:02.647 (8th)
AvsB: 29th (12th)
BvsD: 15th (11th)
#117 – Anthony Gangi Jr.
Age: 13
Hometown: Brookville, New York
Qualified: US Rotax Grand Nationals Champion
RMCGF Appearances: None
Warm-up: 1:02.589 (3rd)
AvsB: 9th (20th)
BvsD: 36th (19th) – Excluded
#118 – Darren Keane
Age: 15
Hometown: Boca Raton, Florida
Qualified: US Rotax Grand Nationals – Third Place
RMCGF Appearances: None
Warm-up: 1:03.780 (31st)
CvsD: 10th (10th)
BvsD: 8th (10th)
Senior Max
#207 – Jake Craig
Age: 17
Hometown: Mission Viejo, California
Qualified: US Rotax Grand Nationals – Third Place
RMCGF Appearances: 3 (2011, 2013, 2014)
Warm-up: 1:02.344 (30th)
CvsD: 21st (20th)
BvsD: 23rd (20th)
#210 – Christian Brooks
Age: 15
Hometown: Santa Clarita, California
Qualified: US Open
RMCGF Appearances: 1 (2014)
Warm-up: 1:00.686 (1st)
CvsD: 29th (9th) – wrecked in opening lap
AvsC: 9th (10th)
#214 – Kyle Kirkwood
Age: 16
Hometown: Jupiter, Florida
Qualified: Florida Winter Tour Champion
RMCGF Appearances: 1 (2013)
Warm-up: 1:01.380 (18th)
CvsD: 4th (4th)
BvsD: 10th (4th)
#222 – Matt Solarczyk
Age: 16
Hometown: Ashbury, Virginia
Qualified: US Rotax Grand Nationals Vice-Champion
RMCGF Appearances: None
Warm-up: 1:01.214 (12th)
CvsD: 26th (12th) (10-second penalty after finishing 6th)
BvsD: 19th (12th)
#241 – Artie Carpenter
Age: 19
Hometown: Oregon City, Oregon
Qualified: Can-Am Karting Challenge Champion
RMCGF Appearances: None
Warm-up: 1:01.741 (22nd)
AvsB: 19th (33rd)
AvsC: 26th (33rd)
#249 – Luke Selliken
Age: 16
Hometown: Portland, Oregon
Qualified: Rotax Challenge of the Americas Champion
RMCGF Appearances: 1 (2013)
Warm-up: 1:01.225 (7th)
AvsB: 2nd (9th)
AvsC: 6th (9th)
DD2
#305 – Nathan Mauel
Age: 31
Hometown: Broken Arrow, Oklahoma
Qualified: US Rotax Grand Nationals – Third Place
RMCGF Appearances: 5 (2004, 2005, 2006, 2008, 2009)
CvsD: 26th (32nd)
BvsD: 32nd (32nd)
#317 – Nathan Adds
Age: 17
Hometown: Caddo Mills, Texas
Qualified: US Rotax Grand Nationals Champion
RMCGF Appearances: None
AvsB: 14th (36th)
BvsD: 18th (35th)
#329 – Jake French
Age: 19
Hometown: Sachse, Texas
Qualified: US Open
RMCGF Appearances: None
CvsD: 10th (12th)
BvsD: 16th (12th)
#332 – Sabre Cook
Age: 21
Hometown: Grand Junction, Colorado
Qualified: Rotax Challenge of the Americas Champion
RMCGF Appearances: None
CvsD: 31st (17th) – spun on lap three
AvsC: 20th (18th)
DD2 Masters
#406 – Scott Roberts
Age:
Hometown: Orlando, Florida
Qualified: US Rotax Grand Nationals Champion (Masters Max)
RMCGF Appearances: None
Warm-up: 1:00.421 (15th)
CvsD: 21st (32nd)
BvsD: 29th (32nd)
#409 – Luis Schiavo
Age:
Hometown: Miami, Florida
Qualified: US Rotax Grand Nationals Champion
RMCGF Appearances: 2 (2010, 2014)
Warm-up: 59.623 (1st)
AvsB: 4th (5th)
AvsC: 2nd (5th)
#413 – Derek Wang
Age:
Hometown: Seattle, Washington
Qualified: US Open
RMCGF Appearances: 4 (2010, 2011, 2013, 2014)
Warm-up: 1:00.299 (25th)
AvsB: 2nd (1st)
AvsC: 4th (1st)
#420 – Paul Bonilla
Age:
Hometown: Cypress, California
Qualified: Rotax Challenge of the Americas
RMCGF Appearances: None
Warm-up: 1:00.151 (11th)
AvsB: 35th (27th) – involved in incident
AvsC: 19th (27th)