Rotax Max Challenge Grand Finals – Monday Report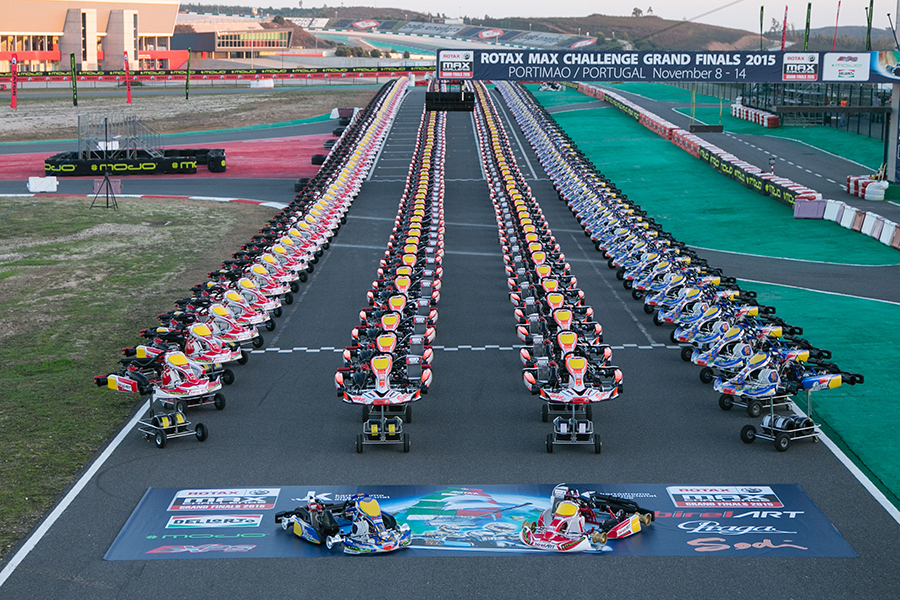 Welcome back for the sensational 16th edition of the Rotax MAX Challenge Grand Finals (RMCGF) hosted at the prestigious Kartódromo Internacional do Algarve in Portimão, Portugal!
Drivers from more than 50 nations have traveled to this track and prepared year-round for a week-long race event as challenging and fun as the RMCGF. In fact, the Formula 1 veteran driver, Rubens Barrichello, will be competing this year, too!
Saturday and Sunday saw the 288 international drivers register and begin their journey to the top step of the podium.
The annual, spectacular Welcome Party was held Sunday night at the Hotel Alvor Baia, giving drivers and team members a chance to relax and make new connections from around the globe.
The party also served as the kick-off for the Team Contest, where 22 international teams showed off their team and country spirit, wearing matching uniforms and singing their homeland's National Anthem. On Facebook you can like which team you favor, and the winning team, the one with the most likes on Facebook and with the jury's approval, will be announced on Saturday night at the driver's party.
Monday saw drivers crowd around the kart raffle announcer, eagerly awaiting to hear what Rotax engine and kart they will be assigned. Mechanics were also given hardware from Rotax to begin assembling karts in preparation for the first practice session held tomorrow.
Rotax would also like to extend a warm thank you to its chassis partners – Birel ART, IPKarting (Praga) and Sodikart, as they have worked very hard to contribute to the making of the 16th annual Rotax MAX Challenge Grand Finals.
We have another exciting piece of news to announce: for the past two races held at the Iberian Peninsula in 2012 (Portugal) and 2014 (Spain) we encountered cold and rainy conditions, but this year's Grand Finals is looking to be warm and sunny!
Stay tuned for our upcoming daily reports, which bring the intense action of the RMCGF to you!
The Rotax MAX Challenge (RMC) is a professional kart racing series established, owned and organized by BRP and its Rotax kart engine distributors. Approved by and in compliance with CIK / FIA, the RMC is a "one-make-engine" formula: only Rotax kart engines that are checked and sealed (for equal performance) will be used. The success in the competition is mainly up to the skills of the driver.