JMH Signs Jordan Fresher for 2016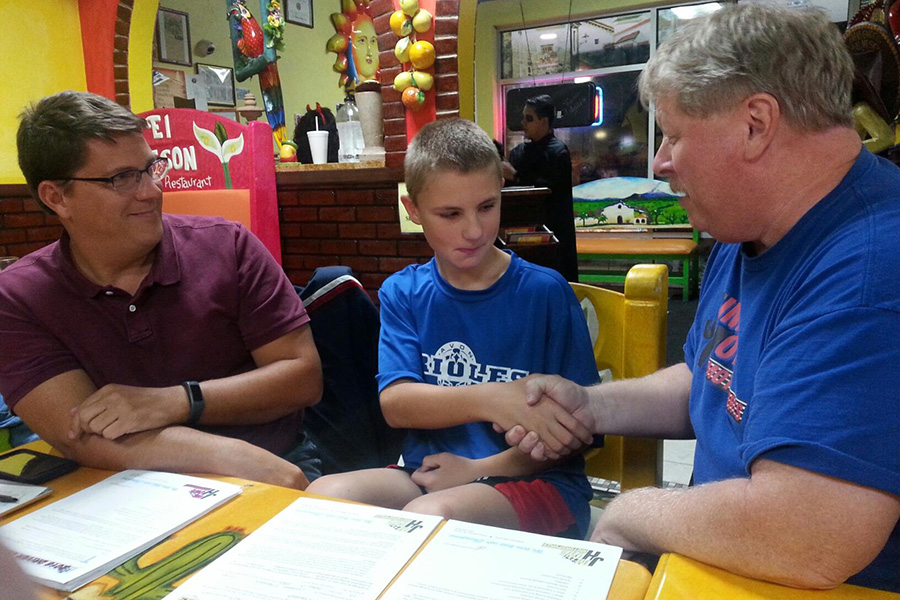 Under the watchful eyes of dad Tom Fresher (left), Jordan Fresher and Jim Howe shake on their deal for the youth to drive for Jim Howe Motorsports LLC in 2016. (Photo by Steve Driscoll)
Columbus, Indiana-based Jim Howe Motorsports LLC has signed 12-year-old Jordan Fresher of Avon (IN) to drive for the go-kart racing team in 2016. He will drive the team's #62 Birel kart in a tentative 15-race schedule next season.
Fresher is the son of Tom Fresher, also of Avon. The youth is a seventh grade student at Avon Middle School North with Orchestra and Math as his favorite subjects. In his spare time, he likes to ride his bike, play video games on his PlayStation 3, wrestle, and take vacations – mostly to races – with his dad. Favorite foods include quesadillas, pizza, hot dogs, chili, pancakes, waffles, and eggs.
The younger Fresher is in his second year of racing. He campaigned a kart for his father in 2015, running Yamaha Rookie and Junior Sportsman events at the historic Whiteland (IN) Raceway Park and New Castle (IN) Motorsports Park. He finished sixth in the Junior Sportsman Tony Stewart Racing Series championship at WRP
He will drive the team's Junior (1) Sportsman mount, affectionately named "Mo," in 2016. He will run for rookie of the year in the Southern Indiana Racing Association (SIRA) Midwest Championship street circuit along with selected events at WRP and other tracks TBD. The team proudly runs Birel chassis with Yamaha engines from Brian Seward and his BBS Race Engine Development shop.
"I like going fast and meeting other people who love racing," the youth said during the team's signing ceremony at a nearby restaurant, "and I'm looking forward to becoming a better driver and driving a kart that is better tuned next year when I drive for JHM."
His dad, a Senior Operations Engineer at Wabash Valley Power, added "With 2015 being our first year in karting, I quickly learned the value of receiving help and advice from those who have experience. Signing with JHM for 2016 ensures Jordan will receive the very best driving instruction, driving etiquette, and kart maintenance and tuning knowledge. I can't wait to see how Jordan progresses next year both as a driver and a young man!"
"Young Jordan came on my radar sometime during the 2015, courtesy of a mutual friend," team general manager Jim Howe noted, "and I got a chance to talk to him and his dad late in the year. After watching Jordan, I believe he has the talent to be a very good driver and I'm pleased he's going to allow me to help bring him along. I'm really looking forward to next year."
The team is seeking to fill its second seat for a matching #62 Birel in the Junior (2) Supercan class. JHM is looking for an individual, age 12-15, to be a teammate to Fresher. No experience is required. Applicants are encouraged to contact the team via email or the team's Facebook site. Sponsorships are currently being sought for both karts.
Jim Howe Motorsports LLC was founded in 2000 with Christina Howe piloting the familiar #62 kart. Drivers since then have included Dylan Brock (Columbus, IN), Daniel Pearcy (Shelbyville, KY), sisters Cokie and Emma Gaich (Indianapolis), Garritt Powell (Brownsburg, IN), Bransten Peavler (Orestes, IN), and Eli Fox (Whitestown, IN). Brock, Pearcy, Cokie Gaich, Peavler, and Fox all posted victories during their career in their #62 rides with Pearcy also winning a Junior Supercan championship in 2011. The team's mission is to bring kids with little or no experience into motorsports and prepare them for advancement in the sport. Jim Howe, 56, is a 40-year-plus veteran of racing. Before his karting days, he served as a mechanic on dirt late models with additional stints performing timing/scoring and management duties at various dirt and pavement tracks in Indiana; acting as news editor at National Speed Sport News under the late Chris Economaki; and serving as PR Director for the American Speed Association (ASA).