So Cal Oval Karters End Season Saturday at Perris Auto Speedway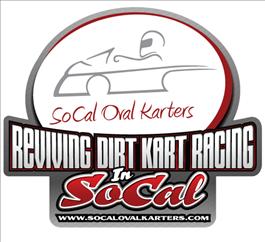 A little more than 7 ½ months and 12-races ago, The So Cal Oval Karters opened their 2015 season at the Perris Raceway.  Only a few miles away from where that season opener took place, the popular karting club will bring down the curtain on the successful year at Perris Auto Speedway this Saturday afternoon, October 31st.  Gates will open at 9:00 AM and the first race will be at noon.  In honor of Halloween, all Junior racers will race for free.
Point leaders Troy Patton of Cherry Valley in the KT100's, Troy McIntosh of Lake Elsinore in the F200's, Bonita's Matt Martis in the Senior 4 Cycles and Camarillo's Mike Nigh in the Open Class, will all be on hand and can all wrap 2015 championships on Saturday.  In addition to the four adult classes, the JrJr Class for kids will be in action before they jump into their Halloween costumes to collect candy treats on Saturday night.
The SCOK will also be offering their popular arrive and drive program.  Potential new drivers can jump into a race kart built by the So Cal Oval Karters and cut some laps.  The cost is only $25.00 for 10 laps (there is also a $10.00 admission fee to the facility).  The "Arrive and Drive" is designed for kids age 8 and up and for adults as well and allows prospective racers to give karting a try for a few dollars to see if they like it.  If they do, they can then jump in with both feet, get equipment and be ready for the 2016 season opener.
Arrive and drive drivers have to wear tennis shoes, a long sleeve jacket and jeans.  If they have a helmet, it is recommended they bring that as well, but for those who do not have one, some helmets will be available.  Gloves and racing collars will be supplied by the SCOK.
Spectators can attend the event, but are advised that the grandstands will not be open.  Spectators will have to enter via the pit parking lot, buy a pit pass for $10.00 and watch from behind the k-rail of the track that will be built in the infield.
The So Cal Oval Karters would like to thank the following sponsors who help make the series possible.  Burris Racing, Cory Kruseman Sprint Car Driving School, Hubcapmike.com, Perris Auto Speedway, Professional Announcer Chappy, R&J Motorsports, THC Home Medical Services, T-MAC Racing and Yamaha of America Racing Engines.  If you would like to become a part of the So Cal Oval Karters 2015 season, please call or E-mail Mike Nigh at (805) 857-2595 or mailto:scokart@gmail.com.
So Cal Oval Karters Point Standings
KT100
1. Troy Patton – Cherry Valley – 1681
2. Rob Marion – Oxnard – 1634
3. Rev Parker – San Pedro – 1593
4. Tyler Wilson – Long Beach – 1569
5. Randy Truax – San Diego – 1496
F200
1. Troy McIntosh – Lake Elsinore – 1730
2. Scott Gaynor – Banning – 1625
3. Steve Juillerat – Whittier – 1310
4. Justin Garcia – Riverside – 1260
5. Don Amigliore – Menifee – 1040
SR4 Cycle
1. Matt Martis – Bonita – 1760
2. Jason Voss – Lake Elsinore – 1690
3. Garret Schill – Riverside – 1630
4. Aubrey Oppelt – Lake Elsinore – 1524
5. Desiree Gaynor – Banning – 1411
Open
1. Cody Nigh – Camarillo – 1755
2. Steve Patton – Cherry Valley – 1665
3. Norm Reynolds – San Marcos – 1115
4. Chad Griggs – Lakeside – 830
5. Chris Gibb – Long Beach – 690 *
* = Non Member
2015 So Cal Oval Karters Winners
KT100: 3/21 Perris Raceway Rev Parker, 4/11 Wheel2Wheel Raceway Troy Patton, 5/16 Wheel2Wheel Raceway Brody Roa, 5-30 Perris Auto Speedway Road Course Rob Marion, 6-20 Perris Auto Speedway Rob Marion, 7/4 Wheel2Wheel Raceway Rob Marion, 7-25 Industry Chris Gibb, 8-8 Perris Raceway Troy Patton, 8-22 Perris Auto Speedway Brody Roa, 9-12 Wheel2Wheel Troy Patton, 9-26 Perris Raceway Brody Roa, 10-10 Wheel2Wheel Troy Patton
F200: 3/21 Perris Raceway Matt Drottz, 4/11 Wheel2WheelRaceway Jason Morheiser, 5/16 Wheel2Wheel Raceway Troy McIntosh, 6-20 Perris Auto Speedway Troy McIntosh, 7/4 Wheel2Wheel Raceway Jason Morheiser, 7-25 Industry Troy McIntosh, 8-8 Perris Raceway Troy McIntosh, 8-22 Don Amigliore, 9-12 Wheel2Wheel Don Amigliore, 9-26 Perris Raceway Steve Juillerat, 10-10 Wheel2Wheel Don Amigliore
SR 4 Cycle: 3/21 Perris Raceway Matt Martis, 4/11 Wheel2Wheel Raceway Matt Martis, 5/16 Wheel2Wheel Raceway Jason Voss, 5/30 Perris Auto Speedway (road course) Matt Martis, 6-20 Perris Auto Speedway Jason Voss, 7/4 Wheel2Wheel Raceway Matt Martis, 7-25 Industry Matt Martis, 8-8 Perris Raceway Danny Morheiser, 8-22 Perris Auto Speedway Jason Voss, 9-12 Wheel2Wheel Matt Martis, 9-26 Perris Raceway Matt Martis , 10-10 Wheel2Wheel Matt Martis
Open: 3/21 Perris Raceway Darren Elliott, 4/11 Wheel2Wheel Raceway Chris Gibb, 5/16 Wheel2Wheel Raceway Cody Nigh, 5-30 Perris Auto Speedway (road course) Mike Collins, 6-20 Perris Auto Speedway Cody Nigh, 7/4 Wheel2Wheel Raceway Steve Patton, 7-25 Industry Steve Patton, 8-8 Perris Raceway Cody Nigh, 8-22 Perris Auto Speedway Chris Gibb, 9-12 Wheel2Wheel Cody Nigh, 9-26 Perris Raceway Cody Nigh, 10-10 Wheel2Wheel Cody Nigh