Phil Giebler Racing to Distribute Ricciardo Kart on West Coast
Veteran American racer and team owner, Phil Giebler of PGR Racing, becomes the West Coast distributor for Ricciardo Kart and Freeline products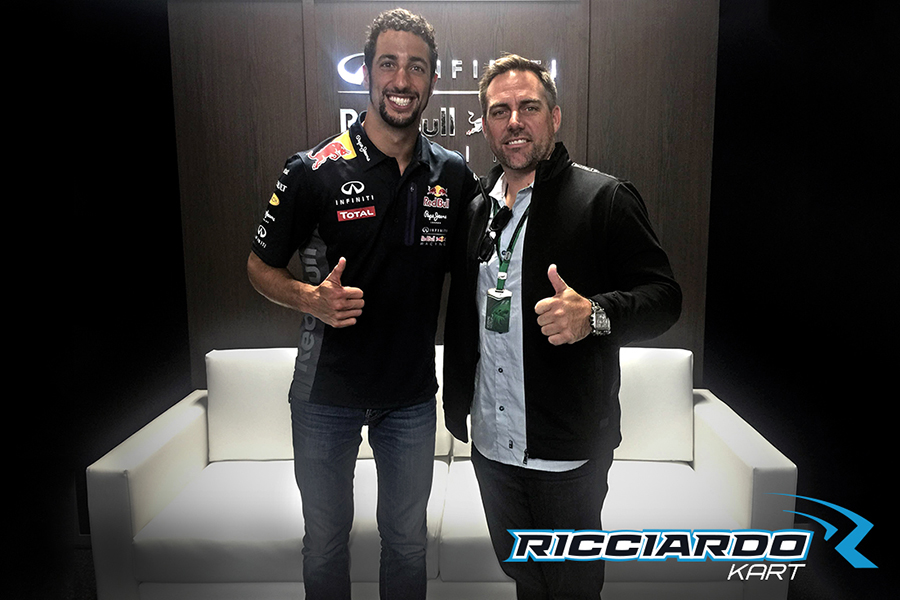 Daniel Ricciardo with Phil Giebler during the F1 United States Grand Prix (Photo: PSL Karting)
After a very successful launch of the Birel ART and Ricciardo Kart products at the at the end of the third quarter in 2015, the brands have created their own momentum which has been carried across to the West Coast with Phil Giebler Racing. After coming to a formal agreement with the importer PSL Karting, Giebler will control the Ricciardo Kart west coast distribution and race team for the 2016 season and beyond.
Giebler started testing the chassis mid season, immediately putting a few of his top team drivers into the seat where the PGR and crew began to see results out of the box. "I'm very impressed with the speed of the chassis; it's been quick and easy to tune," explained Giebler. "In addition, it's great to give the Western United States a top caliber racing chassis. After I visited the factory in Italy, I understood the passion and vision that Ronni Sala (President, Birel ART) has for competition".
After only 4 events on the Ricciardo, PGR has claimed 3 poles and 3 wins with a combined 3 Championship titles in SKUSA and LAKC competition. Plans to launch the Ricciardo kart are set for Nov 18-22, 2015 at the Las Vegas SuperNationals.
"Phil and his team were a natural fit for the Ricciardo Kart on the west coast. It's a functional machine with a seriously impressive track presence." explained PSL's Dominic Labrecque. "PGR is a well known name in the karting industry and we are proud to have Daniel Ricciardo represented by such a respected group."
The Ricciardo Kart is part of the Birel ART Group's already successful chassis line. In 2014, ART formed a partnership with Birel ART which has a proven track record of success. All Road Management's Nicholas Todt and Alessandro Bravi bring a wealth of knowledge and planning which have assisted in the development of the Birel ART product line.
Daniel Ricciardo (Infiniti Redbull Racing), an Australian Formula 1 driver and avid karter, competed at the F1 United States Grand Prix, in Austin Texas this past weekend. Daniel can be followed on twitter @danielricciardo
For more info about PGR: www.philgieblerracing.com
Follow PGR on Facebook: http://www.facebook.com/pages/Orange-CA/eKartingCocom/165704928459
Please follow and like us: