Bass Bags Four at Battle at the Beach, Penny Pockets $1,500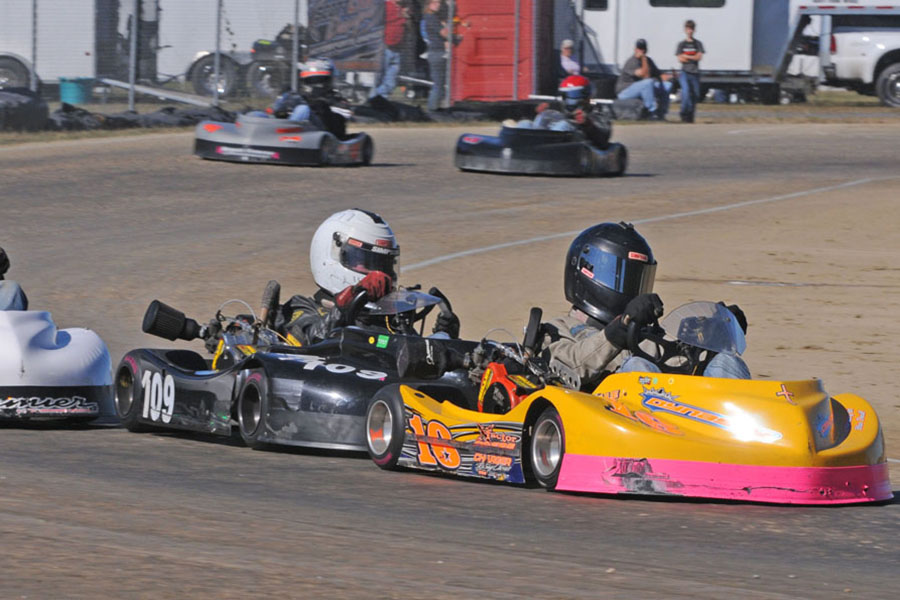 Pro Animal-#16-Ty Bass, #109 Alex White, #55-Brandon Morris (Photo: Bruce C. Walls/Action Sports Photos)
Piloting a Tod Miller Racing Engines powered Charger chassis, Ty Bass, of Pikeville, N.C., produced four wins last Sunday (Oct 11) during US-13 Kart Club's hosting of the fourth of five races in the Maxxis Tires Battle at the Beach series. In addition to the 21-kart classes raced at the Delmar, DE track that day, flat track motorcycles raced in exhibition heats and features along with a round of practice. Kart races were divided into two segments.  Each segment received two rounds of practice followed by qualifying and features.
Bass began his foursome on the 3/16th mile clay oval in the second race of the first segment, Flathead.  Chris Stelljes turned the top qualifying lap for the pole and hustled into the early lead with Bass close behind.  Bass looked high and low for away around Stelljes until just before mid-race when Bass shot around him exiting turn two.  Bass led the field under the halfway signal.  Two laps later Bass built a little cushion over John Davis who took second from Stelljes. Next time around the caution flag erased the lead Bass built.
With Davis and Hartley, DE, based Taylor Pleasanton and the rest of the field tucked in tightly behind him Bass led them back to the green flag.  Bass held on as Davis threatened him down to the finish line where less than a second separated them.  Pleasanton trailed closely behind Davis and was followed in the top five by Kyle Ayres and Stelljes.
"The caution worried me a little," Bass explained.  "It took a little bit for my stuff to get going real good.   After about five or seven laps my stuff really got going and I didn't feel like anybody had anything for me after a good number of laps, but at the start I didn't get off as well. The number 11 (Davis) he worried me a little bit."
The first segment ended with Alex White, of Lewes, DE chasing Bass across the stripe from a distant second 1.475 seconds late. Nick Helgason, Brady Penny and Zach Bullis filled the remaining top five positions.
Lewes, DE driver Alex White won Pro Flathead pole.  Bass struggled in qualifying and was forced to start deep in the field.  White led for three laps before Bass got by him. "I started a little bit far back in the field. I knew we'd be pretty good flathead racing here. Shane told me to drive smart and not wreck myself getting through the field.  When I got up to about third and second I knew I was better then the guys in front of me," Bass described.  "Then I just started to worry about who was following me through. After I saw I had a pretty good gap I just sat there and rode." White stayed with Bass for the remaining 17-laps finishing 0.813 seconds later.   Pleasanton, Shane Forrest and Stelljes rounded out the top five.
"The Charger chassis handled pretty good, I've got to thank Shane for that.  I also want to thank Squeaky, my dad, everybody at X-Factor Racing, Charger Racing Chassis and Tod Miller Racing Engines, this is unreal, Bass thanked.
Bass ended the first segment with a third win this one in Pro-Animal.  Once again White won the pole and once again he followed Bass across the stripe, this time 1.475 seconds late.  Feature winners Nick Helgason and Brady Penny finished third and fourth followed by Millsboro, DE driver Zach Bullis in fifth.
Bass kicked off the second segment with his final win this one in Clone Heavy.  Bass rocketed off from the pole and was never seriously challenged on his way to a perfect run. Brady Penny, Thomas Underwood and Evan Dennis completed the top four.
Finally, after three disappointing efforts, White finally found Victory Lane.  White won Clone Warm Up's pole and then led the large field wire-to-wire through several restarts.  "We were really good at the start and as it went on it got a little loose," said White, who pilots a Kevin Smith Racing Engines by Eric Vause powered Recon Chassis.  "The restarts didn't really worry me I knew I had everything under control.   The kart handled really good. I really like the new Recon chassis they're really good."
Catlett, VA competitor Brady Penny was the big money winner that day.  Penny, piloting a P&P Speed Shop powered Phantom Triton chassis, earned three wins in the second segment including the $1,500 Pro Clone purse.  In addition to Pro Clone Penny won Outlaw and Pro Outlaw.
After jumping into Pro Clone's the early lead Penny had to protect his position through several cautions where he was seriously challenged before taking the checkered flag. The final laps were lead swapping battles between the front-runners.
"The starts were a little rough. But Brian hooked us up and it started going better after halfway and we took off from there and there was no going back," Penny described.  "I just want to thank Bryan Bradford, Jackie, Jonathan Cash for the engine, Phantom Racing Chassis for the kart, my grand mom, my mom and everyone who helps me over there in the pits, they're the best."
Four racers were double winners.  Brandon Kelly bagged Junior 1 in the first segment and Junior Stars-Trophy in the second segment.  In Junior 1 Kelly captured the pole, the race and the championship.  The 10-year-old Phantom Racing Chassis Icon kart pilot, out of Lincoln, DE, roared away from the pole, but was run down by Gage Fitchett.  They traded the early lead back and forth before Kelly captured it for good lapping traffic before it was over. Fitchett followed in second.  Ryan McKinney trailed in third, but was disqualified moving Colin James into the official third place finisher.
"I was worried at the beginning.  When Gage (Fitchett) came by me and Ryan (McKinney) got a little bit slower and that's what caused Gage to get by me.  But it really feels really good getting this championship," he said adding thanks to sponsors Rick Avello, Dynamic Prepnologies, HP Speed and L&L Geothermal.
Kelly and Fitchett were back battling nose-to-tail in the second segment.  When a mid-race caution flag flew Kelly's #R1 machine was leading.  From there it was all Kelly's race.
Piloting a Hustler/Kevin Colborn Racing Engines powered Primer Kart Zach Fields, of Wyoming, DE, completely dominated the Junior 2 offerings. In the first segment's Junior 2 he crossed the stripe with a full lap on the field.  Brock Vincent trailed a distant second followed in the top five by Jake King, Olivia Powell and Spencer Warren.
"I can't thank everybody who helped me enough," credited the 12-year-old winner.  "I think we pulled away pretty good and I can't wait to do it in the Pro class too. The Primer kart was great.  I can't thank Hermie Sadler, Austin Banker and Austin Wad enough for what they've done to make it go that fast.  I can't thank Kevin (Colborn) and Huffy enough for what they've done for me, they've done everything."
The second segment's Pro Junior 2 race was almost a repeat of the Junior 2 race with Field's #55 machine again dominating the field.
Ridgley, MD racer Garrett Himmighoofer grabbed a pair of Junior 3 wins.  In the first segment his #18X Kevin Smith Racing Engines (KSR) powered Triton kart shared front row with the #17 of Denton, MD driver Trent Read.  After a trio of failed starts they finally got racing which gave Himmighoofer a chance to build himself a small cushion over Reed.  To laps later the fourth caution waved.  When racing resumed Himmighoofer got back on the gas and was comfortably in control when the mid-race signal was shown. He showed them home from there.  Reed trailed 1.964 seconds later followed in the top five by Hunter Heck, Austin Ware and Jake Tucker.
"The early cautions worried me a little bit I thought they were they were on my bumper," admitted the 13-year-old double winner during his first trip to Victory Lane. "The kart was good in the beginning and then it started to go away.  It was getting a little tight.  The KSR motor was good it had us going around the track pretty fast."
Inn the second segment Himmighoefer earned Pro Junior 3's pole from where he dominated the field.
"It feels great getting two wins today I'm not going to lie, it feels great winning two today," Himmighoefer beamed after his second win. "The kart felt a little better in this time, it was a little looser in this one."
Logan Shockley led the Junior 1 Rookie and Junior 1 Rookie fields across the finish line. "The kart handled real good," said six-year-old Shockley of Snow Hill, MD. "The P&P Racing Engines motor was good too and that's what helped me win," he added with thanks to his dad for all the help and support.
Clayton Peters and Emily Rushing trailed him in second and third each time.
Nicholas Brobst, of Salisbury, MD and Mike Stratton, of Milford, DE started the first segment with a dicey battle for Super Heavy's win.  Brobst, piloting a Phantom Racing Chassis Seraph chassis, earned the pole and hustled into the early lead with Stratton pressuring him from behind.  Stratton slipped past Brobst on the second lap and then slipped off of the track in turn two next time around.  The race stayed green and Brobst retook the lead, which he held to the end with a narrow 0.546 seconds edge over Stratton.
"I was worried when Stratton got under me there.  That's happened to me the last couple of races here," Brobst said.  "He's been pulling away from me, but I got him back going back into turn one and held onto it from there.  This is the first time we've taken the Phantom Chassis out this year.  It's an old kart, but it's always worked pretty well.  It was all right, but it was a little snug and was hopping out of the corners, I don't know how I won."
Chris Schultz trailed Stratton in third.
Nick Helgason, of Eldorado, MD, notched another Animal Heavy win.  This time White was close behind by just 0.232 seconds.  "I was getting signs from my brother, but I was pretty confident with what I had," Helgason described.  "The Milleium Racing Chassis worked good it always does.  Huffy's motor was working good just like last time."
Earning the rest of the top five positions behind White were Thomas Underwood, Penny and Hartley, DE driver Dustin Pleasanton.  Zach Bullis, of Millsboro, DE, was fifth, but he skipped the scales, which put Pleasanton in the official fifth place position.
Seven-year-old Georgetown, DE driver Raycn Hayes ruled Junior Stars.  Behind his HP Speed Shop powered Slack kart were Ivan Godwin and Braydon Taylor for the top three.  "I just pushed on the gas pedal," Hayes described.  "The kart and motor worked good."
Battle at the Beach racers conclude their season Saturday October 31 in what will be a combined billing with the annual Diamond State 50.   Pro Clone's 50-lap winner is guaranteed $4,000.00 and the Clone Warm Up winner will earn $1,000.00 guaranteed.  Line-ups are listed on the US 13 Kart Racing Facebook page and at the club's website at www.us13kartracing.com.
Race teams will be bringing bags of candy for costumed Trick or Treaters who will be visiting them through the pits during intermission.
Please follow and like us: