Davide Fore Wins Race of Stars After Epic Gold Coast Battle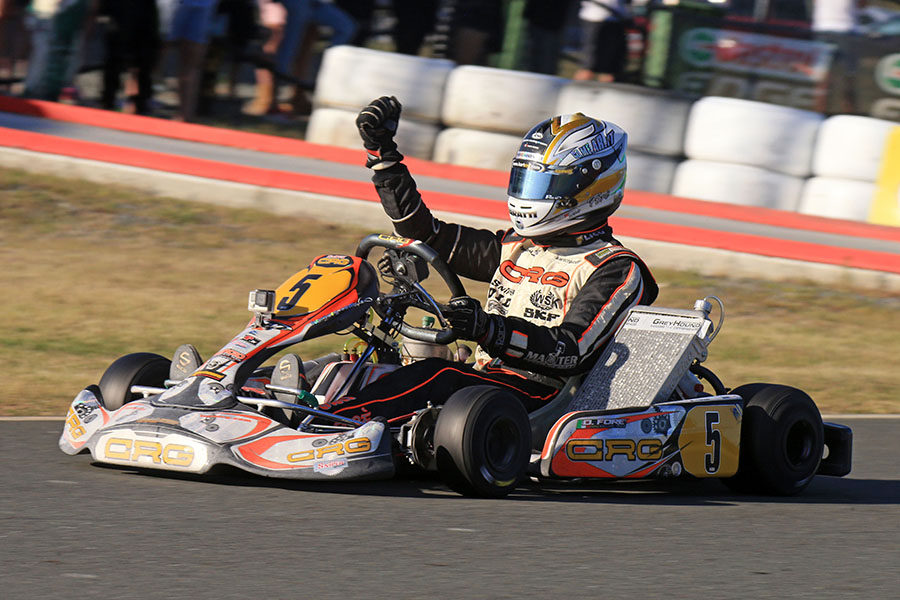 Davide Forè crossing the line forvictory at the Race of Stars (Photo: Coopers Photography
Five-time World Karting Champion, Davide Forè has added a second Winners Surfboard from the Race of Stars to his extensive trophy collection after an epic race on the Gold Coast on Saturday.
Qualifying for the final on pole by virtue of his heat race finishes, Fore was stunned by his CRG team-mate Kyle Ensbey who made the best of the outside front row to take the lead in the early running.
The icon of world karting then chipped away staging a number of thrilling side-by-side attempts to get past Ensbey into turn one in excess of 160 kilometres per hour.
The gritty Queenslander hung tough though and was able to hold the lead until three laps remaining in the final, when the Italian superstar made the decisive move.
Ensbey was pushing on attempting to stage a last lap lunge on his team-mate, however didn't take into account Ricciardo Kart youngster, Marijn Kremers. The 17-year-old from The Netherlands surprised Ensbey with a move with one corner left to go. He worked his way forward from 12th on the grid.
A devastated Fore dedicated his victory to his 'Nonna' who passed away on Friday, the 41-year-old returning to Italy within hours of the event finishing.
"I cannot thank the team enough for keeping me motivated and ensuring my focus on this race," said Fore.
"It has been a very tough weekend for me, but I am so happy to have got the second Race of Stars win here, it has been a wonderful weekend for CRG here in Australia. I dedicate this race to my Nonna, who I love very much and she has always pushed my career."
Jason Faint crossed the line fourth ahead of Jaie Robson (CRG), who earlier in the day blew an engine, and inaugural Race of Stars Champion, Chris Hays.
In the elite junior category, KF3 Victorian Oscar Piastri was the first driver home. The FA Kart driver had a hard fought three way battle with Queenslander Joshua Rogers and Aaron Cameron, who, like Piastri has been racing in the European KF3 Championships this year.
Piastri narrowly led Rogers (Kosmic) across the line, just a tenth of a second splitting the pair. Cameron (Kosmic) was third with Broc Feeney having his best KF3 race in fourth and Flynn Jakes an exceptional fifth.
Emerald, Queensland based racer, Benjamin Finch took an emotional victory in the hard fought KA TaG class. It was his first major event victory that he dedicated to his father who passed away last year.
It was a tough battle that also included Chris Farkas (Tony Kart) and at times, pole-sitter, Jack Black (Exprit).
Harrington Doyle Arrow driver, Luke Flynn worked his way forward to be on racing terms with Finch, chipping time out of his fellow Queenslander through the final stages of the race. In the end the margin was just 0.021 between the pair.
Farkas came home third with Brendan Nelson fourth and Blake Worboys fifth. Troy Morrissey started deep in the 38-kart pack and came through for sixth placing, at one stage running third.
KA Junior provided one of the closest finishes in the history of Australian karting with the top three covered by 0.053 of a second. Thomas Davies was able to get the run on the front straightaway in his PIRTEK backed kart to eclipse Shamick Racing's Joshua Smith and Tyler Everingham – the pair who were at the front of the race for the entirety.
Thomas Sergeant took a terrific fourth while Declan Fraser rounded off the top five.
The KA12 category for drivers between 9 and 12 delivered a tight finish between Jay Hanson and Kiwi Connor Davison. Davison pushed Hanson right to the line, the margin of victory just 0.026.
Oscar Comley staged a terrific through the field drive to finish in third position while Emerson Harvey and Thomas Cooper rounded out the top five.
In KA1, Bundaberg racer James Litzow made it another CRG victory after a terrific race.
Litzow led the race early however a skirmish with fellow CRG pilot, Brett Robinson allowed James Adams to establish a lead. Litzow cleared Robinson and then set about chasing down Adams. It took him until the final lap to make the decisive move and record a memorable victory.
Robinson was able to come home third, while in KA1 Masters – the race-within-the-race, Paul McNeil took victory over Perry Evans and Michael Dorman.
A huge crowd once again turned out for what has become one of the iconic races on the international karting calendar. The Race of Stars powered by SuperFest, which is a series of lead up events to the V8 Supercars Castrol Gold Coast 600.
RESULTS – 2015 RACE OF STARS powered by SuperFest
KZ2
1. Davide Forè (Italy)
2. Marijn Kremers (Netherlands)
3. Kyle Ensbey (QLD)
KF3
1. Oscar Piastri (VIC)
2. Joshua Rogers (QLD)
3. Aaron Cameron (VIC)
KA TaG
1. Ben Finch (QLD)
2. Luke Flynn (QLD)
3. Chris Farkas (QLD)
KA1
1. James Litzow (QLD)
2. James Adams (NSW)
3. Brett Robinson (NSW)
KA 1 Masters
1. Paul McNeil (QLD)
2. Perry Evans (QLD)
3. Michael Dorman (NSW)
KA Junior
1. Thomas Davies (NSW)
2. Joshua Smith (VIC)
3. Tyler Everingham (NSW)
KA12
1. Jay Hanson (VIC)
2. Connor Davison (NZ)
3. Oscar Comley (QLD)
About the Race of Stars
The Gold Coast in Australia is one of the most picturesque places in the world and now it has a race that has been designed to attract the best kart drivers from all across the globe.
The Race of Stars powered by SuperFest will see more than 150 of the top kart racers from Australia, New Zealand, Italy and the Netherlands competing at the prestigious event.
SuperFest – an initiative of the Queensland Government, City of Gold Coast and V8 Supercars Australia – is a community events program that provides support to organisations and groups wishing to host events and projects that contribute to the festival surrounding the Castrol Gold Coast 600.
The 2014 event attracted the likes of World Champions Davide Forè and Jonathan Thonon along with Daniel Bray, Lorenzo Camplese, Simo Puhakka, Marijn Kremers and Juan Manuel Correa.  These drivers battled with Australia's best pilots on a unique fast, flowing circuit that produced some spectacular action.
While the racing is spectacular, just as sensational is the time that can be spent by the visitors in the surrounds on the Gold Coast.
The Gold Coast offers some of the best beaches and theme parks in the world – it's famous for fun!
#JOINTHEPARTY #SUPERFEST #GC600