NOLA Sprint Kart Championship – Round 10 Preview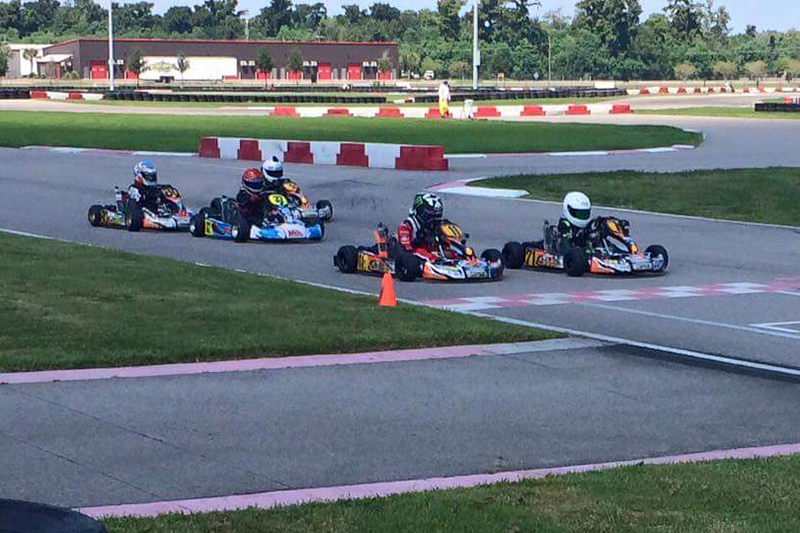 Green Flag for the Rotax Micro Max Final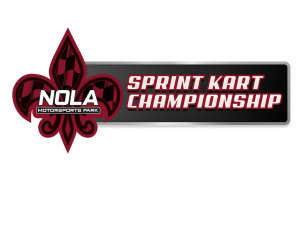 What a barn burner!!! NOLA Sprint Kart Championship Race #9 was jammed packed with great racing from all classes and had plenty of drama from the drop of the green flag for first practice to the checkered flag for the final race of the day. Going back to our normal day time schedule with great weather even with the low 90 degree temperatures, Junior 1 and Junior 2 kicked off the day of racing. Macon Moore (Ionic Edge) dominated the day in Junior 1 from the jump. The Baton Rouge native scored his sixth win of the year and claimed maximum bonus points stretching his lead to 50 points over 2nd place finisher Ayden Guilbeau (Coyote) in the championship. Max Meyer (CRG) finished 3rd over Camryn Reed (Ionic Edge) helping his chances for third place for the season. Junior 2 seen the consistent battle of Micheal Causey (Coyote) and Seth Corbin (Margay). Seth closed the gap on track but Causey claimed his eighth win of the season stretching his points lead in the championship.
Cole Killian (CRG) proved last race that he will be the one to beat in Rotax Micro Max going into the final stretch of the season. Killian ran away with the top spot in every session and set fast lap in route. Jesse Mitchell (CRG) and Noah Jordain-Carollo (CRG) battled hard during the Final with Mitchell prevailing to scored 2nd on a last lap pass in the turn 3 hair pin. Killian will hold a 56 point lead over Mitchell going into race #10.
The Briggs & Stratton Local Option 206 powered class of Senior 4-cycle provided the biggest story of the day with its field of 12 entries. Current points leader Greg Lacoste Jr. (Margay) was having a rare off day that included a spin in qualifying resulting in third place, and being involved in a racing incident in the Pre Final putting him back in an un familiar eighth starting spot for the Final. Scott Griffin (Razor) claimed bonus points for qualifying on Pole and Peter Tufaro (Margay) after a month off won the Pre Final with Greg Lacoste Sr. (Margay) running strongly in the top 3 all day. The 18 lap final seen Lacoste Jr. return to form working his way to the front by lap 4, putting in solid laps to bag his eighth win of the season, further stretching his points lead over Griffin who finished 5th and Anthony Harwin (K&K) who placed 7th. Jason Lee (CRG) ends his streak of misfortune with a 2nd place finish and Troy Smith (CRG) grabbed the final podium spot by .019 over Brandon Abidin (Bandit) at the line. Lacoste Jr. can clinch the championship in race #10 by placing 3rd or better in the final.
Rotax Junior Max for race #9 had an uncommonly low turn out which meant that their on track sessions would pair them with the Senior and Masters Max classes, but that didn't slow any of the 4 entries down. Championship contenders Logan McDonough (Tony Kart) and Bryce Boada (Kosmic) set the pace in class with McDonough taking Pole in qualifying and 3rd overall among the Seniors with Boada not far behind in 4th overall. The Pre Final brought a few shake ups, Tyler Bruno (CRG) with a solid opening lap moved up to second behind McDonough. That is how they ran, nose to tail, till 3 laps to go when McDonough went off track with another competitor forcing a DNF and a 4th starting position for his class. Bruno capitalized on his Pre Final performance by starting up front for the Final and holding on for his first win of the year. McDonough rallied back to 2nd place ahead of Boada in 3rd, stretching his points lead to 80 going into race #10.
Everett Thomas (CompKart) looked to be back on form in the Rotax Senior Max class with a pole position in qualifying and taking the Pre Final win, setting fast lap in route with John Robicheaux (FA Kart) trailing not to far behind. In the Final, the battle heated up between Thomas and Robicheaux with the two running laps no more than a tenth apart. At 6 laps to go Thomas made a small mistake in the turn three hair pin allowing Robicheaux to pull along side and make the pass for the lead and claim his first win of the season, and his first NSKC class win since May 2014. Sebastian Guerra-Mondragon (Tony Kart) rounded out the podium after a starting last in the Final due to a mechanical problem during qualifying, causing him to miss the Pre Final. Thomas, even finishing 2nd, stretched his lead to 246 in front of Zach Rouse (Energy) who scored a DNF due to a mechanical this race. Robicheaux with his win has propelled him to 3rd in the championship with a 20 point spread between Guerra-Mondragon and Jacob Crowell (Sodi) for the final trophy spot for the season. Rotax Masters Max seen the return of Todd Meyer (CRG) dusting the cobwebs off his kart from last year to take some time from the DD2 Masters class. Meyer battled most of the day with last race winner David Killian (CRG) and James Kreihs (FA Kart) and came out on top to claim the win in that class.
The battle that never developed from race #8 finally came to fruition for race #9 in Rotax DD2 Max. Joseph Hidalgo (CRG) showed to have the pace to keep up with current US Open points leader Luis Zervigon (CRG) in practice. Zervigon fired first shots with Pole Position and fast lap to back up his Pre Final win. The final seen Hidalgo get a great start and rocket to the lead by turn one over Zervigon. The two would swap the lead back and forth but in the end Hidalgo would prevail with the win over Zervigon in what would be the most entertaining battle to watch on the day. Zervigon with taking 2nd on the day and earning maximum bonus points closed his gap to points leader Chad Clark Jr. (CRG), who finished 4th, to 35 points with 3rd place finisher Al Hassenbohler (CRG) between them in 2nd at 25 points back. George Zarragoitia (CRG) scored an uncontested win in Rotax DD2 Masters finishing 3rd overall among the Rotax DD2 competitors. By using this race as his drop event, Todd Meyer has clinched the championship in Rotax DD2 Masters for 2015. The Shifter group grew a little bit this weekend with Blaine Cavin (Sodi) moving up from Rotax Senior Max to Shifter Semi Pro-S2. Cavin would go on to take his maiden win in the class over Patrick Leonard (Intrepid). Dallas Lassalle (CRG) continued his championship title run in Shifter Open with a class win, and Anthony Harwin (CRG) clinched his 2nd straight championship in Shifter Masters-S4 with a victory over Joseph Bernos (Birel).
Race #10, set for Saturday, October 24th, will be a revisit to an old favorite configuration. The tight and twisty .52 mile layout of Track F, first used in the 2013 NSKC season is a track liked by many of the racers. Spots to watch will be turn 7 at the end of the back straight as well as the tight turn 11/12 complex leading on to the short front straight to the start/finish line. Some track records still stand from 2013 but the fastest lap ever turned on this layout is held by Stephen Lamana in September 2014 at a 38.261 in a Shifter Semi Pro-S2 classed kart. This race will also be the final single day event for the season.
The NOLA Sprint Kart Championship is a track run racing series for sprint style racing karts at NOLA Motorsports Park, located less than 20 minutes west of New Orleans. The Championship will hold 12 races over 10 months with the majority being single day events with two doubleheader weekends and two Saturday night races held during the summer months. Each race in the series runs on one of over 80+ configurations that can be set for the NOLA Motorsports Park Kart Track, the largest and most versatile karting facility in North America that has hosted two international karting events, the 2013 Rotax Pan American and Rotax Grand Finals. NOLA will also host the first round of the Maxspeed Entertainment's US Open on April 21st thru the 22nd. Race track length can run from as short as a quarter of a mile to a mile in length.
Focusing on affordability and competitiveness, the NSKC's kart classes are based on the national rule sets for the Briggs & Stratton's Local Option 206, the United States Rotax Max Challenge and Superkarts USA's Stock Honda Shifter Category, helping to ensure that experienced and novice kart racers from 7 years old to 30 years plus can all have a level playing field to compete in. There is even an Arrive & Drive class that racers who do not own karts can come and compete in called the NOLA GT MAX Cup that uses concession style Sodi brand karts powered by 21 horsepower Rotax FR125 engines. All classes race for trophies and awards each race with end of the year awards handed out to points champions. The NSKC is also part of national points programs such as the United States Rotax Max Challenge, Briggs & Stratton Weekly Racing Series and the Sodi World Series.
Albeit a local or sometimes referred to as a "club" series, the NSKC often draws over 60+ racers, rivaling that of some larger regional events, attracting racers not only from the state of Louisiana, but Texas, Mississippi, Alabama and Tennessee. For more info on the NSKC and NOLA Motorsports Park, visit our website at www.nolamotor.com or send an email to karting@nolamotor.com
Please follow and like us: