So Cal Oval Karters 'Race for the Rack' Saturday at Wheel2Wheel Raceway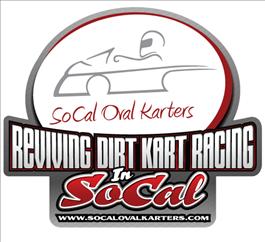 The So Cal Oval Karters will contest their next to last race of the 2015 campaign when they journey to John Aden's Wheel2Wheel Raceway for the third annual "Race for the Rack" this Saturday night, October 10th.   The race helps raise awareness and money for the fight against breast cancer.  The SCOK will be joined by the Speedway Sprints, DirtKarts and Extreme Sidecars.  Gates will open at 3:00 PM with racing at 6:00.
The top SCOK winner at Wheel2Wheel Raceway thus far this year has been Matt Martis.  The Bonita based racer, who leads all of SCOK with seven wins this year, has won three of the four Senior 4 Cycle main events staged W2W.  Other drivers with more than one on the longtime 1/8 of a mile High Desert oval in 2015 include KT 100 point leader Troy Patton of Cherry Valley, La Verne's Jason Morheiser in the F200's and Camarillo's Cody Nigh in the Opens.  Each of them have notched two wins at W2W this year.
Martis, Patton, Nigh and Lake Elsinore's Troy McIntosh (F200) all lead the championship standings in their respective divisions heading into Saturday's race.
At Saturday's race, the staff at Wheel2Wheel will have "Race for the Rack" T-shirts for sale, raffles, and donation tubs in the stands during the races. Proceeds raised will go to a breast health organization to further breast cancer research, diagnostic services, treatment and support for those fighting the disease. Saturday's event will also celebrate breast cancer survivorship, honor those who have lost their battle and spread awareness about this disease.
Wheel2Wheel Raceway is located adjacent to the 15 freeway on the San Bernardino County Fairgrounds in Victorville.
After Saturday's race, the SCOK will bring down the curtain on the 2015 season on October 31 at Perris Auto Speedway.
The So Cal Oval Karters would like to thank the following sponsors who help make the series possible.  Burris Racing, Cory Kruseman Sprint Car Driving School, Hubcapmike.com, Perris Auto Speedway, Professional Announcer Chappy, R&J Motorsports, THC Home Medical Services, T-MAC Racing and Yamaha of America Racing Engines.  If you would like to become a part of the So Cal Oval Karters 2015 season, please call or E-mail Mike Nigh at (805) 857-2595 or mailto:scokart@gmail.com.
So Cal Oval Karters Point Standings
KT100
1. Troy Patton – Cherry Valley – 1501
2. Rob Marion – Oxnard – 1464
3. Rev Parker – San Pedro – 1433
4. Tyler Wilson – Long Beach – 1419
5. Randy Truax – San Diego – 1341
F200
1. Troy McIntosh – Lake Elsinore – 1560
2. Scott Gaynor – Banning – 1460
3. Steve Juillerat – Whittier – 1140
4. Justin Garcia – Riverside – 1105
5. Don Amigliore – Menifee – 860
SR4 Cycle
1. Matt Martis – Bonita – 1580
2. Jason Voss – Lake Elsinore – 1540
3. Garret Schill – Riverside – 1460
4. Aubrey Oppelt – Lake Elsinore – 1382
5. Desiree Gaynor – Banning – 1246
Open
1. Cody Nigh – Camarillo – 1575
2. Steve Patton – Cherry Valley – 1505
3. Norm Reynolds – San Marcos – 960
4. Chad Griggs – Lakeside – 830
5. Chris Gibb – Long Beach – 520 *
* = Non Member
2015 So Cal Oval Karters Winners
KT100: 3/21 Perris Raceway Rev Parker, 4/11 Wheel2Wheel Raceway Troy Patton, 5/16 Wheel2Wheel Raceway Brody Roa, 5-30 Perris Auto Speedway Road Course Rob Marion, 6-20 Perris Auto Speedway Rob Marion, 7/4 Wheel2Wheel Raceway Rob Marion, 7-25 Industry Chris Gibb, 8-8 Perris Raceway Troy Patton, 8-22 Perris Auto Speedway Brody Roa, 9-12 Wheel2Wheel Troy Patton, 9-26 Perris Raceway Brody Roa
F200: 3/21 Perris Raceway Matt Drottz, 4/11 Wheel2WheelRaceway Jason Morheiser, 5/16 Wheel2Wheel Raceway Troy McIntosh, 6-20 Perris Auto Speedway Troy McIntosh, 7/4 Wheel2Wheel Raceway Jason Morheiser, 7-25 Industry Troy McIntosh, 8-8 Perris Raceway Troy McIntosh, 8-22 Don Amigliore, 9-12 Wheel2Wheel Don Amigliore, 9-26 Perris Raceway Steve Juillerat
SR 4 Cycle: 3/21 Perris Raceway Matt Martis, 4/11 Wheel2Wheel Raceway Matt Martis, 5/16 Wheel2Wheel Raceway Jason Voss, 5/30 Perris Auto Speedway (road course) Matt Martis, 6-20 Perris Auto Speedway Jason Voss, 7/4 Wheel2Wheel Raceway Matt Martis, 7-25 Industry Matt Martis, 8-8 Perris Raceway Danny Morheiser, 8-22 Perris Auto Speedway Jason Voss, 9-12 Wheel2Wheel Matt Martis, 9-26 Perris Raceway Matt Martis
Open: 3/21 Perris Raceway Darren Elliott, 4/11 Wheel2Wheel Raceway Chris Gibb, 5/16 Wheel2Wheel Raceway Cody Nigh, 5-30 Perris Auto Speedway (road course) Mike Collins, 6-20 Perris Auto Speedway Cody Nigh, 7/4 Wheel2Wheel Raceway Steve Patton, 7-25 Industry Steve Patton, 8-8 Perris Raceway Cody Nigh, 8-22 Perris Auto Speedway Chris Gibb, 9-12 Wheel2Wheel Cody Nigh, 9-26 Perris Raceway Cody Nigh
Please follow and like us: