Nicholson Speedway Racers Earn Points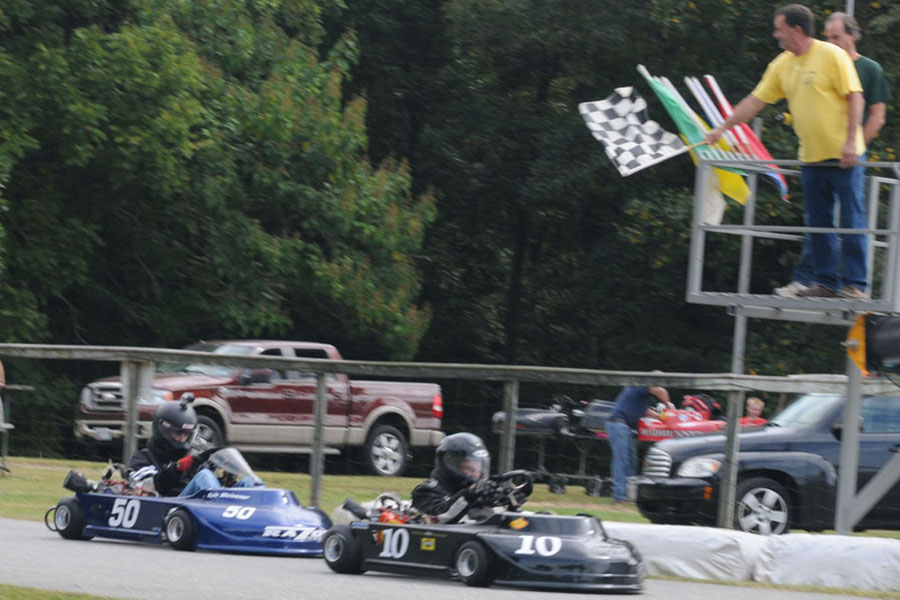 Animal Medium Heat Race #10-Frank Mills #50 Kyle Weissner (Photo: Bruce C. Walls/Action Sports Photos)
Adding to their challenge last Sunday (Sept. 27th) racers at Nicholson Speedway in Chestertown, MD competed in the reverse direction of the track's normal travel.  For young Brent Spangler, of La Plata, MD, it didn't matter which way he went he was a winner. He's been in a season long battle with Ben Maier for the Speedway's Kid Kart championship.  Sunday's win put him in the lead with three more races to go.
"I was fast and I stayed on the gas and I only got on the break a little in the corners," explained the 7-year-old racer who pilots an Eric Snell/NSR powered Birel Kart.  "I want to thank my dad, Eric Snell of NSR Racing Engines for a fast motor and Birel for the kart."
Behind him Miles Messe, Lucas Newsome and Ashley Newsome rounded out the top four.
With his brother Jason chasing him across the finish line, 12-year-old Hayden Rhode, of Millington, MDS, ruled Blue Plate's field piloting a Huffy Performance powered CKI Laser chassis.
"It was awesome beating my brother, its cool cause I did two times in a row," Hayden beamed.  "The Laser kart was find and Kevin's motor was awesome.  I want to thank Mike, my Pop Pop, Kevin (Colborn), my mom, my dad,
Kyle Weissner captured Animal Medium's checkered flag.  Weissner, piloting a GT Machine powered CKI Laser kart, shot into the early lead with the #10 machine of Kevin Cockerham staying with him in the early laps.   As the chase for the lead unfolded Weissner, of Gambrills, MD, built a very comfortable cushion over his nearest challenger.  Jake Conners was third, Frank Mills finished fourth followed by Shannon Spry who completed the top five.
"I just had the kart setup pretty good.  I love racing here at Nicholson Speedway it seems like a good fit for me," said the 25-year-old winner who's been club champion for four straight seasons poised for his fifth. "I think the weather helped here a little today.  I was definitely on rails today.  The motor was strong, it was freshly build by GT Machine, and I want to thank Dave Kohler for that and I want to thank my dad he does all of the work on
the kart."
Piloting a Kenny Burke Racing powered Bandit Kart Maurice Lins lead the way in the Legends class.  Cockerham didn't make it easy.
For many seasons veteran kart racer Mike, Osborn of Church Hill MD, was a national level 4-Cycle Sprint Champion   Now that he's semi-retired his nine-year-old son Jesse Osborn, is doing the driving.   Sunday Jesse showed he's up to the task topping Purple Plate point's leader Christopher Spray, Jr. after  a 100-lap battle.
"It was a good race for me because my kart ran fast" said the younger Osborn who pilots a CKI Laser kart powered by a Dave Blyman built motor.  "I want to thank my mom and dad."
Piloting a Kenny Burke Racing powered Bandit Kart Maurice Lins lead the way in the Legends class.  Cockerham didn't make it easy.  While fighting off challenges from Danny Wagner, Frank Mills  kept the pressure on Lins. In the final laps Wagner and Mills fight for second allowed Lins to escape and run his own race.
"It's just a lucky day," Lins credited.  "the Bandit kart worked good and the motor had plenty of power."
Nicholson Speedway racers have three more chances to pad their point.  This month they will compete on the 11th and 25th.  The series ends November 8th.  After that the speedway hosts their annual Turkey Race November 15th.  For more information visit nicholsonspeedway.com or call 302-535-3186.